Marketing is the backbone of a business. A business can neither be started nor completed without marketing. The bottom line of any business is to make money and marketing is an essential channel to reach that end goal. Marketing is the most effective way of engaging customers, building and maintaining the company's reputation and boosting sales. The marketing scenario has changed drastically over the years. Previously, the prominent methods of marketing were basic printed works, radio advertisements, television advertisements, etc. Whereas new methods such as Social Media Marketing, Retargeting Campaigns, and Targeted Emails are trending now a days and considering the increasing demands of faster communication and effective reach, these methods find a lot of importance.
Influencer marketing is basically a form of social media marketing which involves endorsements and product placements for influencers, people and organization. It mainly uses influencers of a particular field to endorse their brands in the market and sell their particular product. This form of marketing has revolutionized traditional concepts and older ways of marketing.
The Brief Background
The concept of Influencer marketing might have become popular in recent days, but it has a very long history. The advertising mythology says that long ago, the Queen and the Pope used to endorse medicine for the benefit of common people and were called the first influencers in the history of influencer marketing. Also in 1890, R.T. Davis Milling Company hired Nancy Green to be the face of their pancake mix called "Aunt Jemima." Influencer marketing received more limelight in 1931 when Coca Cola introduced the image of Santa Claus in one of their advertisements. The phenomenon continued on its merry way and didn't look back since then.
Targeting a Community of Followers
The key leaders are used to drive the brand's message to the intended target market. The brands put forward their proposals and are more likely to choose influencers who show the most interest in their objectives. Influencer campaigns aim to target the existing market or a community of engaged followers and this can be witnessed through famous bloggers and YouTubers who actively advertise market brands to their followers.
A popular business law states that the marketplace will always stick to the opinion of an influencer without any rejection. Influencer marketing uses the same law. This law makes influencers a valuable asset. Whenever an update is posted by an influencer, it is likely to be viewed and read by many people. Here, the benefits of a business lie. If these celebrities speak on any brand or an idea, the brand will definitely reach more followers.
The Statistical Importance
Several kinds of research and surveys have been done to examine the effectiveness of influencer marketing. Here are some of the interesting facts and stats about influencer marketing: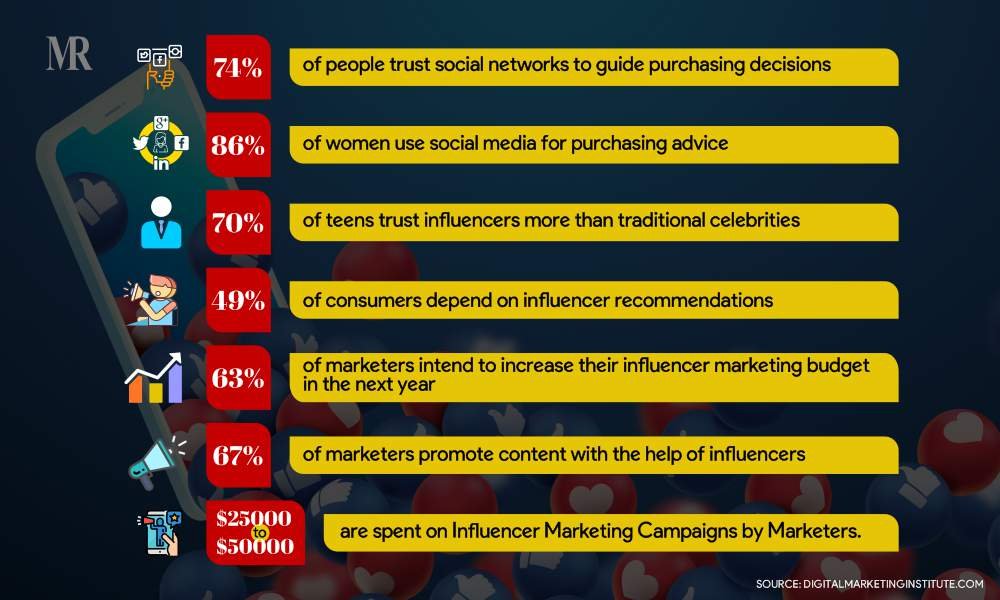 These statistics show how much marketing today is dependent on Influencer Marketing. Identifying people's inclination towards influencers and social media, companies are also increasing their budgets to foster influencer marketing strategies. Also, a specific group of audiences such as teenagers, women who are attracted to influencer marketing is clearly visible. Marketers are also targeting their audiences in order to effectively influence them. Hence, influencer marketing finds a vital place in the marketing scenario of today.
Finding Suitable Influencers and Increasing Popularity through Campaigns
In order to create, launch, strategize and optimize the campaigns and to reach many more audiences effectively and fast, many brands use several influencer marketing platforms. These platforms are used to find the right influencers for a specific brand, monitor campaigns and measure the results. Regardless of the type of business, influencer marketing platforms can help to ensure positive returns on investment and make the most of the available resources. There are a number of influencer marketing platforms such as Upfluence, AspireIQ, NeoReach, Fanbytes, etc. These platforms have provided opportunities for industries to bring a more optimistic approach to influencer marketing.
Just like the influencer marketing platforms, influencer marketing companies also hold a key in effective influencer marketing. These companies help in developing a partnership between influencers and the brand for campaigns that involve product placement, content development, speaking engagements and more. These companies are a medium for communication between a brand and the influencer. Several influencer marketing agencies are such as Kairos Media, Viral Nation, Go Fish Digital, Mediakix, etc According to shanebarker, these companies are one of the most trusted influencer marketing companies in the world Indeed these companies are a valuable asset to influencer marketing and also social media marketing.
While finding the resources for influencer marketing, an influencer marketing hub is more than helpful. Influencer marketing hub is the leading marketing resource for influencers, agencies and influencer marketing case studies. They provide reviews on leading influencer marketing platforms, listings of social media micro influencers, and relevant industry information all under one roof. You can also consider partnering with a brand ambassador agency such as PUSH's influencer program that provides clients across many industries the advantage to strategically drive awareness and boost traffic and sales.
Overviewing the Influencer Marketing Strategies
Like everything else, one should not rush into influencer marketing without planning or forethought. Time is a very important aspect of this phenomenon. To utilize the maximum time one has, he has to use a bag of strategies. No marketing is complete without a strategy and influencer marketing is no different. Influencer marketing strategies include concepts such as defining a target audience, setting different objectives, finding suitable influencers, meeting the methods for approaching the influencers, etc. These strategies are the guidelines for good influencer marketing. These strategies largely depend upon brand awareness, customer loyalty, audience building, engagement, sale, and parallel factors. Guest Posting, Social Media Mentions, Influencer Takeover, Brand Ambassadors are some of the influencer marketing strategies. They may vary according to the scenario. Similarly, the kind of influencers such as Bloggers, Social Media Stars, and Industry Experts also might vary according to the product and the situation.
Taking Marketing by a Storm: Instagram Influencer Marketing
Instagram has been the fastest growing social media app for the last couple of years. It has taken over all the other social media apps which were on top for most of the time. Influencer marketing is a part of social media marketing, and so is Instagram Influencer Marketing also.
In recent years, Instagram users over the globe have begun making a life from paid posts and collaborative marketing campaigns. According to research, Instagram ranks #1 amongst most impactful social media channels. This app offers a perfect space for a brand ambassadorship, with influential users authentically recommending products and services to their loyal audience. The influencer space is estimated to grow to a $5-10 billion industry by 2020. Thus Instagram influencer marketing is a marketing force that is only expected to grow over the years.
The world stands on the brink of another industrial revolution. Marketing is a field that is as important as any other field. With the inventions of new management techniques, influencer marketing yet seems to be one of the most effective ones and promises to be the same in the future also.
Also Read: 8 Ways Your Business Can Grow with Account-Based Marketing