A few days back, while I was going through the news, I came across Gitanjali Rao—'Kid of the Year.' A 15-year-old kid who has been featured in the T.I.M.E magazine for her amusing achievements inspired me to write this interesting blog.
Who is Gitanjali Rao?
Gitanjali Rao is an Indian-American inventor and author. She studies at the STEM School Highlands Ranch and is an active STEM promoter. She does everything a 15-year-old kid is supposed to do like learn piano, dance, bake, and explore the potential of carbon nanotube sensor technology.
Her work has been making headlines not only for her young age, but also for her extraordinary vision and inventions.
Parents of Gitanjali Rao
Parents of Gitanjali, Bharati Rao and Ram Rao, too share an excellent academic background and try their best to support the curiosity and intelligence of their young one. Though as a parent of a genius it might get difficult. For instance, as a 10-year-old a parent can expect the kid to ask for a new video game or a toy but Mr. and Mrs. Rao had to deal with a carbon Nanotube. 
Gitanjali was 10-year old, when she told her family that she wanted to research on carbon nanotube sensor technology at the Denver Water quality research lab. "A what?" was obviously the reaction from the parents.
Make way for the Young Age influencers 
We all know Greta Thunderberg who is working tirelessly for saving the environment. Gitanjali Rao has too made to the list of Young Age influencers. The Young scientist has been in love with science since she was a second or third grader. It was then that she knew there is need of social change and the medium will be science. Her discoveries and inventions have all been in the direction of a better world.
Gitanjali Rao: A Young Scientist of America
At the age of 11, Gitanjali won the 3M Young Scientist of America, with her outstanding innovation of Tethys Water Lead Contamination Detector. 
The idea struck her when she was watching the news about Flint water crisis. The young mind was keen to notice that half of the world is facing this problem.  She also mentioned that around 5,000 water systems all over the USA are contaminated with lead. Gitanjali invented a quick, pocket-friendly test to detect the presence of lead in water called the Tethys Water Tester. The name of the machine is inspired from the Greek Titan Goddess of Fresh Water 'Tethys'.
How does Tethys Water Tester work?
---
Tethys uses carbon nanotubes for detection of lead. Carbon atoms link together into a beehive shape and connect to form a tube—a nanotube. These carbon nanotubes respond to fluctuations in the electron flow. If there is presence of lead in the water, the lead sticks to the carbon ions, creating resistance. Tethys will calculate this resistance, and send the data to smartphone app to alert about the status of lead in water. The value of water status is 'safe', 'slightly contaminated' and 'critical'.

---
Gitanjali was successful in building the device in mere 5 months. She was selected among the 10 finanlists to collaborate with research scientist at 3M and further develop the ideas. Gitanjali won the 3M Young scientist Challenge in 2017 and was awarded $25,000 for her invention. She is still working with scientists and medical professionals to test the potential of Tethys as a sustainable solution. The amazing Tethys water tester also landed her on the list of Forbes 30 under 30 science category. 
Currently, Gitanjali is working at the Denver Water Facility and hopes that in next two years the prototype will be ready—it won't be surprising if it does. 
Other successful Key Highlights:
Initiative against cyberbullying- Kindly
Gitanjali is the creator of Kindly. An app or chrome extension which is designed to detect cyberbullying at an early stage. The tech uses AI and detects words that can be considered intimidating and alerts you. It also lets you edit that response or send it as it is. Teenagers tend to lose their temper and lash out but utilizing this tech has minimized cyberbullying to some extent.
Another addition to her inventions is the diagnostic tool for early diagnosis of prescription opioid detection. Acknowledging the growing problem of opioid addiction, Gitanjali came up with the idea of integrating tech with genetic engineering. Using genomics, the proposed solution uses the measurement of variations in the Mu Opioid Receptor protein produced by the OPRM1 human gene (Genome n.d.).
Gitanjali Rao was awarded with the Top "Health" Pillar Prize for the TCS Ignite Innovation Student Challenge in May 2019 for developing this diagnostic tool for early detection of opioid addiction.
Scientist have always been stereotyped as age old man with white hair, however, Gitanjali is on a mission to break this stereotype. Even as a kid she was wise to notice disparity in color, gender, and age. She has confirmed that it is not easy when you don't see anyone else like you. This is the reason why she is not just working on her inventions but inspiring thousands of students to do same as well. She is a promoter of STEM and currently has mentored around 30,000 students.
First-Ever Kid of the Year
TIME has always helped pivoting the limelight to the game changers of the generation. This time it has awarded Gitanjali with the Kid of the Year award. Why is it a big deal? Because it is the first time ever Kid of the Year. Greta Thunderberg has been the youngest person to feature on TIME but now Gitanjali has made it to the list. Among 5,000 young Americans there were five finalists shortlisted—Gitanjali Rao (15), Tyler Gordon (14), Jordan Reeves (14), Bellen Woodard (10), and Ian McKenna (16).
The young minds will surely shape a great future. These children are not just fighting for social change but also contributing to make earth a better place. The list does not include all scientist, but some are great artist while some are fighting against famine—and all this at a teenage. The future is surely in great hands, especially children like Gitanjali Rao are surpassing the expectations.
We have also curated a small list of achievements for our real life Sheldon Cooper aka Gitanjali Rao. As we glance through her journey, she is already working on another project to battle water contamination—maybe she has already completed Tethys 2.0!
Quick Glance at her achievements:
Gitanjali Rao has not just one, two or three but six innovations.

She has been a 3-time Tedx Speaker.

In 2018, the United States Environmental Protection Agency presented Gitanjali with President's Environmental Youth Award.

She won the TCS Ignite Innovation Student Challenge in 2019 and was awarded with the Top "Health" Pillar Prize. 

Gitanjali is an accomplished pianist.

She also an aspiring writer and shares her interest in essay, stories and comics. Gitanjali is the author of "Baby Brother Wonder" and is already working on the second book. 

An active member of Scouts and has enrolled in the Scouting STEM program in the USA.

The first person to receive TIME magazine's Kid of Year.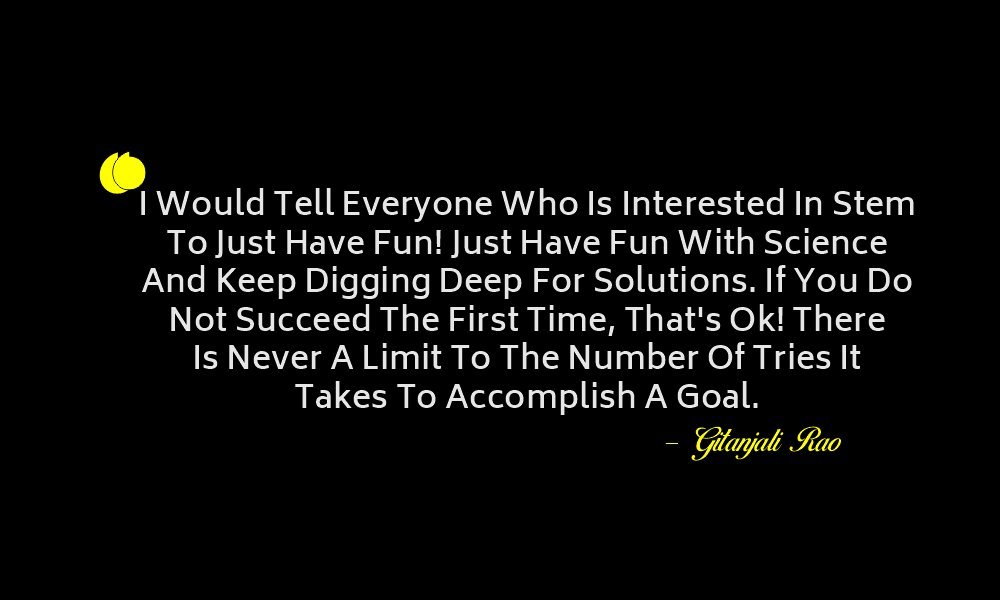 Content Writer
Vidya Joshi