Aside from managing daily operations, as a business owner, it is also equally important that you take the time and effort to take care of your employees. Showing them that you value their efforts and dedication to your business can certainly go a long way.
You can reward them whenever they meet goals or go the extra mile to resolve a customer's problem. Rewarding your employees can help increase their engagement and productivity, boosts their morale, and decreases stress in the workplace. Incorporating a rewards system can also improve employee retention and reduce turnover rates.
But how do you set up an employee reward system that actually works? To start, here are some steps to help you create a highly effective employee reward system:
1. Clarify Your Vision
To help you come up with an effective employee rewards system, it is important that you have a well-defined and clear vision first. This allows you to have a direction and guide, as you implement incentives for your staff.
Your vision should cover the following:
What do you want to achieve from your employee reward system? Do you want this system to solely increase the level of employee engagement, or do you want to establish a positive work culture? It'll be easier for you to set up an employee reward system if you know what your goals are.
This is one of the most important things to consider when setting an employee reward system. You should know what kind of rewards to give your employees whenever they exhibit desired behaviors and accomplishments. Monetary and non-monetary rewards are great options, but make sure to weigh the pros and cons of each option first.
You have to know what type of incentive you will be giving your staff, so that you can prepare a cost estimate and budget for it. For instance, if you're eyeing to offer free healthcare services to your employees, determine how much these cost long-term.
It's important to prepare a budget early so you can allocate funds without compromising other facets of the business.
2. Conduct A Survey
The reward system is for your employees, so why not ask them what they want? With the number of rewards you can offer to your employees, giving out surveys can certainly help you narrow down your options. This will also ensure that you'll end up having rewards that are actually beneficial to your employees.
In this digital age, you can opt for an online survey and send it to your employees' email addresses. Consider offering them the option to be anonymous on their answers, so they can be more comfortable voicing their suggestions and opinions.
3. Create A Reasonable Criteria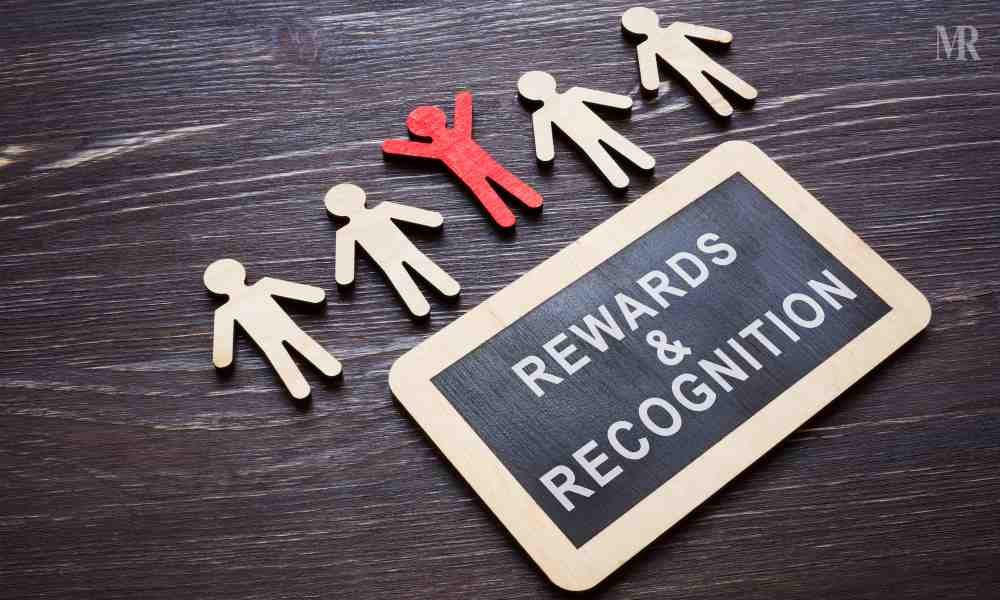 A successful employee reward system requires careful considerations. You can't simply give out monetary bonuses or incentives to employees just because they're able to close a sale. That said, there should be a clear system in place to ensure fairness among your team.
You can achieve this by setting criteria so the system becomes meaningful, attainable, fair, and convenient to all of your employees.
Here are some questions to guide you in creating reasonable criteria for your employee reward system:
What behaviors should be rewarded?
Define what types of behaviors should be awarded and appreciated. The answer to this question should be based on the values you want your employees to cultivate. For instance, if you want employees to be more productive, you can reward behaviors whenever employees reach their quota before the month ends.
How often should you reward employees?
Employee recognition is more powerful when done frequently, so decide how often you'll reward employees. Are you going to hold programs every week to show appreciation to your best employees? Or are you would you prefer to do it during quarterly town hall meetings?
4. Inform Your Team
Once you've ticked off items one to three, it's now time to announce your employee reward system to the entire team. This step is crucial, as misinformation or the lack of information dissemination will likely make the system useless.
Ideally, you should set a meeting with all of your employees to solely discuss the employee reward system. Encourage them to ask questions to ensure that everyone is on the same page. If meeting physically in one room isn't possible, send a well-detailed email to all of your employees. This email should outline how the program works and how employees can qualify.
Aside from informing your employees about the system, encourage senior managers to advocate it. Managers, supervisors, and other leaders holding senior management positions should promote the employee reward system and use it frequently. This will encourage employees to take the system more seriously as they can see that their supervisors are placing value on it.
5. Ask For Feedback
Implementing a successful employee reward system doesn't happen overnight. You need to consistently review the system to determine which terms and provisions work and which aren't.
After implementing the employee reward system for a specific period, say after a month or the first quarter, ask for feedback from your employees. This can be an excellent way to gauge their satisfaction and assess which areas of the system need improvement or revisiting.
And then, with the information you've gathered from the feedback, go back to the drawing board and create a better, more effective employee reward system, based on your employees' actual comments and reviews.
Going through this step can be time-consuming and daunting, but the rewards will be worth it. Since your program directly affects your employees, it's only important that you make the time in knowing and understanding whether your employee reward system is actually effective or not.
Consistency Counts
The key to a successful employee reward system is consistency. The time and effort you spent planning an employee reward system will be useless if the hype only lasts for weeks. Instead of gaining positive results, this kind of system will only draw flak from your employees.
Once you've set up an employee reward system, make sure that you follow through. Employees will surely be motivated to work if they know that the efforts they put in today and in the next weeks or months will be properly rewarded.
Author Bio
Laura Brown has more than three decades of experience in Human Resources and now spends most of her time writing HR-related articles. Laura aims to help her readers better understand various HR processes so that they can improve their business's operations. Laura loves to spend time with her children and two dogs during her leisure.