If you are aware of horses and own a horse yourself, you must know that they are a wide variety of species. In addition, horses have several breeds available all across the world. So when you want to go camping with your horse, then you need reliable horse trailers. More importantly, getting a horse trailer with living quarters is preferable when you want to go on an extended trip with your horses.
Choosing a horse trailer from well-known and trustworthy brands is always better. Make sure that the horse trailers you purchase meet up to all your expectations. Moreover, these horse trailers with living quarters must be comfortable enough.
Also, consider all the configurations and designs of the horse trailers before making any decision since it is your responsibility to take care of your horse's needs when you are in the wild.
This article aims to focus upon and shed some light on some of the best and most reliable horse trailers. If you feel any of the horse trailer brands mentioned catch your eye, you can read about them in more detail!
It is very important to have proper research about the horse trailers that you decide to buy. The reason is that your horse must be comfortable enough to enter the trailer, exit from it, or even be compatible with the car you would two it with.
Last but not least, make sure you check the hauling capacity of the horse trailer before purchasing it. This aspect plays a key role in the entire process.
What are the best and most reliable horse trailer brands in the US?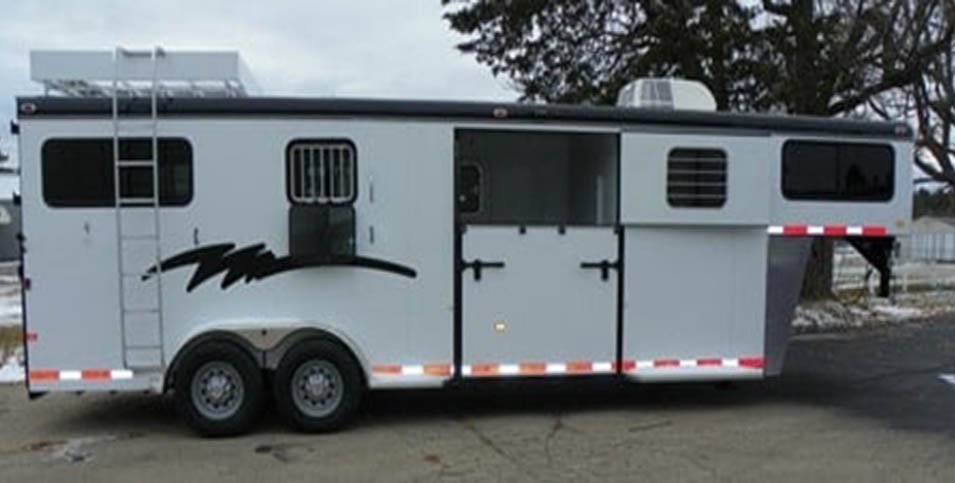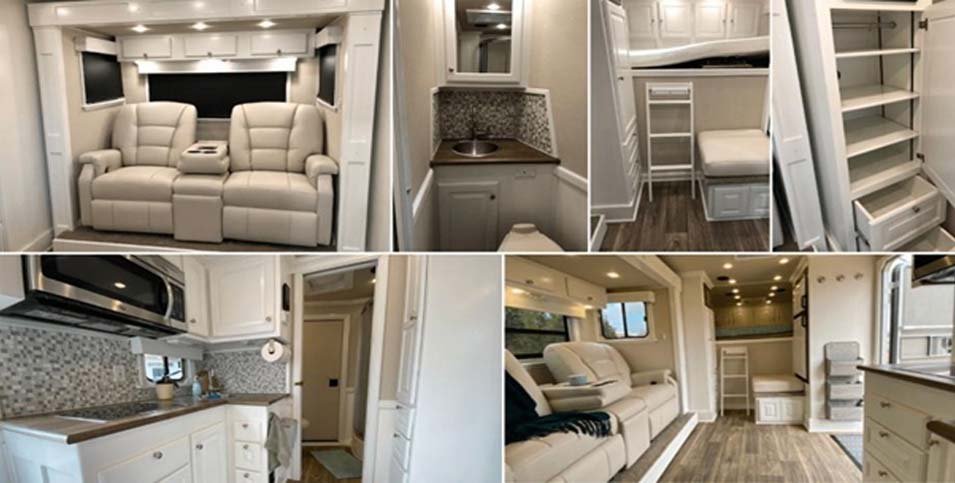 Double D Horse Trailers is a company that stands out because of their service. Mostly they manufacture and deal in horse trailers that come with living quarters. Moreover, they also offer bumper pull and gooseneck configuration horse trailers. With Double D Trailers, horse owners get several advantages-
Prevention of leakage concerning fibre composite safe bump roof system
Galvalite Skin
Z-frame technology
Flexibility with respect to new upgrades
Different orientation options
Rear safety divider
Cabinets with vinyl wrap
These features may differ depending upon the model you choose to purchase. However, with every model you get some uniqueness which makes this company different from the rest.
One of the most popular and preferred models manufactured by Double D Trailers is gooseneck configuration. The fundamental reason for this popularity among horse owners is that these horse trailers are larger with bigger accommodation space. Therefore, this bigger size makes room for the living quarters as well.
Read more about double d trailers' horse trailer with living quarters: https://www.doubledtrailers.com/living-quarters-horse-trailers/
One of the several horse trailer brands that people highly regard for is the Cimarron Trailer Company. The primary motto of this company is reputation, innovation, and constant evolution.
Cimarron Trailers have received good reviews from the market and customers. Their sturdy design and framework helped them earn a good reputation.
Horse trailers that have aluminum in design and configuration. It reduces the overall weight of the horse trailer. It is more essential when you have a living quarter attached to it.
Incorporating aluminium into the horse trailers makes sure that horse trailers do not have excessive exertion or become lightweight eventually.
These horse trailers offer durability, safety and style. In addition, users get a wide variety of choices regarding Cimarron trailers. For example, with bumper pulled or gooseneck trailers, it is possible to haul around 2 to 8 horses simultaneously.
It is quite safe to trust Cimarron since they provide promising services and products.
The horse trailers that Featherlite manufacture are reliable and vow to take the horses securely to the area where to decide to camp. Their all-aluminums development guarantees strength and a smooth and secure ride for the entire journey. In addition, these horse trailers have a unique riveting system.
As a result, there is a reduction in water penetration chances, given that the skin of the trailer's roof does not get fully pierced.
This company has been around for more than 45 years. Therefore, the horse trailers that Featherlite manufactures give 10-year underlying guarantees on a large portion of their trailers.
In addition, the company offers you a 3-year restricted hitch. This warranty is available for several new products of Featherlite.
You can browse all the options available. Whether it is horse trailers with living quarters, gooseneck, bumper pulled or any other with customised interiors, you can get it from Featherlite.
Apart from all the specific configurations of the horse trailers that Featherlite manufactures, there is an important one that cannot be overlooked. These horse trailers are verified and have passed through federal safety checkings. They have shown promising results and are completely safe for use.
As recommended and even claimed by many, Lakota is supposedly America's No.1 horse trailer. This company is a classic one which has been in business for more than 200 years.
If interested you can visit Lakota's site. Moreover, you could in fact take a virtual 3D visit through their all-aluminium horse trailers.
The following are some of the highlights of Lakota Trailers-
All trailers are fabricated and manufactured in a single factory. They can be tweaked to the different necessities of any horse owner.
The company possesses impressive administrative services.
The horse trailers that come with living quarters fall under the range of 7 feet to 19 feet.
Obtaining the service of Shadow Trailers, you get a wide assortment of bumper pull quality trailers, living quarters, and gooseneck.
According to many, Shadow Trailers are like "product built by American Horse People for the American Horse Population."
They aim to manufacture the horse trailers with great concern for the comfort and safety of the horses.
Moreover, they offer a somewhat big rear tack. In addition, these horse trailers come with bigger windows which facilitates better ventilation. And you also get a sliding mid-tack joined with inventive wellbeing highlights for the long journey ahead.
The Kingstar Company was founded in the year 2018. The founders of this company are two siblings based in Michigan. They basically brought an update to the horse trailer with the plan to zero in on the necessities of both the horse owner and the horses.
You will see numerous imaginative plan highlights like proficient corral and roughage development. The upgrades involved creatively programmed watering frameworks for horses. Moreover, these horse trailers include carefully upgraded and updated versions of hydraulic frameworks.
Kingstar trailers can choose between 2 or 3 horse gooseneck and bumper pulled configurations. You can get minutely customised interior designs and all the necessities for your horses. USB outlets, LED lights, cap racks, and mirrors are accessible for individual requirements.
BeLThe Logan Coach horse trailers company aims to develop and manufacture AI-based designs for trailer systems to haul horses more effortlessly.
It includes clean lines and savvy styling with solid world-class trailers for all spending plans.
The inner drains of the horse trailers are not required anymore. Instead, the floor is made of SureGrip. It provides a rubber floor. SureGrip is a super durable elastic floor that self-depletes and dispenses with the need to deplete openings in the floor.
Vortex elastic covering is not difficult to clean.
Adam Trailers as a company is the one which is considered as the main producer of aluminium as well as steel horse trailers. They have been in business for the past 40 years.
They are based out of Southwest Virginia and are notable for their persistently good service. They manufacture horse trailers, utility trailers, vehicle hauliers, and so on.
Adam horse trailers are accessible and available in more than one arrangement. It is possible to haul about 1 to 12 horses with these trailers. Gooseneck and bumper pull horse trailers are their speciality.
Customers get several choices like horse trailers with living quarters, tack capacity, changing areas, etc.
Merhow trailers company is based in Michigan. This brand has a strong standing and foundation for more than 60 years. Over these six decades, the brand has made a name for itself in the horse trailer industry.
All the horse trailers that the company produces have aluminum framework. Moreover, if needed, you can get deals, guarantees, and impressive customer service for any issues with the horse trailers.
With Merhow, horse owners can choose from two classes of horse trailers. These options are Bronco and Next Generation.
To Wrap Up
Owning a horse is sure quite an advantage and a blessing to all who do! Horses are such precious beings. And especially the fact that you can go on a vacation or a trip with them makes them exceptional.
However, this does not mean that you do not need to be extra cautious and prepared. When you own horses, the next step is to have a horse trailer.
If you want to go camping or on an adventurous trip, it is better to get living quarters attached to them. So, if you wish to extend the trip you are as comfortable as your horse!
Before choosing the one for your horse, make sure you have considered all the aspects carefully.
IN not too much trouble, do remember that your well-being and your horse's comfort must be your priority. So the next time you set up camp with your horse, be smart. It is smarter to do your own research before purchasing anything. Therefore, you must not go ill-equipped and make trouble for both your buddy and yourself.
Also Read: The top successful online industries