Nowadays, you don't have to worry about losing your precious old photos that hold sentimental value. A cool new platform called HitPaw Online Old Photo Restoration makes it super easy to restore your old or damaged pictures without spending a penny! It uses AI (artificial intelligence) to breathe new life into vintage photos and make them look fabulous again. It's a great way to preserve your cherished memories for the future and appreciate the transformational power of this process.
The Significance Of Old Photos
Images from the past hold a significant meaning in our lives, as they act as time capsules that retain valuable memories, emotions, and moments for generations to come. Understanding the significance of such images is imperative in comprehending the value of free online restoration for old photos and its impact on our lives. These images connect us to our heritage by providing physical links to our forefathers' existence.
These pictures can transport us back in time and elicit a range of sentiments and memories. Fond memories from reflecting on old photographs can provide solace and happiness and strengthen personal relationships with family and friends. Using the free online photo restoration service, we can restore and disseminate these cherished recollections to others.
In addition to their relevance, old photographs also hold cultural and historical significance. They serve as visual records of past eras by documenting changes in fashion trends, societal norms, and historical events. Restoring these images digitally for free can keep our personal stories alive while contributing to a broader collective memory. Sharing these restored photos online enriches the narrative of history for everyone's understanding of our shared past.
Restoring old photos online for free is super important in keeping these precious memories around forever. Over time, pictures can fade or damage from lousy storage or the environment. But with online restoration tools like HitPaw, anyone can bring new life to their old photos without spending money.
The HitPaw Online Old Photo Restoration is a state-of-the-art platform that caters to individuals seeking to restore their old photographs without any cost. Its comprehensive set of advanced features and easily navigable interface provides a seamless and convenient way for users to revive old, deteriorated, or discolored images.
HitPaw Online Old Photo Restoration possesses a significant feature that enables it to revive the initial colors of old photographs. As time passes, pictures tend to lose their brightness and undergo color deterioration. HitPaw's sophisticated algorithms smoothly rectify color disparities, restoring the photograph's authentic shades and tones.
HitPaw has an additional noteworthy capability: eliminating scratches, dust, and imperfections from aged photographs. These flaws can gradually accumulate with time and negatively impact the image's sharpness and overall visual allure. HitPaw's restorative features empower users to eradicate these undesired elements easily, producing a more polished and immaculate picture.
Moreover, HitPaw's web-based tool for restoring old photographs presents a variety of choices to enhance the image's general quality. End-users can refine blurry images, regulate contrast and brightness levels, and implement filters or effects to attain a preferred aesthetic. These features allow end-users to customize and enhance the visual aspects of their remodeled photographs.
Moreover, HitPaw offers intuitive and easy-to-use instruments to crop, resize, and rotate pictures. These attributes are particularly advantageous to refine the structure and framing of antique photographs. Customers can effortlessly modify the size and direction of the image to augment its visual significance and narrative.
It is noteworthy that HitPaw Online Old Photo Restoration offers a diverse range of functions for restoring old photos online for free and presents advanced features tailored to the specialized restoration requirements of its users. These sophisticated features may comprise advanced retouching techniques, reconstruction of missing components, and intricate color correction procedures. Users can effectively utilize these supplementary functions to address their specific restoration needs.
Achieving the desired results by removing scratches and restoring old photos using HitPaw Online Old Photo Restoration is a simple process. Just follow these easy steps:
Step 1: Upload the Old Photo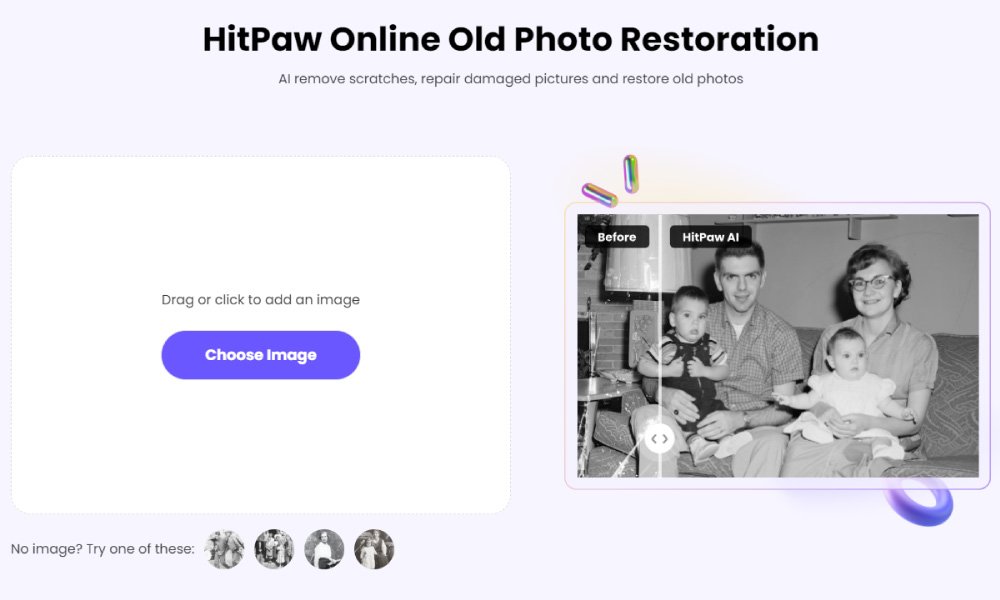 Begin by uploading the old photo you want to restore. Press the "Upload" option and choose the picture from your device.
Step 2: Select Scratches Once the photo is uploaded.
HitPaw provides a brush tool that can be used to choose the exact spot where the scratches are situated, making it possible to remove them with accuracy. What's more, the Face Model feature of HitPaw's Online Old Photo Restoration utilizes advanced facial recognition algorithms to improve the appearance of facial features in vintage photos. Additionally, HitPaw's Colorize Model effectively adds color to faded or black-and-white images by skillfully predicting and applying realistic hues to diverse components within the photograph.
The final step is choosing the scratches and then clicking on the "Download" button to save the old image in its restored form to your computer.
Use HitPaw Online Old Photo Restoration with just three steps to remove scratches from old photos.
Customer Reviews about HitPaw Online Old Photo Restoration
I couldn't believe how awesome HitPaw Online Old Photo Restoration was! It totally revived my old family photos that were starting to fade away. The color restoration feature worked wonders and made the pictures look just as good as they did back in the day ! – Sarah G.
I've given a few other websites a go for restoring my old photos, but HitPaw totally blew me away. It was so easy to use, and the end results were seriously impressive. They even injected some color into my old black-and-white snaps, making them look extra eye-catching and full of life. – Michael R.
The new HitPaw Online Old Photo Restoration tool is seriously amazing! I had this old photo of my grandparents' wedding that was all messed up and beat up, but this platform brought it back to life. The level of detail and restoration blew my mind! When I saw the final result, it was so beautiful that it even made me cry. Emily M.
Wow, HitPaw Online Old Photo Restoration is really amazing! This cool feature enhances the colors of old photos and makes them look fresh and new. I tried it out on my old childhood pics and was blown away by how much they improved. If you've got some old photos lying around that you want to revive, I totally suggest giving this service a shot. Jason T.'s got your back!
I just gotta say, HitPaw's online photo restoration service totally saved the day for me! I had this super special family portrait that was looking pretty rough due to old age and use. But thanks to their restoration process, all the wear and tear is gone, AND the colors are now poppin' – it's like a brand new masterpiece! My family is gonna love passing this down for generations to come. – Lisa S.
Conclusion
HitPaw Online Old Photo Restoration provides a robust and user-friendly resolution for restoring and revitalizing old images. The importance of safeguarding and rejuvenating these cherished memories cannot be emphasized enough, and HitPaw offers a complete range of tools and functionalities to achieve exceptional outcomes. Users have commended the platform for its capability to introduce lively hues, eliminate flaws, and enhance the overall visual appeal. The positive feedback from clients bears witness to the triumph of HitPaw in rekindling old photographs, stirring emotions, and perpetuating individual and cultural legacy.
It is strongly advised that HitPaw Online Old Photo Restoration be considered by anyone who wishes to restore and safeguard their old photographs. The platform's free accessibility allows users to restore their treasured memories without incurring any expenses. Using HitPaw, individuals can revitalize photos that may have been faded, damaged, or aged and subsequently preserve them for future generations.
Also Read: Water Damage Restoration: The Ultimate Guide