To become successful, while many components are crucial for businesses, one critical aspect is building a solid and recognizable brand. This allows you to connect and approach your target market, build relationships with them, convert sales, and increase loyalty and retention.
Regardless, whether you are a startup business or an established leader in the industry, you need to check and improve your brand identity constantly. Differentiating yourself from a large pool of competitors can be possibly made through your brand image.
Thankfully, there are many innovative and strategic ways to position your business in the best light possible. Keep an open mind to consider rebranding or implementing fresh ways to improve your brand. Here are some ideas to ensure a good brand identity.
1. Make Efforts To Improve Visual Assets
Bear in mind that most people are visual and will never forget your brand based on what they see. No matter what business you have, whether it is a subscription fulfillment business like Selery, an online eCommerce drop shipping business, or any other business, the visuals on your packaging will keep them informed about your brand.
To get the ideal logo and brand media suite, you must first hire a graphic designer to work with you on creating your color palette ideally, acceptable font choice, letterhead, headers, and thumbnail format for your overall media campaigns.
That said, design is usually the brand's ambassador, so take time to enhance your visual assets.
Despite not comprising the entire brand identity, the logo is irreplaceable in branding. Simply put, it's the most identifiable element of your company. It's all over your marketing materials, from your business cards to your website.
Therefore, check on your existing logo and ensure it is cohesive, unique, and easy to remember and distinguish.
You likely send out hundreds of letters, emails, and emails to your business partners, customers, and prospects every day. Your business will look and feel more credible, unified, and professional when you use effective templates. Let all the company members use this system as all details, such as email format, email signatures, and letter headings, become uniform.
By creating a color palette, your identity can enhance. Your business can develop unique designs while remaining true to its brand identity by providing you with variety. The colors that comprise your brand allow you to be recognizable yet enhance creativity and versatility in your brand image.
However, you have to be careful with this aspect, as blending these colors might confuse you. Still, try to be consistent and stick to the basics when revamping any brand visuals and design. For instance, it's imperative to use the same font type in all your newsletters, public releases, and ads. People can know your brand effortlessly this way.
2. Analyze And Reassess Your Brand Identity
Brands should stabilize their value proposition for their consumers, but that does not mean they should not change over time. There will always be room to grow, which is applicable no matter how long you've been in the industry.
To ensure promised delivery, companies should analyze and refine their brands regularly. Tracking progress, targeting, and testing new strategies and tactics should always be prioritized when your business establishes marketing and promotional campaigns.
Brand identity should not be limited to a logo and mission statement. Your company's brand identity will go as far as the values, morals, characters, and personality that represents it.
3. Improve Your Website Presence
Another essential aspect that contributes to improving your brand image is your website. It should convey the desired impression as it represents you and your business. Since you can quickly build a website yourself, picking a format and design is easy based solely on its ease of use and simplicity. But this might only limit your website performance.
It's best to rely on experts when it comes to stabilizing your website presence. Your site must come with all the features and functions your customers and visitors need. Furthermore, it must design in a way that's easy to recognize as your brand.
Consider investing in your website, which is imperative in creating a better brand identity.
4. Build Your Brand Value Proposition
Your brand image has an impact not only on your reputation as a business but also on your employees. All employees are brand ambassadors for your company. The vision and mission of the company have to communicate with employees and customer expectations.
If a company wants to brand itself effectively, it must first define its core values and philosophies. In addition, it's crucial to determine how your brand complements the consumer's interests. Brand recognition begins with this. It's critical to think of ways to value your consumers, your stakeholders, and your employees. All these efforts will add to building a better and stronger brand identity.
5. Expose Your Brand Through Social Media
Social media is transforming the digital marketing landscape. You can showcase your brand's personality through social media.
In an era when social media platforms are being used every day by a large portion of the population, it's best to maximize this digital strategy and use it to stabilize your brand identity. You can establish your authority as a subject matter expert by posting content and reliable information. Otherwise, you can post updates, offerings, and business promotions to grow your followers and increase brand loyalty.
It is important to show appreciation to your customers regardless of your ultimate brand image goal. Interact with them through social media posts, direct messages, and comments. When you make them feel valued and continue to listen and acknowledge their reviews and opinions, you'll leave a positive impact on them.
Generating leads through social media is an integral part of digital marketing, as it allows businesses to reach and engage with potential customers more effectively. By using targeted ads, relevant hashtags, and engaging content, you can attract users who are interested in your products or services. Suppose you're in the solar industry; you need to use related keywords to reach the right audience and generate quality solar leads. This process not only increases brand visibility but also encourages organic shares and referrals. 
To optimize your lead generation efforts, ensure that your social media profiles contain clear calls-to-action and easily accessible contact information. Additionally, consider utilizing social media management tools and analytics to track your progress, refine your strategies, and ultimately convert your leads into loyal customers.
6. Stay Proactive In Involvement
Employers can reach local consumers through employee volunteer programs or sponsorship of community events. There are many opportunities for you to partake in, and they yield the same result, which is to stabilize your brand identity. Try to involve more company members in these events and use it as a team-building opportunity.
Partner with a local charity to include a fundraising component in an event for your clients, perhaps unveiling a new product or offer. It is an effective way to incorporate charity into your marketing strategy. Many clients will appreciate your marketing efforts when they also intend to help others. They will value that you support a cause that resonates personally with them, that can make them more loyal to you.
Your community is full of events and activities you can sponsor. If you want your brand associated with an event, check out your local events calendar. Thanks to these incredible opportunities, you'll be surprised at how your brand will get the best exposure and lead to brand retention.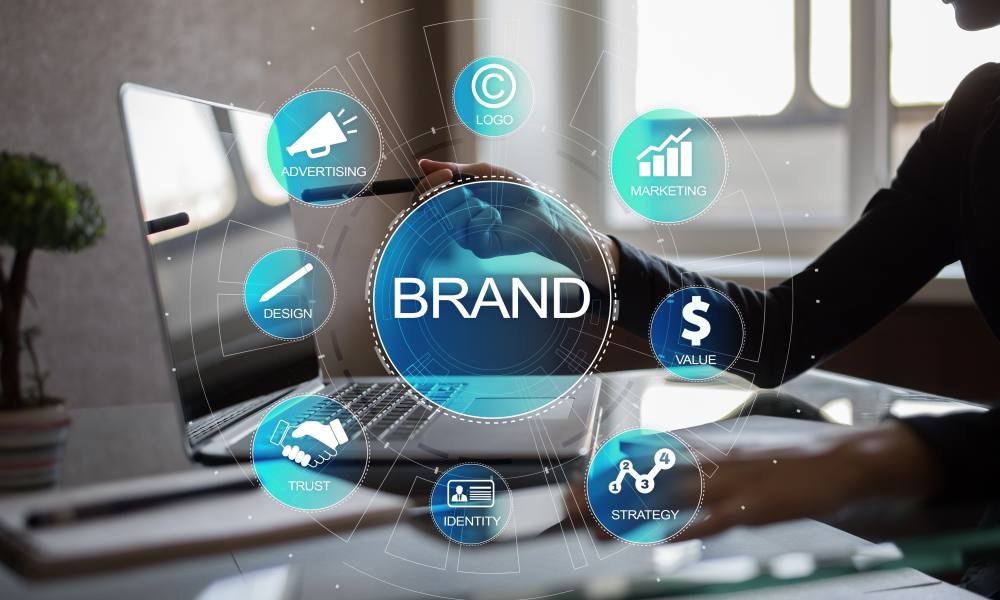 Conclusion
Improving one's brand identity doesn't depend on how new or old your business operates. It's crucial to steadily assess and redefine your brand to ensure that your customers remain loyal and happy with your products and services.
Hopefully, the tips above will guide you through applying effective ways to enhance your brand image.
Read more: How to Make Your Business Stand Out In 2022