An attractive and functional website is the best way to grow your business manifold. Not only does it increase your visibility to potential customers, but a well-designed website can boost sales with your existing user base.
Creating a website is no longer a long and expensive process; using a website builder makes it a walk in the park. You don't need any coding or design skills – just get creating!
Here is our review of the top 10 website builders for small businesses to look out for in 2021.
1. Weebly

Weebly has been ruling the web development industry for years. It is easy, quick, and the best part: it helps you build your brand, not just your website. The platform has a selection of marketing and customer engagement features that will help you grow your business.
Features:
Interact with your customers – Communicate more effectively through email templates, welcome messages, cart notifications. Etc.
Make check-out a piece of cake – Integrate tax and shipping calculators to give your users complete information upfront. Clearly displayed total costs have been shown to improve conversion rates.
2. Wix
Wondering how to create a website for business without having a full-time developer on your payroll? Wix is here to the rescue. The website builderis highly convenient to create efficient and aesthetic websites. Just pick a template and tweak it till you find the perfect match.
Features:
Drag and drop editor – Assemble all the elements of your website in a user-friendly interface. You can move text, graphics, and buttons around with a single click.
Fully functional online store – Set up a beautiful storefront to display and sell your products and services. Wix lets you create hundreds of product pages and corresponding checkout options.
3. Squarespace
Squarespace is at the top of the game in designing mind-blowing websites. Make your online store stand out from a crowd of competitors with an ultra-modern, gorgeous website. Squarespace lets you create a business websitethat catches the users' attention and gives them a stimulating website experience.
Features:
Inventory management – Display an unlimited number of products in your store and maintain detailed records of tags, bestsellers, categories, out-of-stock items, etc.
Multimedia elements – Incorporate attention-grabbing aspects in your website like videos, dynamic transitions, interactive quizzes, etc. These will keep the user hooked and prompt them to explore your site for longer.
4. SITE123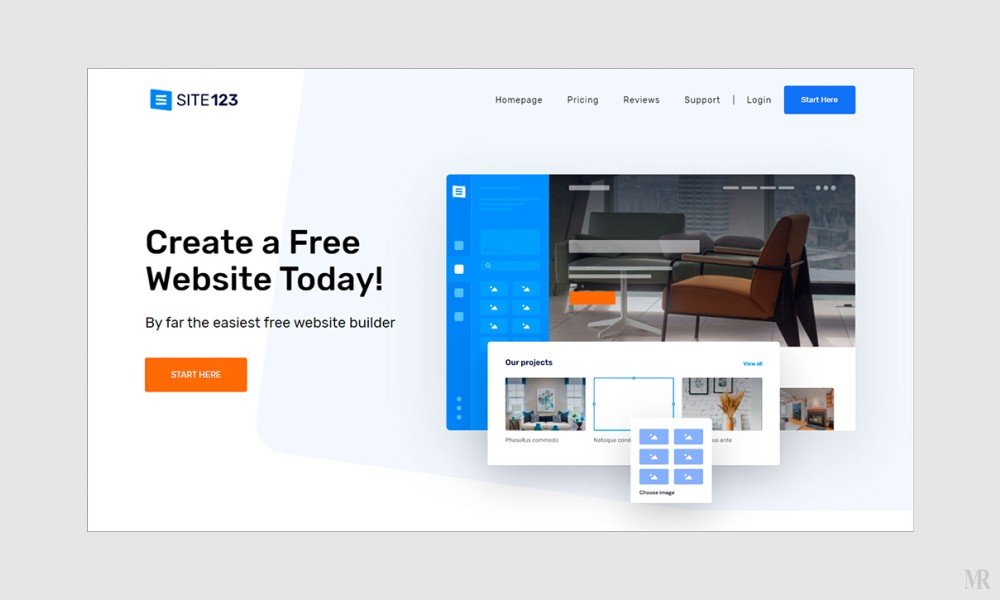 SITE123 is a no-nonsense website builder that gives you exactly what it promises: a robust website with cutting-edge features. The editor is intuitive and great for those new to website designing. We appreciate the ease with which we could create an ecommerce website from scratch in the editor.
Features:
Responsive design – Optimize your website for movie or tablet use. Market research shows that more than 80% of all ecommerce users shop on their phones. Hence, having a responsive design for all devices is a valuable tool.
Search engine optimization (SEO) – The website builder guides you by identifying and embedding keywords in your website to boost search rankings.
5. WordPress
WordPress holds the largest market share in the web development space. Get thousands of customization options and plug-ins at your disposal. Thanks to its open-sourced add ons, you can take your website from 1 to 100 in no time.
Features:
Build block by block – Putting your website together is as easy as assembling blocks in a video game. (Tetris fans, anyone?). Just drag and place elements like the title block, payment block, etc., where you want.
Learn and grow – What makes WordPress one of the best website builders for small businessesis the quality of content on online selling, tracking growth, and digital engagement available for subscribers.
6. Shopify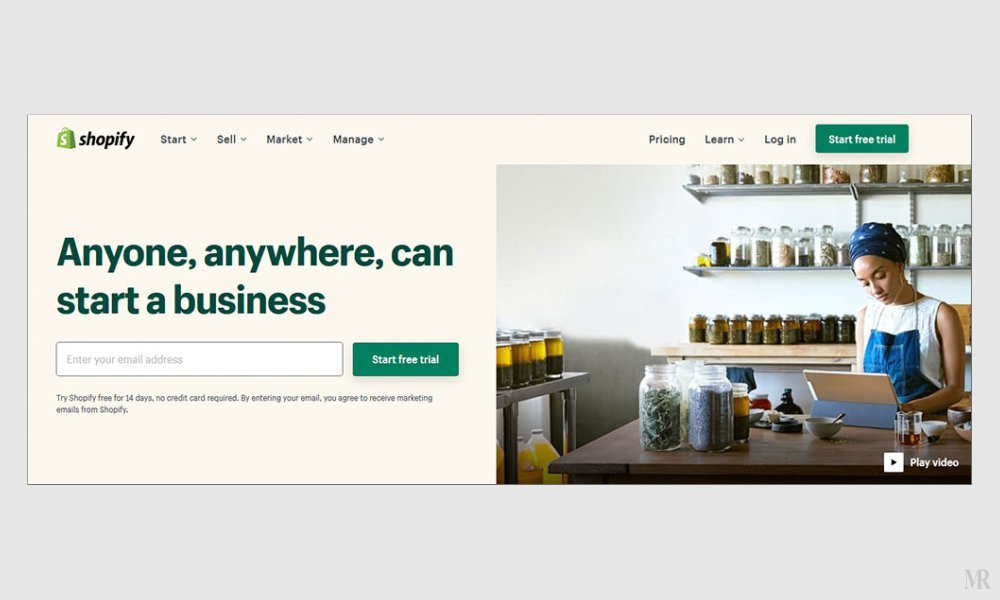 Shopify is the perfect website builder for building an ecommerce platform since each functionality is geared towards optimizing online selling. If you are looking for scalability, Shopify has you covered. Expand your product range, add new categories, include membership benefits with no hassles.
Features:
Built-in mobile compatibility – Don't compromise on your user experience for the mobile website. The software ensures that mobile and tablet users can access the same features and shortcuts on your site.
Backend development – You can also easily edit your website's HTML and CSS code. This is ideal for developers looking for a more hands-on approach.
7. BigCommerce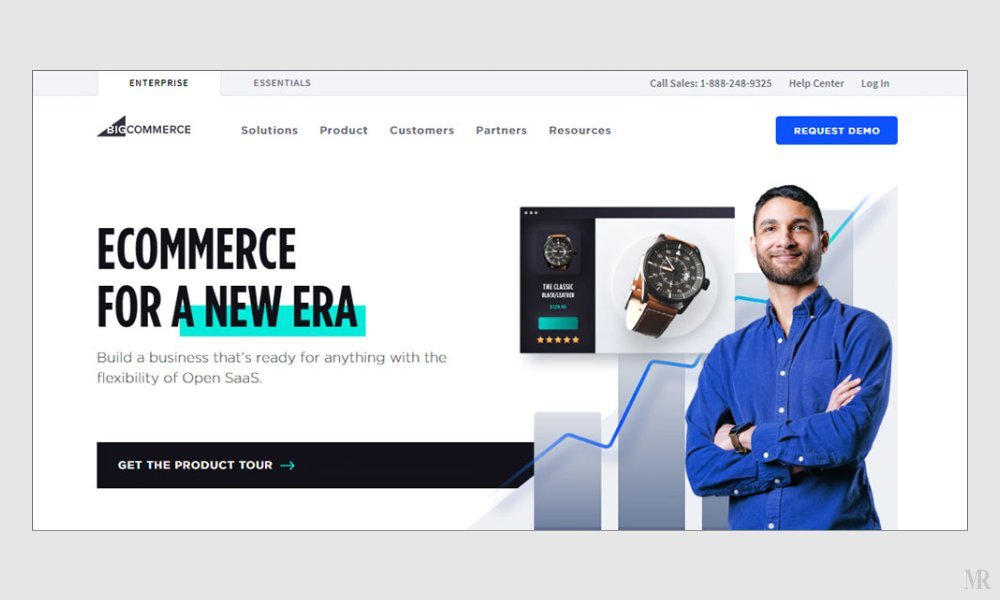 BigCommerce is giving established website builders a run for their money with its innovative and state-of-the-art design features. It is hyper-focussed on helping you to create a stunning website that operates without glitches.
Features:
Site loading speed – With greater bandwidth, you also get faster loading speeds and quicker response times.
Data-driven selling – Harness the power of data analytics to give your sales and marketing game a leg-up. BigCommerce gives you reliable data on your site's performance and user behavior.
8. Webnode
Webnode is one of the best website buildersout there to create unique business websites. Setting up the design, layout, and user interface (UI) is straightforward, and the software guides you through each step.
Features:
Seamless payment – Let your customers pay through any channel of their choice. Webnode's payment gateway can accept cards, online transactions, digital wallets, even local fees.
Real-time tracking – Integrate the order tracking feature in your store to let consumers keep tabs on their packages from checkout to delivery.
9. Jimdo
Jimdo is a new-age website builder that simplifies the process of making your own website. Choose from industry-tagged templates that can be fully personalized to suit your needs. The platform also lets you integrate the site with your social media pages for smooth multi-channel selling.
Features:
Zero commission fees – Jimdo does not take a cut of your sales as platform fees. Your profits are entirely yours.
Legal text generator – Writing tens of pages for terms and conditions, privacy policy, and return policy is a thing of the past with Jimdo's legal text generator. Simply plug in your business's details, and you have legally compliant pages ready in minutes.
10. GoDaddy
GoDaddy is also an all-in-one tool that combines web development, digital marketing, and ecommerce. It is affordable and gives an impressive bang for the buck. GoDaddy is loaded with customization and customer interaction functionalities and hence, our pick for one of the top website builders for small businesses.
Features:
Mobile editing – Use the GoDaddy app to edit and manage your website from any device and on the move.
Extra designing tasks – You can use the editor to create appealing content for your social media channels and email campaigns.
Buyer's Guide
What is a website builder software?
A website builder is a web development platform that creates web pages without backend coding. Just pick a template and customize it.
Why does a business need a website builder tool?
Using a robust website builder is the fastest and cheapest way to create a professional website. Because anyone without coding knowledge can also use a website builder, it is perfect for small businesses that don't have a dedicated web-dev team.
What are the features that make a perfect website builder tool?
An ideal website builder should have a good selection of customizable templates. It should also have an uncomplicated editor to minimize the designing time. Look for bonus features like marketing support and multilingual sites while choosing an appropriate builder.
What factors must be considered for buying the best website builders software?
The visual appeal of the templates
Number of products supported
Monthly bandwidth
Estimated downtime
Marketing and design features
Subscription costs
Customer support
Evaluate your requirements in terms of company size, expansion plans, and industry. While creative entrepreneurs would benefit from an experimental, modern-looking website, other businesses would prefer a traditional look. You should also consider the purpose of the site while selecting a website builder – are you using it for online selling, building a portfolio, booking appointments, etc.?
What is the average cost of a website builder tool?
The typical cost of a website builder can range from 5 dollars to 70-75 dollars a month based on the package you choose. Most website builders have multiple plans for small and large businesses with different features. You can also use the free-trial option to get a feel for that paid experience.
Website builders are the future of getting a business online. Hop on the wave and give your small business a large boost with the visibility and traffic that comes with a digital presence. We recommend you begin with Shopify, if you intend to develop a full-scale e-store. For the utmost flexibility, use WordPress. And if you need ease of use, go for Wix.
Also Read:- In Depth Understanding Of Brand Identity