Tech world has always been into a passionate competition between Android and iOS platform. To prove which is the better mobile app development platform; there are a tug and war among app development companies. This kind of race between iOS and Android platform has always provided privilege to the end-users.
Users are always curious and enthusiastic for the upcoming benefits in the market. Although some may advise Android, there are n numbers of reasons to choose the iOS platform for mobile app development.
Morgan Stanley Survey clears the picture that 92% of the iPhone users who were planning to buy a new phone within a year, choose to remain to Apple phone.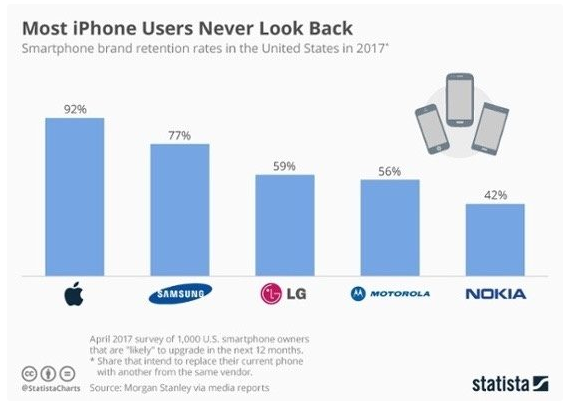 Both the platforms have their own sets of pros and cons and the choice of App developer is majorly dependent on the app requirement. However, some major factors are discussed below that will help you to choose iOS platform for app development. Moreover, through this article, it clear that iOS platform is the most acceptable and adaptable platform.
Key Factors to choose iOS over Android
1. Fluid Experience:
Apple devices have effective processors comparatively, due to which it offers consistent performance. Therefore iOS ensures apps to run more fluid and faster. With a belief that Android is more customizable but iOS is still renowned for its simplicity and of course for easy-to-use user experience.
If you are planning to target the users with attractive applications, you must go ahead and develop it for the iOS platform.  With such popularity of Apple devices in the market user allows look for better features at every new launch.
2. Application performance:
To continue the legacy, the iOS platform offers unparallel performance with better quality. Regardless of any kind of app such as media, games or any type of industry etc. iOS has always created benchmark. When it comes about performance of iOS, this platform has high rates.
3. Device's hardware:
Apple devices are known for offering best-in-class hardware components with the finest design and masterpiece. It never compromises on the quality of hardware.
On the other hand, when we talk about Android platform is available in budget devices. These devices tend to have lower aesthetic levels. Moreover, the quality is cheaper with low construction materials. Therefore, you must develop the app on the iOS platform, if you are designing an app where functionality depends on the hardware of the system.
4. Improved Siri: 
Apple devices offer improvised Siri that is available with many surprising features. It provides solution that can answer questions instantly using Artificial Intelligence technology. The questions may vary as per the user's problems to which it provides very satisfactory answers.
Apple's Siri has been various brilliant features and capabilities. It answers all sorts of questions. Queries ranging from a variety of issues are resolved with brilliant and satisfactory answers. Who won't like to carry such innovative devices with a Personal Assistant?
5. Attractive Icons:
The appealing icons are the best part of iOS applications. These dynamic icons increase the overall experience while using the particular application. Offering attractive features some of the applications also display notifications, while they are not running currently.
Such way of experience strengthens the hold of the company on the market thereby allows the user to get more connected with the iphone devises.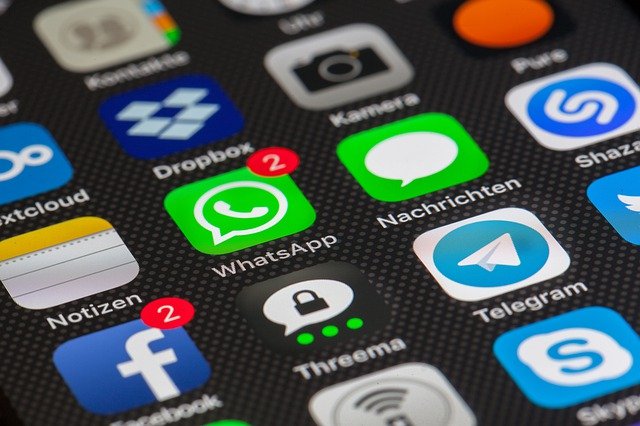 Wrapping Up:
Fewer iOS apps are available on the market which tops the chart. As iOS app development takes less development time it is proportional to bigger chance of successful business. The best part of the iOS apps is it gives rise to revenue within desired time duration.
Due to fluid experience of iOS apps huge number of audience are attracted. Best security with multilevel authentication offers user with great compatibility in data transparency. In iOS app development has one major rule to develop one app and it will work fine across all iOS devices.
Author's Bio:
Image Source : Pixbay