An American businessman became the world's first billionaire in 1916. Today, the USA may comprise the most number of billionaires, but the status quo of 'billionaire' was introduced by John. Back then, he was setting records with his wealth. His net worth over the last decades of his life would easily place him as the wealthiest known person in history. As a percentage of the United States' GDP, no other American fortune – including those of Bill Gates or Sam Walton – would even come close to John D Rockefeller.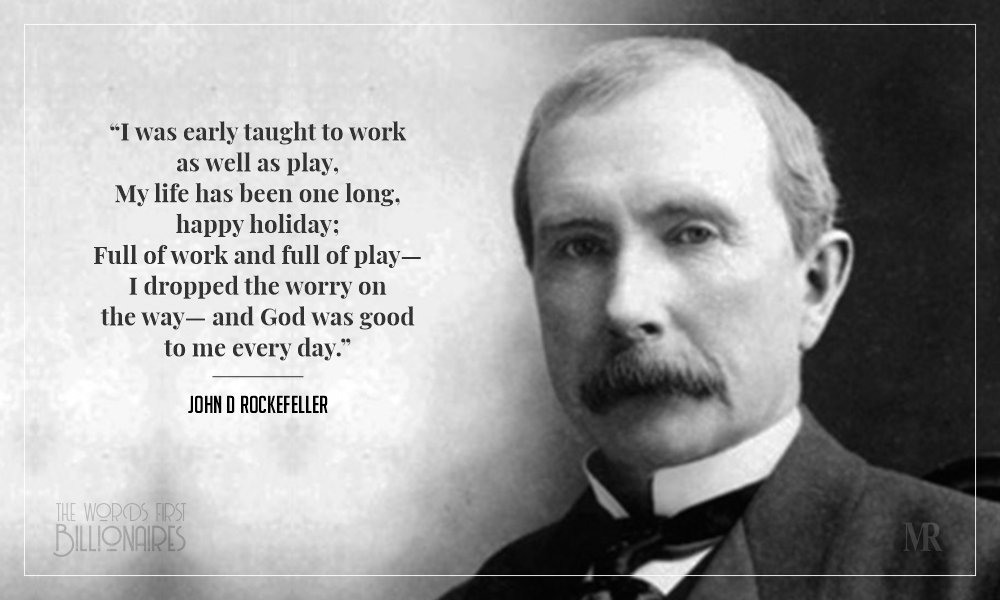 Born on July 8, 1839, in Rich-ford, New York, John D Rockefeller is often referred to as the oil titan. He was an astute businessman who achieved the "Billionaire" status in 1916 for his ownership of Standard Oil.
Rockefeller had always been unafraid of the hard work. He started his journey from the age of 16, landing his first job as an assistant bookkeeper with Hewitt & Tuttle, commission merchants, and produce shippers. The journey to propel and fame started in 1870, when Rockefeller founded Standard Oil Company, eventually becoming a domineering monopoly in the oil industry.
Soon enough Rockefeller's leadership in Standard Oil brought him great wealth as well as controversy. In 1911, the Supreme Court ruled that Standard Oil must be dismantled because it violated federal antitrust laws. The court-ordered disintegration of Standard Oil made Rockefeller earn hundreds of millions of dollars.
In 1913, his personal wealth, $900 million was more than 2% of the US GDP of $39.1 billion that year. In 1916, Rockefeller was announced as the country's official first billionaire, with a fortune worth nearly 2% of the national economy. By 1937 the Rockefeller fortune was 1.4 billion or 1.5% of GDP of 92 billion.
Some other interesting facts about the first billionaire:
Every year, Rockefeller celebrated the anniversary of landing his first job.
He hired substitute soldiers to avoid Civil War combat.
Rockefeller was named as one of the people who built America.
Winston Churchill would have written Rockefeller's biography—if his price hadn't been so high.
Rockefeller donated more than $500 million to various philanthropic causes.
The Rockefeller Foundation was the largest grant-making foundation in the world and its founder deemed the most generous philanthropist in U.S. history.
Rockefeller lived so long that his life insurance company had to pay him $5 million.
Rockefeller's business practices have been opposed by many, although the author Ron Chernow, in his book, "Titan: The Life of John D. Rockefeller Sr.," argues that due to his resolute leadership style, he's also one of the most successful businessmen to ever live.
As his legacy he used his fortune to fund ongoing philanthropic causes and penned the following words, to sum up his life:
"I was early taught to work as well as play, My life has been one long, happy holiday;
Full of work and full of play— I dropped the worry on the way— and God was good to me every day."
Martha Stewart – The First Woman Billionaire: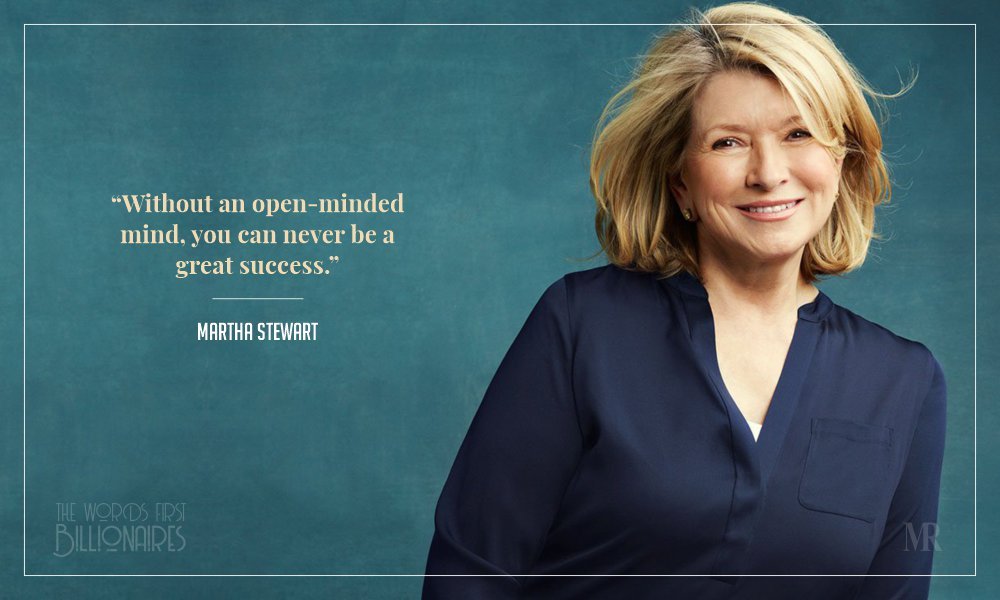 "Without an open-minded mind, you can never be a great success." – Martha Stewart
The United States has been home to more billionaires than China, Germany and Russia combined. Now that you have read about the first billionaire, here are some of the other billionaires from around the world you could draw inspiration from
Martha Helen Stewart became the First Self-Made Woman Billionaire of the world in 2000. She founded the Martha Stewart Living Omnimedia (MSLO), and she gained success through a variety of other business ventures. In 2000, MSLO launched its initial public offering, the stock tripled in value before closing. This not only made Martha Stewart an instant billionaire but also America's first self-made female billionaire.
Martha Stewart was born in Jersey City, New Jersey, on August 3, 1941. She is the second of six siblings and belongs to a middle-class family. Today she is an American retail businesswoman, writer, television personality, and former model.
Martha started modeling at the age of 15 for well know companies like Unilever and Chanel. While in college she originally studied chemistry but later switched. She has earned a bachelor's degree from Barnard College in art, European history, and architectural history.
Martha has been known as the queen of reinvention. She started her journey as a stockbroker at a boutique firm and later ventured into various businesses. Martha is a renowned television personality, businesswoman, and cookbook author. Each of these business moves took her closer to her ultimate goal of creating a multichannel media and marketing firm. In 1997, she consolidated all the ventures related to Martha Stewart Brand, into a new company named Martha Stewart Living Omnimedia.
Martha was named one of "America's Top 25 Most Influential People" and one of the "50 Most Beautiful People in the World" in the same year. She has always been in the limelight for the controversies and often people predicted that 'Martha Stewart has finally failed', but she always comes back. Martha is constantly evolving and she's determined to come out on top. Businesswomen leaders around the world draw inspiration from Martha and thrive.
Here are a few interesting facts about the first women billionaire:
Martha was born Martha Kostyra.
She was 10 and worked as an occasional babysitter for the children of Mickey Mantle, Yogi Berra, and Gil McDougald, all players for the New York Yankees.
As a child, Martha Stewart would go to her local library and try to read every book on each shelf.
She worked on Wall Street until 1972.
At one point, Martha owned eight houses.
Martha cohosted a cooking show with the rapper Snoop Dogg.
She spent time in prison after being convicted for four felony charges, and now has many hilarious stories from her experience.
Martha Stewart Living Omnimedia has been recognized for 18 Emmy Awards.
Robert L Johnson – The First African Billionaire
In 2001, Robert L Johnson became the First African billionaire of America after selling the network to Viacom. Robert also developed the RLJ Companies following the sale of BET to Viacom. He has invested in several notable companies and organizations beyond the reach of RLJ. Robert's entrepreneurial journey was like the classic American journey from modest origins to unimaginable wealth.
"Believe in yourself and have confidence that you can compete against all odds. Have a vision of what you'd like to accomplish and be able to articulate that vision." – Robert L Johnson
Born in Hickory, Mississippi, on April 8, 1946, Robert belonged to a working-class family in small-town Illinois, with his nine siblings. He worked for the Corporation of Public broadcasting and noticed that the largely African American TV audience was going unrecognized and untapped. This led to the foundation of 'Black Entertainment Television' (BET) in 1979.
Robert parlayed a loan of $15,000 in 1979 to establish BET. This went on to be one of the cable industries' richest franchises. He built BET from a tiny cable outlet, which aired only two hours a week in 1980 to a broadcasting giant that acquired a viewership of more than 70 million households.
BET went to be a Media Magnate of the 1990s. The company went private in 1998 and Robert sold it to Viacom for more than double, netting himself a whopping $1.5 billion in Viacom stock for his 63% stake. This deal made him the First Black Billionaire and Robert acquired a place in The Forbes 400 list of the richest.
Some noteworthy facts about the First African Billionaire:
Robert was the only child out of ten to attend college.
Robert's first business was a paper route.
Robert is the first African billionaire.
BET is the first African American-owned company listed on the New York Stock Exchange.
Robert is the first black U.S. principal owner of a North American major-league sports franchise (the NBA's Charlotte Bobcats).
Kylie Jenner – The Youngest Billionaire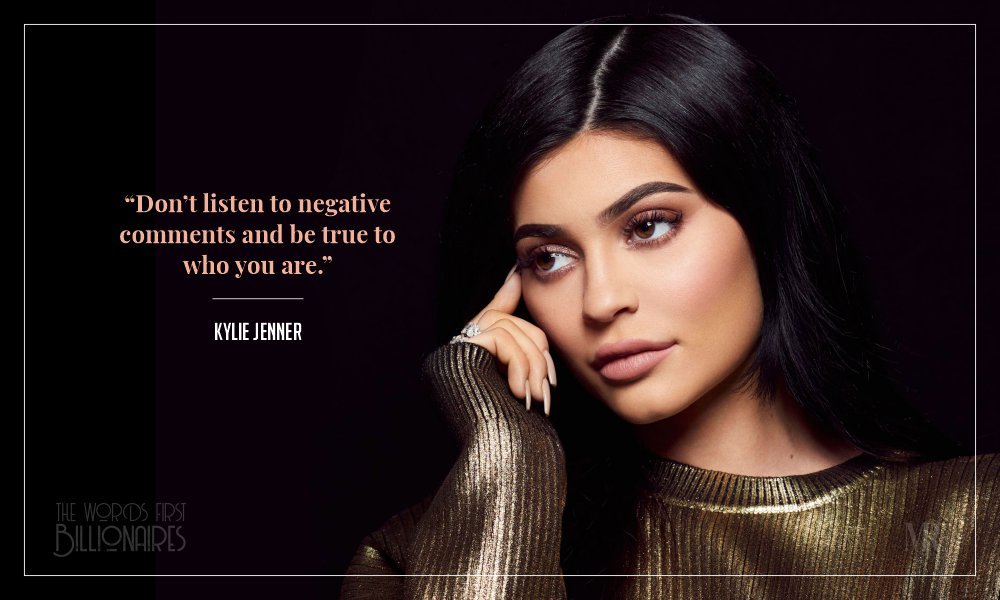 "Don't listen to negative comments and be true to who you are." – Kylie Jenner
Kylie Jenner became the Youngest Billionaire of the world, at the age of 21, in 2019 due to her cosmetic line – Kylie Cosmetics. She was given the title of the youngest self-made billionaire, however, the 'self-made' title still surrounds some debate because of her privileged family background. Regardless, Kylie has earned her title as a billionaire and was one of just 2,095 people in the world with a ten-digit fortune in 2019.
Kylie has been part of a reality television show—Keeping up with the Kardashians—since 2007, later with her sister Kendall she created a clothing line called "Kendall & Kylie", in 2014. At this time she was just 14 years old, so we can say entrepreneurship was not novice for her. Soon enough, she was a businesswoman, socialite, model, and an American media personality.
Kylie used some $250,000 of her modeling earnings to pay an outside company to produce Kylie-branded lip kits—$29 packages of the lipstick with matching lip liner. Kylie already had celebrity media presence with a huge Instagram. She used these followers as the customer base. She was smart enough to use this unique strategy and this strategy worked out pretty well indeed. The first batch of 15,000 lip kits was sold in the first minute. She later expanded this lip kit venture idea into a full-fledged cosmetic empire.
Related: The 50 Most Popular Women on the Internet throughout the Decade
Some other interesting facts about the youngest billionaire:
Kylie was home-schooled during the last few years of high school.
In 2011, Kylie earned $100,000 just for letting OPI name a nail polish line after her and Kendall.
Despite building a fortune over the cosmetic line, Kylie isn't a fan of make-up.
Kylie was the youngest person on the Forbes Highest-Paid celeb list of 2017, she was just 19 then.
Kylie co-wrote a young-adult fiction novel with Kendall and ghostwriter Maya Sloan that centered on a dystopian world.
Who will become the first Trillionaire?
Bill Gates was 31 when he earned the billionaire status and also the title of 'Youngest Billionaire'. This title was passed on to Mark Zuckerberg in 2008, when he became a billionaire at the age of 23. Presently, Kylie Jenner helms the title of the world's youngest billionaire. She achieved this position when she was merely 21 years old—thanks to her line of cosmetics!
'Billionaire' has now become a relative concept as billion dollars are not as worth as it used to be. Many have started considering billionaire status as passé. After all, in 2019 there were about 2,604 billionaires in the world with 621 billionaire status in the U.S alone. Even with the COVID crisis raging all around the globe, the world's richest are estimated to grow their wealth in the coming years. Reports are suggesting that the Amazon founder and CEO Jeff Bezos will potentially become the world's first trillionaire as early as 2026.
Undoubtedly, Amazon has coped much better than other companies amid the pandemic and resulting economic crisis. Yet the probability of Bezos actually continuing to grow his vast personal fortune at such an amazing pace is probably fairly slim.
No, this doesn't mean that there won't ever be a trillionaire. In fact, financial experts predict that there won't be just one, but around 11 of them within the next 60 years. After John D Rockefeller, it will be interesting to see who will create another history. Time and money will answer the question of who will be the first trillionaire!
Also Read: