IT Service Management (ITSM), as it refers to the art of executing, handling, and supplying IT services to meet the needs of an organization, is NO longer a buzzword today.  Technology is an integral part of every aspect of a business so the line between business and IT is getting blurred and perhaps will vanish soon. Companies are implementing ITSM to regularize processes through structured delivery and documentation. It also helps in saving costs by building a predictable IT company. In a business, ITSM can bring actionable IT insights to help in better decision-making and ensures that the optimal utilization of people, processes, and technology is taking place to offer value to clients. "I think it is a thriving market. There are many companies who can't afford a full-time staff for certain areas or just need help with a specific problem and experts who want to remain independent," says John Barber, the CEO of New Jersey-based Streamliner Consulting.
Under the umbrella of ITSM, Streamliner Consulting analyzes, designs, and recommends strategies that assist clients' businesses to organize every aspect of technology. The curated strategies are useful for managing client services through their lifecycles. Small and medium-sized businesses (SMBs) are always striving to achieve more to rise from their current position. These firms require efficient services that are affordable in cost. As John said, there are companies which are seeking such assistance. And this is where Streamliner Consulting comes into the picture. It becomes a helping hand that offers enterprise-level process improvement and tooling consulting especially curated according to the priorities of SMBs.
Bringing ITSM Best Practices for SMBs
In his vast career of working with both SMBs and various Fortune 500 companies, John has closely observed the essential needs of SMBs. During his professional journey of creating key solutions, John found that many SMBs don't have the regular business analysis resources to consistently evaluate and improve their processes, procedures, and supporting tools. The lack of important resources unconsciously led such companies towards a reduction in productivity and profit potential.
Traditionally, the ITSM best practices were only utilized by enterprise-level corporations to be more organized, effective, and profitable. In 2016, John decided to bridge this gap with Streamliner Consulting. The company adapts and expands the IT service management's best practices to cater to the needs of SMBs and maximize their potential while balancing the cost of improvements. The team at Streamliner has experience working in traditional Waterfall based development frameworks. They have been focusing on DevOps and helping clients to integrate traditional ITIL ITSM processes into an Agile based DevOps model. This further helps clients to determine which services will still be shared with the Service Desk and which will be provided by the DevOps group.
Another crucial area—customer service operations — where customers want to reach businesses in no time, requires the company's support team to be more productive, work more effectively, and deliver better service to their customers. Therefore, to service clients accurately and effectively, John suggests that a business needs the right number of the right type of service people at the right time. Customer service operation solutions at Streamliner Consulting do the aforementioned tasks for the clients and enable them to effectively service their customers.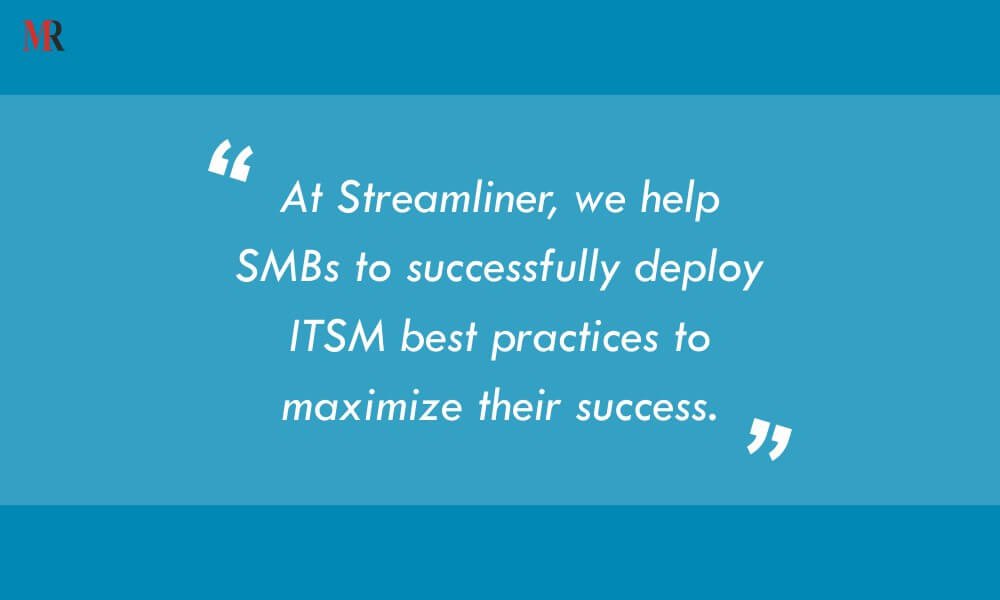 Verified Reviews from the Satisfied Customers of Streamliner Consulting
Due to growing awareness about implementing ITSM, many organizations forget to look upon some key loopholes that can ruin their business. In most of the ITSM deployment, companies fail to define services properly. Similarly, they are unable to formalize the design and strategy activities and ignore the continual improvement process which further worsens the situation. Therefore, to help clients avoid such mistakes, Streamliner has been utilizing its specialized IT Service Management services and helping businesses to organize every aspect of their technology.
The efforts of a wise provider can only be unveiled by its customers. Similarly, the clients of Streamliner Consulting have shown their appreciation on the clutch.co's verified reviews. The company has an average 4.8 stars rating on its profile page of clutch.co. One of its clients shared, "Whether it involved working weekends or late nights on new releases or testing, they never turned down a task." Similarly, in the feedback summary, the customer specifically mentioned that "close communication, diligence, and timely delivery made the project run smoothly".
These reviews are the outcome of Streamliner's exceptional service delivery and dedication towards assisting clients in the best way possible. John and his team always get motivated with such feedback and strive to get better over time while keeping the customer requirements at the center of their growth strategy.
Ensuring Clients' Benefits with Best Industry Practices
John's experience in creating and handling numerous clients' ITSM and Customer Service Operations has helped him to build refined services at Streamliner Consulting. "The toughest challenges that I have faced are usually around project stakeholders that feel their role is to force their solutions into the program, as opposed to trusting in the expertise of the consultant helping them," says John. Therefore, he works towards establishing relationships with stakeholders, which helps Streamliner to acquire their trust and confidence in its services. The bond between customers and provider makes it easier for stakeholders to understand the business value and reduced cost of other solutions. John asserts, "I stay attuned with the industry trends and maintain a certification lifecycle to ensure my clients are always benefitting from the most recent industry best practices."
With his trusted group of clients, John aims for a bright future. He wants to be partnered with ServiceNow development vendor and leading a staff of consultants who will focus on helping companies to achieve the most efficient and effective processes and tools to achieve their business outcomes at minimum cost in development, training and using ITSM processes and tools.