Unfortunately, female leadership in the corporate sector has not improved in the past few years.
We have ventured into the realms of the 21st century that is shrouded by modernism and modernization. In this era of transformations, we are witnessing improvement and progress in terms of technology, communication, networking, socialization, and many more. Speaking of corporate leadership, statistics reveal that women account for 47.7% of the global workforce in comparison to men. Women continue to face several barriers throughout their journey of leadership. Moreover, women belonging to diverse identity groups such as women of color, LGBTQ+ women, women with disabilities and chronic mental illnesses continue to face perpetual discrimination and abandonment within the workforce.
The talk on equity in female leadership being paramount in the 21st century took a different route during the ongoing pandemic. A year and a half into the COVID-19 pandemic, women have been experiencing comparatively more burnout and stress than in the preceding years. Despite the complications induced by COVID-19, the representation of women increased across the 2020 corporate pipeline. Irrespective of the celebratory waves produced by this notion, the aftermath of the pandemic continues to be of major concern—especially for women. Moreover, women of color continue to lose their grounds of representation at every level and women belonging to diverse identity backgrounds continue facing backlashes within their respective fields of interest.
Perceptive Female Leadership: Men vs Women
Despite the increasing exhaustion, women are voluntarily pursuing C-suite leadership and undertaking responsibility for several aspects such as employee wellbeing, corporate orientation, nurturing organizational values, and others. Female leadership in the world is currently viewed with distinguished perceptions.
Studies prove that women tend to be effective managers. Several studies such as Gallup's survey of almost 27 million employees worldwide proved women bosses tend to outperform their male counterparts at work because they are better at driving employee engagement.
Female leadership holds an empowering stature globally by sparking a worldwide interest. Regardless of the fair share of criticism, the 'girlboss' terminology has renewed interest in women leaders at work. According to the latest survey conducted by the Resume lab, the following data states the views of women about other women in leadership:
48% of women would prefer to work for a female manager.
72% of women feel rather or very positive about having women leaders in their organization.
42% of women would trust a woman more than a man to lead a company.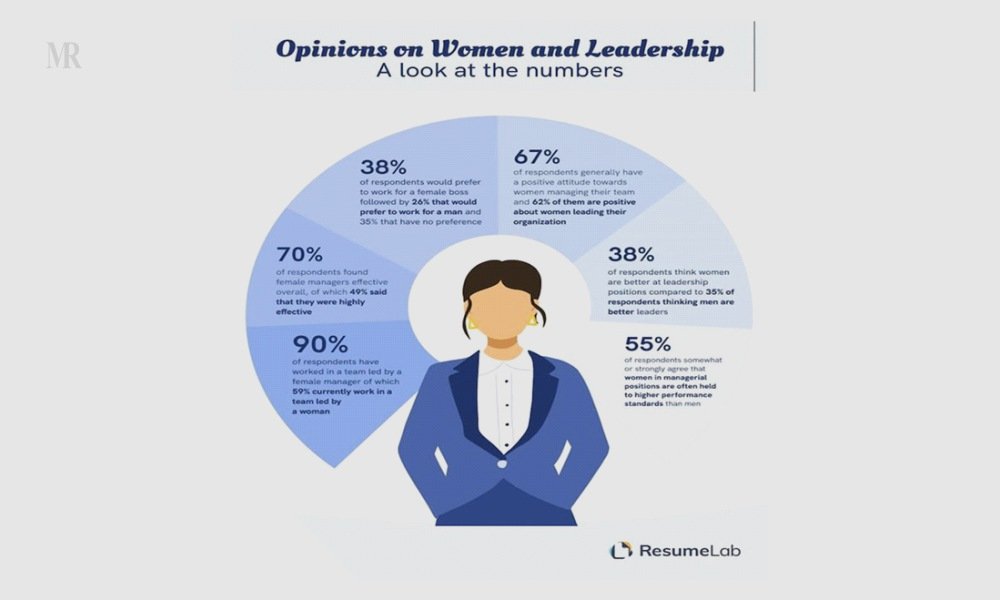 [The Female Boss: How We See Women in Power [2021 Study] by Bart Turczynski, Resume Lab – 2021 THE FEMALE BOSS: HOW WE SEE WOMEN IN POWER [2021 STUDY] BY BART TURCZYNSKI, RESUME LAB – 2021]
However, when it comes to men, their perception regarding female leadership significantly varied from those of women:
Just 28% of them would prefer to work for a female manager.
Only 53% of men feel rather or very positive about having women leaders in their organization.
And a mere 17% of men would trust a woman more than a man to lead a company.
The above statistics are conclusive regarding the varied gender perception existing within the corporate landscape.
The Gender War (Level Corporate)
The study assessment by Women In Workplace 2021 reveal the below-mentioned state of women in the workplace:
Men hold more managerial positions as compared to women. For every 100 men promoted to manager, only 86 women are promoted. Men significantly outnumber men in receiving promotions for managerial positions, which implies that there are fewer women to be promoted for higher positions.
Women tend to experience more burnout—as compared to men. The COVID-19 pandemic triggered the burnout experience for women. Various women within the workplace were seen quitting their jobs or resigning from leadership positions while considering a downshift in their professional careers.
The aforementioned statistics are evident to the notion that women are yet to experience liberty while pursuing leadership under various aspects. The major barriers to female leadership are as follows:
Although studies reveal that women's leadership is highly preferred by the majority, their work often goes unrecognized. Women report cases of imposter syndrome more often than men do while stating that they often feel unsure of themselves. This struggle of fostering self-confidence acts as one of the major barriers to successful female leadership.
Insufficient Resources/Support
Often women have reported of lack of resources or ample support while being offered leadership opportunities. Sometimes the roles are structured in a way that paved the way to failure rather than success. This is reflected in a separate study that found that FTSE 100 Index companies were more likely to appoint women to their boards following an extended period of poor stock market performance.
Often women have reported not receiving lesser opportunities in comparison to their male peers. They felt they had to work harder to be afforded the same opportunities as men, and often had to overcome assumptions about their capabilities and actions due to their gender. In some cases, women have also reported that experienced female executives were brought into organizations at a lower level than male counterparts, meaning they had to invest more time to get to the same level as male peers.
Comprehensive Analysis of Female Leadership
Overcoming the existing gender-associated barriers to women's leadership requires a two-fold approach—addressing cultural and organizational barriers. The emergence of female leaders can potentially become the central point for harboring positivity and development. We are witnessing numerous examples of female leaders changing the world with their intellect and visionary leadership. There are several examples of ambitious and prodigious women spearheading powerful organizations and instigating changes through technological advents and policies.
Women possess several qualities that make them suitable for undertaking C-suite roles. Women possess higher emotional intelligence as compared to men. Emotional intelligence plays a key role in leadership as qualities such as compassion and empathy are vital for understanding overall well-being. Women are ethical and civic-minded, and champion diversity and issues of equality, and seek to further economic, social, and political progress for all. Moreover, women are collaborative, team-oriented, and collaborative and portray a profound passion for their work.
The Conclusive Note:
The Forbes 500 list serves as the classic instance of portraying female leadership in C-suite roles. Assessments on the list prove that women CEOs make up 6.4% of the Fortune 500 list in America. The companies that boast a higher representation of women on their boards, notably outperform the organizations that do not.
Women are redefining leadership by transforming it into value-based, revamping the definition of power and the expression of global culture. "The message is clear: It's not about ensuring that women get the same advantages that men enjoy, but that everyone gets the same and equal piece of the pie regardless of identity."
Leadership involves more than just leading the pack or the tribe. It includes a set of competencies and strengths and is about following a professional code of conduct while tackling challenges presented throughout the journey. Thousands of women are shattering the predesignated norms and roles of gender-oriented leadership. With brainstorming ideas, they are trailblazing accomplishments and landscaping the world. Female leadership is paving way for women leaders to follow the footsteps of great leadership.
"We need to reshape our own perception of how we view ourselves. We have to step up as women and take the lead." -Beyoncé
Also Read: The 10 Most Profitable Franchises In The USA For 2022