As the saying goes, "​Nothing in life goes in vain, you learn from your experiences.​" Today, we all are facing an extremely difficult time as the wake of COVID-19 has thrown various challenges at us. It has not only affected the way of living but also the way of business operations. Similarly, the aftermath can be seen in the supply chain and logistics sector. Such a crisis demands a leader who has experience in overcoming challenges—​Stephen Whyte​, Founder,​ and ​MD​ of ​QADEX ​fills the shoes perfectly with a never give up attitude.
The inspiring story of Stephen began in 2001 when he left his board-level corporate job to start his first business. As they say, nothing comes easy, he was unable to scale profitably in his first business but that gave him the idea for QADEX—founded in 2007. Since then there is no looking back. The company has been self-funded from cashflow and has grown from a team of 2 to over 50 today. Over the years, it has achieved profitable, sustainable, growth of 25% CAGR.
To understand better about his entrepreneurial journey, the team of Mirror Review took an exclusive interview with Stephen. Here is a quick snippet from the interview.
Is there any unique quality of QADEX that has helped it flourish in all these years?
The reason for our longevity is our mission to enable step-change improvements in food safety along with new product development and customer care. We have been achieving this through our vision of delivering digital transformation in our customer's processes as well as the use of big data/data analytics. Food safety management using big data/ data analytics has helped us in providing early warnings of where problems may be emerging.
Evidently, COVID-19 is adversely affecting globally. Brief us to what extent COVID-19 has affected the operations of QADEX.
Yes, COVID-19 has caused a lot of disruption both to human lives as well as to the global economy. I feel it has massively impacted the customers who are in the food and drink businesses and have an essential role in keeping the nation fed. Coming back to QADEX, 10% of our customers have been adversely impacted due to their focus on the foodservice and hospitality industry which has had to shut down in many instances. For the remaining 90% of our customers, have been very busy and have seen massive value from their usage of the QADEX software as it enabled food safety teams to work from home and remain highly productive.
How have QADEX's solutions evolved—especially in the current times?
We are proud of the fact that QADEX is the only solution that fully integrates all aspects of new product development, food safety, and consumer care in a single platform. Recently, we have launched STAR Index. It addresses the growing need for businesses to become responsible and address the climate crisis. ESG/CSR is becoming a high priority and STAR Index delivers information that can be acted upon – 'actionable insight' – on the wider risks across supply chains and investments, with an overview of policies, activity, and engagement in Sustainable, Technical, Natural Assets, and Responsible sourcing.
Moreover, as a leader in the supply chain and logistics industry, we have to be more responsible while making decisions, especially in the current times. We are working very intensively with STAR Index to help the food and drink industry to contribute to solving the climate crisis.
Has COVID-19 changed or reshaped your leadership in any manner?
To be honest, COVID-19 has brought several changes, since the start of COVID-19, my working ​style has changed. Due to the challenges of delivering during the disruption of the pandemic when staff are not office-based, I feel more businesses are going to undertake a digital transformation of food safety and new product development. I am no longer traveling 3 days per week but actually achieving much more using web conference calls. At present, I am focused on creating an environment for the great people that we have in our business to be their best and continuing to deliver outstanding software and customer services to the over 16,000 food factories that we support globally.
Amid crisis what is the biggest challenge that you encounter and how are you and your team tackling it?
Since the COVID-19 outbreak, we have witnessed several challenges. However, the biggest challenge that we faced was funding our growth from cashflow without external funding and debt. ​​We have chosen this path as it is not possible to deliver long term value for our customers with the short term horizon of financial investors. This approach has helped to raise lots of money in the technology space, develop software, and then aim for stellar growth to please investors, but this model does not deliver for food and drink businesses. These startups can burn through a lot of cash and then disappear, or pivot, leaving customers disillusioned about digital transformation.
Do you have a motivational mantra to encourage teammates in these tough times?
As of now, there is no motivational mantra, I believe in encouraging our people to challenge themselves, push themselves and not worry about making mistakes as the only way to avoid making mistakes is by not pushing forward. We believe in hiring the best people who have a customer-oriented vision and provide them with excellent systems. This process allows them to perform well and impress customers every day.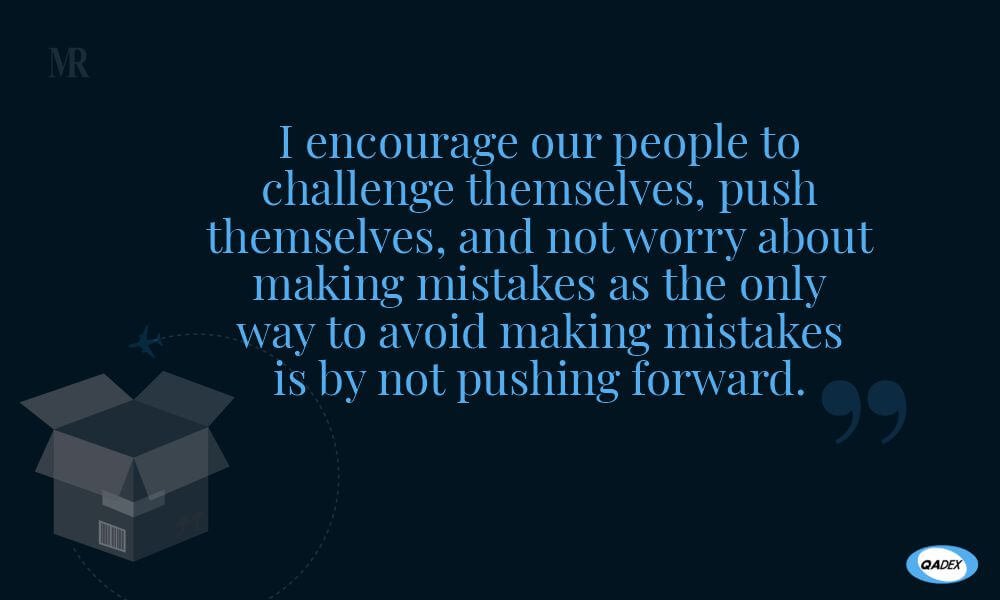 Also Read: The 10 Revolutionary Business Leaders, 2023