When the weather starts getting warm and sunny, it usually means "less time indoors." For some people, this could mean spending more time on the porch or in the garden, inviting neighbors over for a spontaneous get-together.
Naturally, if you're one of these hospitable people, it's a good idea to ensure your patio space both looks nice and is capable of hosting guests.
There's always time to turn a drab exterior into an eye-catching and inviting space for visitors. In addition, a few low-cost outdoor projects can increase your home's overall resale worth. Summer is also a great time to clean up your yard and add new elements so you can enjoy the rest of the season.
So, get out your lawn equipment and check out these four projects you can carry out to boost your garden's appeal!
Prep Up Your Patio
If you spend a lot of time on your patio, in general, you should inspect it for damage like holes and cracks. Harsh weather conditions like ice and snow can cause cracks in tile pavers, stone, and wooden decks.
To fix a crack, you're probably best investing in a trusty silicone caulk adhesive – this staple will help with numerous DIY fixes throughout the house and won't need expensive professionals. Being durable and flexible, simply apply this to areas of the decking that may show signs of splintering or wear and tear. For example, you could replace a single strip with fresh wood (as opposed to tearing the whole thing up and starting anew) by applying adhesive and holding it firmly in place as the substance sets.
If you want to match the silicone adhesive with the material you're applying it to, such as wood or stone, choose a sealant with the same color. This is crucial to remember as unfortunately paint and silicone don't mix – so if you're intending to align color schemes further down the line, don't shoot yourself in the foot!
It goes without saying but other wholesome touches like lighting, landscape rocks, and replacing pavers and patio stones will do your space some good.
Start a Garden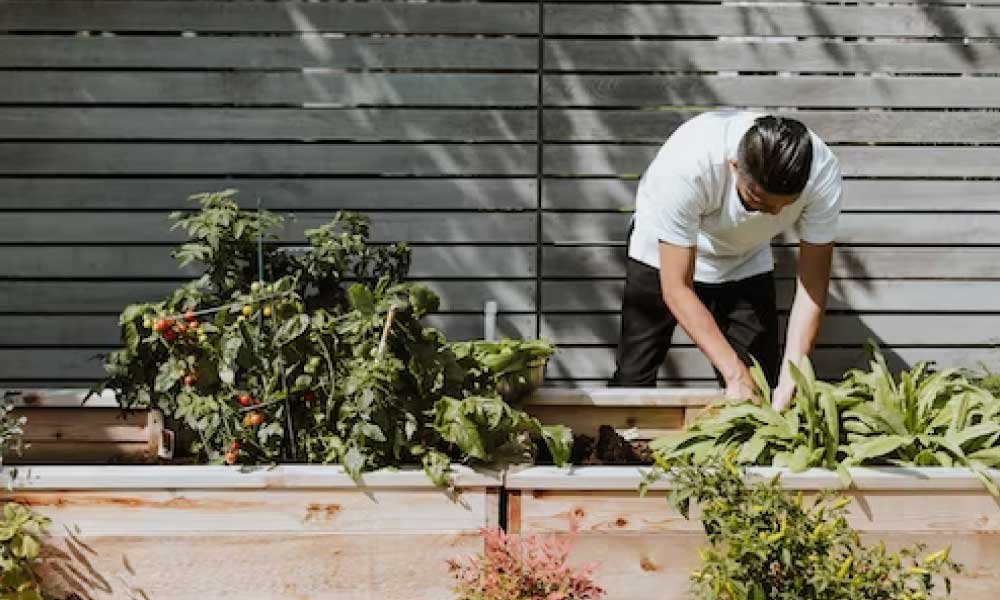 Growing fruits, veggies, and flowers in your garden is a rewarding hobby. And if you've never had a garden, summer is the perfect time to start one. The best outdoor (obviously indoor planting is always an option too) spaces stimulate all five senses: while flowers and shrubs add visual appeal, fragrant plants such as lavender and scented geraniums provide scented fresh air and beautiful blooms.
Pro tip: Loamy soil warms up faster and is great for outdoor gardens. Assemble and install raised garden beds to grow your flowers, vegetables, and herbs. These simple freestanding boxes help prevent erosion, drain well, and are ideal for small spaces where a traditional row garden would be too large. 
Set yourself up for success by purchasing critical care items such as fertilizer, a watering can, pruners, gardening gloves, and pest control.
Sort Through Your Garage
There's a high chance you've neglected your garage long enough. You might've poured all unwanted stuff from in-house cleaning into the garage that needs to be removed. Clear the clutter and sweep the space to remove any dust or dirt accumulated on the garage floor during the colder months. Inspect your garage for any damage or leaks to avoid water damage that could harm the environment.
After decluttering, organize your lawn care and landscaping tools for the spring and summer. Consider installing storage solutions if you need new shelves and revamp the flooring. You can take up spontaneous projects with a clean and organized garage without worrying about space.
Paint Outside Furniture
In case you have wooden or wicker outdoor furniture, painting is a great way to update it and extend its life. The first step is to clean the furniture thoroughly. Clean mold, mildew, and other stubborn stains with water and bleach. When you're finished, make sure it's completely dry.
Then sand the surface to remove loose paint and rough edges. If necessary, prime the surface with an all-purpose primer. Air dry the furniture in a dust-free environment, e.g., a garage, to avoid pests & dust from sticking to the surface.
Takeaway
Boosting your outdoor spaces can ultimately boost your home value by up to 11%, so revamping your home is never a bad idea. Other outdoor tasks you can indulge in include adding a pool, revamping the windows, painting your front door, etc. With the suggestions we've highlighted above, you can enjoy your new and improved yard!
Also Read: Why Is LVT Tile an Excellent Choice for Kitchen Renovation?