In today's intensely competitive business world, the role of effective leadership is paramount for an organization to thrive. Being at the core of the organization, a leader is primarily responsible for the overall growth of an organization. However, according to a recent report, 71% of the organizations feel their current leaders are not capable of carrying them forward. As this trend continues, leadership development has become the need of the hour for organizations. In recent years, leadership coaching has been gaining ground as a tool that is catering to the leadership development needs of organizations.
Definition of Leadership Coaching
Leadership coaching is typically defined as an effective management training tool that helps hone the skills of the leaders within the organization, ultimately maximizing their performance. A leadership coach helps leaders in increasing self-awareness, surmounting the challenges, as well as identifying and leveraging their untapped leadership potential. Leadership coaching programs are aimed at empowering them with the quintessential skills of a modern leader.
Who gets coached?
Effective leadership coaching can benefit any individual. However, organizations need to concentrate their resources where they have the greatest impact. Thus, they provide leadership coaching to selective people which includes executive and senior leaders or managers, leaders with high potential, and some key players who might not be leveraging their skillset optimally.
Types of leadership Coaching
While coaching was not considered a multi-dimensional approach traditionally, several new types of coaching have evolved with time. Following are some prominent types of leadership coaching.
1. Executive Leadership Coaching
Executive coaching is one of the most common types of leadership coaching. It has been prominently used for enhancing the overall performance and productivity of the existing leaders within organizations. During the process, a leadership coach helps executives address common business and interpersonal challenges, leverage information to make informed business decisions, and meet the objectives in the specified time.
2. Comprehensive Coaching
Comprehensive coaching ingrains coaching sessions into a larger leadership development initiative. This gives participants the opportunity to continue adding up to their leadership training lessons in a comprehensive manner. For instance, a leadership development program designed to train a high or mid-level managers may include a coaching element or some lessons that might be useful for the participants to reflect upon and augment what they are learning through the leadership coaching programs.
3. Coaching a Team
In some cases, even the high-performing individuals struggle to showcase their potential when they are working in a team. Team coaching is an important type of leadership coaching that is addressing this issue. From the executive teams to frontline teams, team coaching is effective at all levels. The drive to work towards a common goal, healthy communication between members, an ardent vision, etc. are quintessential to a highly-productive and efficient team. Team coaching equips leaders with the expertise to effectively work in a team.
4. Online Coaching
Online or virtual coaching was a thing even before the COVID-19 pandemic; however, the onset of the pandemic has pushed this concept to be a worldwide phenomenon. Courtesy of benefits such as swift processing, minimal resource requirement, flexibility, etc., online coaching has become an effective way of cultivating the future leaders. Virtual coaches can teach all the important attributes of leadership coaching in the same way as they would in a face-to-face setting.
Different Coaching Leadership Styles
| | |
| --- | --- |
| Democratic The leader takes into account the opinions of his team and before making the final decision | Autocratic The leader takes all the decisions by himself and is totally responsible for those decisions |
| Laissez Faire The leader gives his team the authority to make important decisions | Holistic The leader ensures that the employees' work-life balance is optimum, which helps him in the larger picture. |
Why Leadership Coaching is Important?
Leadership coaching offers a plethora of benefits for senior leaders or managers to grow professionally. Here are some of them.
1. Handling Stressful Situations
Any senior professional is bound to face several challenges that may induce stress. In these situations, it can become difficult for them to know what is best for the team put the team's needs first. However, it is their responsibility to guide the team—without letting the stress affect their decision-making.
Through personal one-on-one interactions, intentional practice and reflection, and goals for personal growth or career development, leadership coaching can help leaders become more resilient, particularly in challenging circumstances. With leadership coaching—according to a source—managers witnessed a 25% increase in team performance and a whopping 130% increase in their own performance.
2. Inculcating Strategic Management Skills
Successful implementation of plans is a testament that a company is growing. To ensure the same, senior executives in the company must thoroughly understand the company's objectives and strategies and have the know-how to effectively communicate the organizational goals to the team. According to a 2017 report by Harvard Business Review, 61% of executives were not prepared for the strategic challenges they faced when they were promoted to senior leadership roles.
Leadership coaching can help senior executives comprehend the company's vision and build a team accordingly that aligns with the company's long-term goals. It can aid them to not only communicate the company's strategy in an effective way but also deal with any challenges and find feasible solutions to streamline the implementation process.
3. Propagating Trust within Employees
Passionate and motivated employees are the key to success for any organization. They are often motivated to bring out their best when they are given autonomy over their work and their workplace has a culture that emphasizes trust. Companies that inculcate a trust-based culture often find their employees to be more productive and ardent. A Harvard Business Review report also suggests the same.
According to the report, compared with people at low-trust companies, people at high-trust companies report 74% less stress, 106% more energy at work, 76% more engagement, 13% fewer sick days, 50% higher productivity, 40% less burnout, and 29% more satisfaction with their lives.
The role of a senior executive or manager is crucial in instilling a trust-based culture within the company. Here, leadership coaching can effectively position them to empower the employees to work to their potential. A leadership coach teaches managers to share the accountability and ownership of a project with the team as employees tend to be more productive when they are given the authority and control of a project. Coaching also helps senior professionals understand the importance of their role.
4. Increasing the Productivity
A senior leader or manager is responsible for various operations within the company—from allotting tasks and reviewing and tracking the team's performance to motivating the team to give their best. Staying productive constantly thus becomes difficult. According to a statistic, an average office worker is productive for less than three hours a day. More often than not, managers are also no different.
While some of them are distracted by their surroundings, some are distracted by their inner perspectives or thought patterns as well. Leadership coaching can help them precisely identify the causes behind the lack of productivity and provide them with the tools and strategies to increase their efficiency. A leadership coach can give valuable tips like taking active breaks, setting time-related boundaries, decreasing the number of meetings, avoiding working at the end of the day, etc. to optimize the productivity of the senior members.
5. Thriving beyond Workplace
When the atmosphere around the team is positive, it reflects on the employees' productivity and their zeal to learn new things. If the employees are to be marshaled in the best possible way, leaders have a critical role to play. The senior leadership in the company influences the rest of the team in many ways. Thus to ensure a relaxing and productive work environment, the leaders should have that kind of a demeanor firsthand.
Ensuring intact work-life balance is one of the important facets of leadership. It plays an important role in keeping leaders active and composed. Leadership coaching significantly helps senior professionals achieve that. It helps the leaders grow professionally as well as personally and ultimately contribute to the company's growth.
Some Interesting Statistics about Leadership Development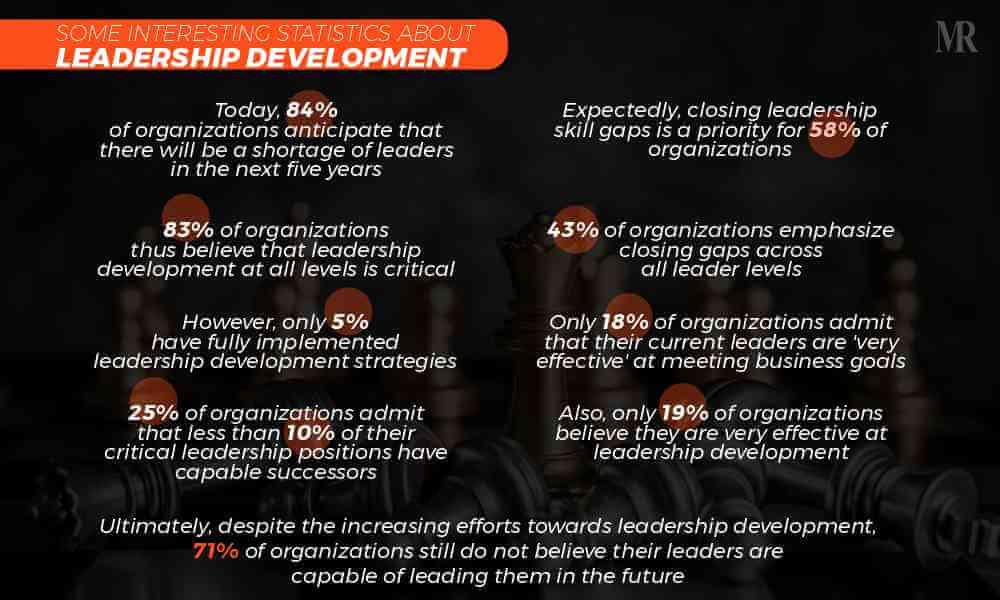 Future of Leadership Development
The number of courses/platforms offering leadership coaching is soaring at a rapid rate. However, gaps in the traditional leadership development are calling for new approaches that are customized and more comprehensive. Also, a notion that leadership development is only for the C-suite is also changing. With the increasing proliferation of digital-centric approaches, leadership coaching is slowly opening its doors for all the employees across an organization. As we move forward, leadership coaching is ought to become much more inclusive, cultivating the next generation of highly adept and committed leaders.
Read Full Magazine: The Top 10 Remarkable Entrepreneurs of 2021.