Choosing new gym uniforms for your staff is a big decision, but it doesn't have to be complicated and overwhelming. We'll offer some general tips for picking the best gym uniforms. Then we'll dive in the various pieces of apparel that you need to consider, from short-sleeve workout shorts to custom sports backpacks.
What to Look for When Shopping for Gym Uniforms
When shopping for gym uniforms, there are some general guidelines to keep in mind. First of all, you want to prioritize clothing made of performance fabrics that will wick away moisture, dry fast, and not harbor smells. Clothing made of cotton will soak up sweat quickly and take forever to dry, resulting in an unprofessional appearance.
You will also need to be selective about color. Many gyms prefer dark-colored clothing, which doesn't show sweat and stains as readily. However, you will also want to choose a color that matches your overall branding and color scheme. If your gym colors are purple and white, then you don't want to put your employees in a green uniform even if it looks good on them.
You will also need to make sure that your gym clothing is available in the genders and sizes that you need. Some gyms opt for unisex sized garments to simplify purchasing. Other gyms prefer to get clothing that is available in men's and women's fits, like this custom long-sleeve Under Armour shirt, for a more tailored look.
You will also need to confirm that the clothing is available in the size ranges that you need to outfit all your employees. If the clothing is too tight, then the fabric will constrict their movements. If the clothing is too loose, it can catch on machines and create a safety hazard.
When setting a budget, keep in mind that employees will need multiple versions of each apparel item so they can wear clean clothes to work everyday. Each employee needs a minimum of two of each item, but realistically most people need more since gyms are sweaty, smelly places and they can't do laundry every single day. Gym employees also need to replace their clothes every year or two since they put wear and tear on them so fast, so choose a garment that you have a reasonable chance of reordering in the future.
Most custom apparel companies can provide a sample before you place an order so you can assess product quality and make sure the apparel is up to their standards. Definitely take advantage of this sample shipping and compare garments from several retailers before making your final selection.
Gym Uniform Must Have Apparel
Not sure where to get started when it comes to putting together a gym uniform? Here are seven items to add to your shopping list:
Long Sleeve Shirts
Long sleeve shirts are a nice option for cold weather or gyms that tend to put the air conditioning on full blast. Choose a high performance brand, such as this custom long sleeve Under Armour shirt, that will keep your staff comfortable while making a good impression on potential clients.
Short Sleeve Shirts
You should also offer a short sleeve option for hotter weather and staff members who get overheated easily. Like the long sleeve shirt, you should choose a high performance t-shirt from a trusted brand that your staff will enjoy wearing. Don't get a classic cotton t-shirt, which will quickly soak up sweat and take forever to dry.
Jackets and Outerwear
Outerwear is a nice addition to the standard gym uniform, especially if your staff members sometimes lead classes outside. Many different options are available for custom outerwear, including lightweight jackets, fleece zip-ups, rain jackets, insulated parkas, and more. Think about your local weather and climate when selecting a custom jacket to add to your gym uniform.
Custom Pants and Shorts
While most gym uniforms focus on custom shirts and jackets, you can also get custom pants if you want to outfit your staff members from head to toe. Similar to long sleeve and short sleeve shirts, it's a good idea to offer both shorts and pants so your staff can dress for hot or cold weather accordingly. If you don't want to shell out for custom pants, just ask your staff to wear plain black gym bottoms with their matching shirts to create a uniform impression.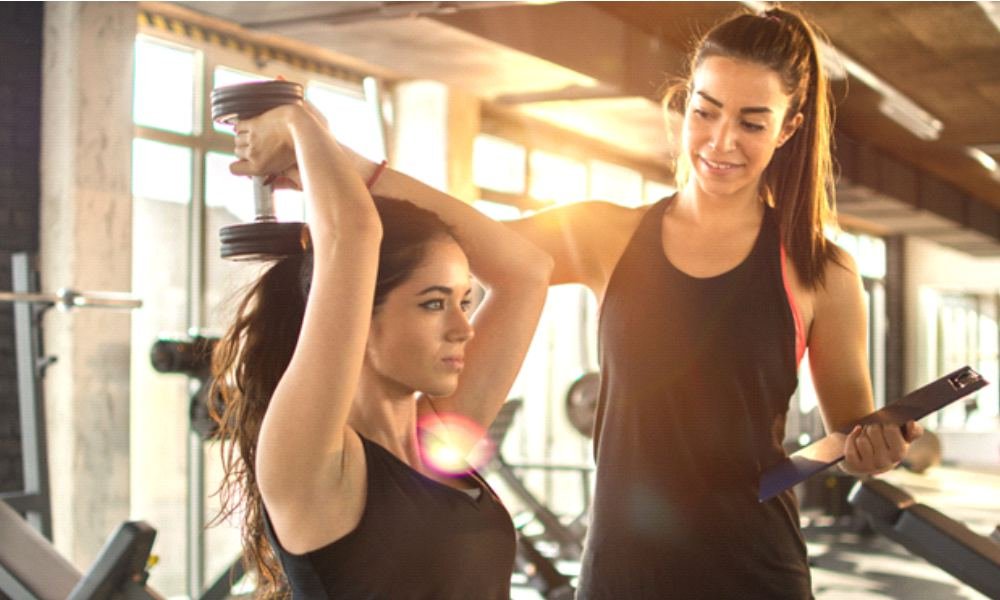 Footwear and Socks
This one is purely optional, but custom socks and/or footwear will definitely take your uniforms to the next level, not to mention make a great gift for your employees. Socks with a full color knit-in design are surprisingly affordable for a bulk gift, while custom shoes from trusted brands like Allbirds make for an excellent employee appreciation or anniversary gift.
Caps and Hats
Cap and hats are another fun accessory that add to gym uniforms (not to mention that they hide sweaty gym hair for a more professional look!). In this situation, we recommend avoiding classic cotton baseball caps and prioritizing hats made from performance materials that will dry quickly and not absorb smells. The caps and hats will be embroidered with the gym logo on the front for a lasting impression.
Backpacks and Gym Bags
While not technically part of the uniform, every single employee will need a gym bag to carry to and from the gym. If every employee has the same custom sports backpack, it will create a positive impression on gym patrons and advertise the gym everywhere they carry the bag. Choose from duffel, backpack, and tote bag designs, and be sure to select a color that complements your gym uniforms and overall branding.