Vivek Mehra, the Founder and CEO of ParqEx, is a technically astute personality with over 18 years of experience in technical leadership and an outstanding track record of creating technology vision, setting strategic IT direction, and steering innovative technology road-maps to align with corporate strategy and business objectives. His professional journey consists of working for Fortune 500 companies and startups operating in various industries such as manufacturing, human resources, healthcare, finance, print, and parking real estate.
Vivek's knowledge and experiences comed from building two companies from the ground up; through idea, development, raising capital, mergers & acquisitions, and, the sale of the company. He has also designed and developed several financial technology platforms while working for Northern Trust. Apart from this, he has also played the role of a Chief Technology Officer at a print industry startup where he built the print platform and ran every aspect of the technology.
After gaining comprehensive knowledge and experience solving complex business problems in several verticals, he found the confidence to venture out on his own. Having lived in Chicago for two decades and having experienced all kinds of parking issues that plague the city, he found himself passionate about solving this issue, which led him to start ParqEx. He says that he has embarked on the journey to solve the parking problem for renters, owners, property managers, and the community.
ParqEx: The Smart Parking Technology
Headquartered in Chicago, Illinois, ParqEx is a smart parking platform transforming parking real estate by optimizing the way property owners manage & monetize their 'self-managed' parking assets. As every property is unique considering its distinct amenities, it needs a custom-tailored solution. To tackle these challenges, ParqEx has built a set of modular solutions that can be implemented individually or packaged together depending on the needs of the distinct situation. ParqEx's four of the quintessential solutions rendered comprise ­-
Marketplace: It provides property owners with the ability to increase income by facilitating rentals to drivers looking for a place to park.
Access+: This tenders a better way to provide access to secure parking spaces by controlling garage doors and gates through the ParqEx mobile app.
GuestParq: Intended primarily for apartment and condominium buildings, this plug-and-play offering improves the guest parking experience for residents, guests, and managers altogether. It improves the entire process —from reserving a spot, to arriving at the building, to managing who should be parking in what spot — all while capturing important usage data over that period of time.
Enforcer: It offers easy to use administrative tools and convenient enforcement services making sure that the vehicles are parked in the right locations. It supports anyone who is self-managing their parking or using third parties for enforcement and wants to have better information at their fingertips enabling them to do so more efficiently.
Empowering Customers with Dedicated and Comprehensive Offerings
ParqEx is an industry leader for self-managed parking technology, distinct from the other players in the field. Vivek has built this platform from scratch, focused to delivering value for "self-managed parking real-estate" that is very different from commercial or public parking garages. Moreover, the Access+ solution is a huge differentiator and ParqEx promises that by using this distinct IoT solution, it can augment the capabilities of a property unlike any other solutions in the market.
Apart from this, the one distinct perquisite that sets ParqEx apart from the competitors is that no other offering in the market offers similar breadth to ensure the maximization of value for the customer. ParqEx is the only company that seamlessly integrates the technology to help on both owners and customers. Last but not the least, the ParqEx platform is available on Android, IOS, mobile web and desktop and integrated with several property management platforms to give end users a seamless experience.
ParqEx's 2019 Milestones through Vivek's Lenses
ParqEx is in a high growth mode, we are focused on national expansion and partnerships with real estate entities across the US. To achieve the company's goals, Vivek foresees some milestones to be achieved in the year 2019. With a focus on geographic expansion, he plans to add 6 new markets in the US. Furthermore, in terms technology, he seeks enhancements to the company's reservation system, especially to the SMART IoT technology and the Artificial Intelligence/predictive analysis engine to help owners further optimize their revenue generation from parking rentals using dynamic pricing. To help achieve these goals, he plans to add an executive team member to lead marketing and drive the vision to launch new markets.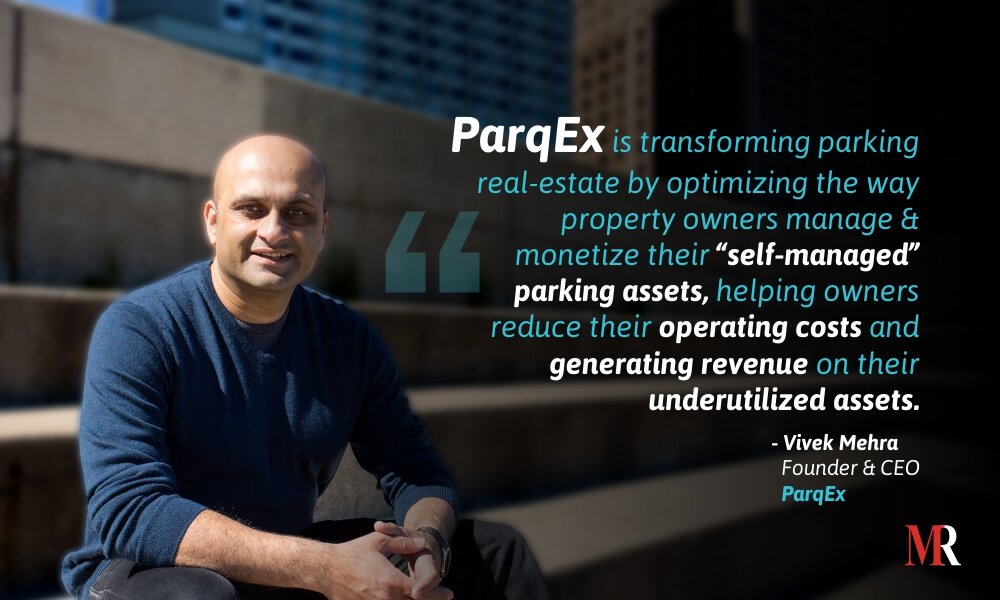 The Protean Architect of ParqEx
Since ParqEx is a growth stage startup, Vivek does not hesitate to get involved in almost every aspect of his venture. His prime roles and responsibilities include; managing investor relations & fund-raising, building & leading his executive team while running the day to day aspects of the business that includes; technology, operations, sales, marketing and more. Most importantly, as the CEO, Vivek ensures ParqEx's vision and culture alignment in the company.
Personally, he is passionate about solving real-world business problems with technology solutions. While speaking about his favorite part of this role, he said, "I have had the opportunity to see my idea come to fruition and it has been most humbling and gratifying. Besides, other aspects of my role that I really enjoy include; developing young talent, working with an amazing team, and networking with other CEOs and investors." While expressing what satisfaction for him is, Vivek quotes, "Seeing ParqEx disrupt the real estate and transportation industry with our technology platform is very gratifying."