Incepted in 2005, Union Wine Company is based in Oregon and its most popular wine: 'Underwood,' sold in 45 states, is one of the most widely available canned wines in the U.S. The name Union is to honor and bring together the diversity, spirit and character of Oregon that is loved by many. Union Wine Co. opened up shop and made it their mission to pay close attention to the details, while leaving the fussy parts behind.
The Underwood cans were first released in a limited edition at the 2013 Feast Portland event through Union's "Pinkies Down" campaign to share the belief that what goes into the glass is more important than what type of glass it is. At the end of the day, wine is just a beverage. And then it becomes a part of something greater.
Aging Wine with Different Tastes
Union Wine's Underwood Pinot Noir is a perfect blend of grapes from Umpqua Valley, the Willamette Valley, and the Applegate Valley and is aged in new French oak for eight months. The resulting wine has tasting notes of raspberry, cherry, and chocolate. Union Wine Co.'s Underwood label also carries Pinot Gris, Rosé, Rosé Bubbles, The Bubbles, and more unusual products like their Riesling Radler (a blend of Riesling with grapefruit and hops) and Strawberry Cooler (a blend of pinot noir with strawberries, cranberry, and lime).  Here are the wine labels sold by Union Wine Co.:
Underwood – Underwood draws from the diverse palette of vineyards and wine growing regions that Oregon offers to create approachable everyday drinking wines.
Kings Ridge – Kings Ridge wines are from the heart of Oregon's Willamette Valley and are characterized by the unique flavors found only in its hills and valley.
Alchemist – An inspiring blend of the very best from the favorite Willamette Valley vineyards.
The Wine Master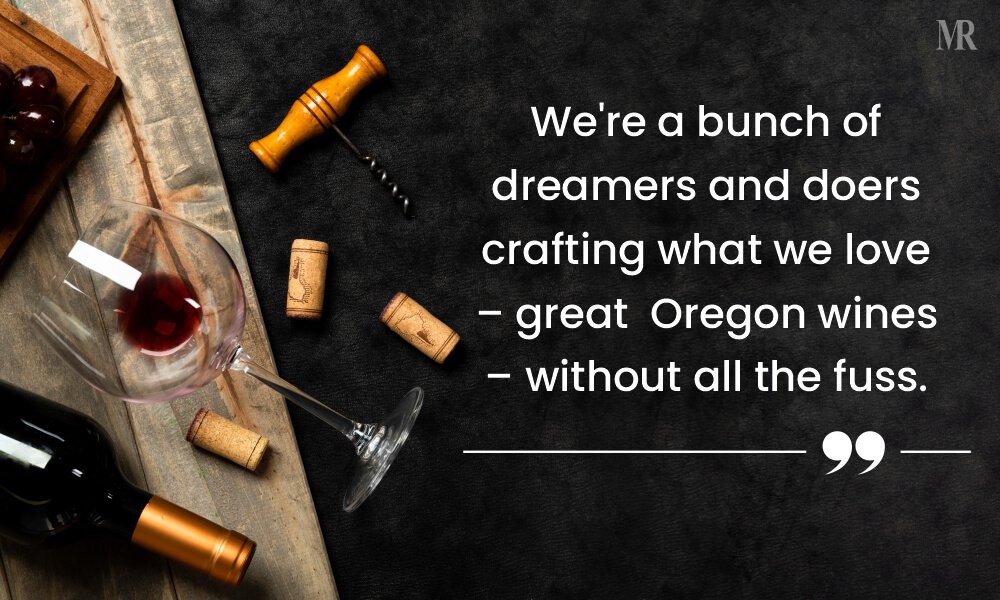 In 2001, Ryan Harms, founder of Union Wine Company moved to Oregon and embraced wholeheartedly the region's unique spirit and passion for craftsmanship. Finally in 2005, he decided to start something that could satisfy his entrepreneurial skills. Throughout his career he worked for some great Oregon wineries. During Ryan's early days in the industry, his friends wanted to support the companies he worked for but couldn't afford to which made him realize, wine made in Oregon had to be less expensive.  Wine brings people together over a meal for every big and small celebration. Ryan says, "And that's incredibly satisfying to all of us at Union. It began with one goal, make great craft wines that are affordable and accessible. More wine, less fuss. It quickly began checking off the must-haves."
Facility Capable of High Production
Union Wine Company has their own 43,000 square foot packaging facility equipped with both bottling and canning lines. This facility is  the fastest and most automated canning facility in both the state of Oregon and the canned wine industry. The facility is capable of producing roughly 600-650 cans per minute and 200-250 bottles per minute. Further highlighting its capabilities, Ryan says, "The new facility has allowed us the ability to easily move between bottling and canning." That's doubly important for his outfit, which puts 55% of its wine into Underwood cans (under the Underwood, Kings Ridge, and Alchemist monikers).
OREGON: A Great Place to Make Wine
Union Wine Co. is constantly inspired by the natural beauty of the Northwest and the ethos and passion of its residents. Oregon is home to some of America's most celebrated Pinot Noir. The place has more than 700 wineries and is home to well over 70 grape varieties. Oregon has successfully grown Pinot Gris, Chardonnay, Riesling and Pinot blanc. It maintains a tight focus on small production and high quality wine. Oregon is full of constant challenges especially for winemakers with lots of rain, cool temperature, and short growing season. Wines made in Oregon have a good distinct profile. The wines taste like the agriculture it is surrounded by which gives it a good vibrancy and crispness. People in Oregon are known as pioneers, artists, makers, and doers that believe there is always a better way to do things.
Expanding the Wine Options
In 2018, Union Wine Co, started producing some wine coolers in limited quality and plans to expand its distribution and production in the future. The three coolers: Riesling Radler, Strawberry Cooler and Mei Wine are canned in the facility.  Further, the company is also planning to produce smaller cans especially for the venues where alcohol policy won't allow bigger cans. Starting in 2019, Union Wine Co. became an official sponsor of the Thorns and Timbers professional soccer teams and has prepared custom cans only available in the stadium.