In an exclusive chat with Mirror Review, Chris Stephens—the CEO of Twirling Umbrellas shares his thoughts about running a creative digital marketing agency in the present ocean of digital waves. With his team, he assists a variety of startup and enterprise clients across a wide range of industries and helps them with highly-customized digital services. From a startup to one of the fastest-growing digital marketing companies in British Columbia, Canada, Twirling Umbrellas has gained the trust of its clients with its expert and effective services. But how did they do it? Chris explains everything in the following interview.
Delivering High-Quality Work for Clients.
What was the motivation behind starting Twirling Umbrellas?
I originally started building websites as a freelancer but realized very quickly that there was a gap in quality web design and digital marketing here in Kelowna. Most local firms focused on aftermarket themes and generic tiered service packages (e.g. Bronze, Silver, Gold). I've always hated this approach, which fails to recognize the unique challenges of each business.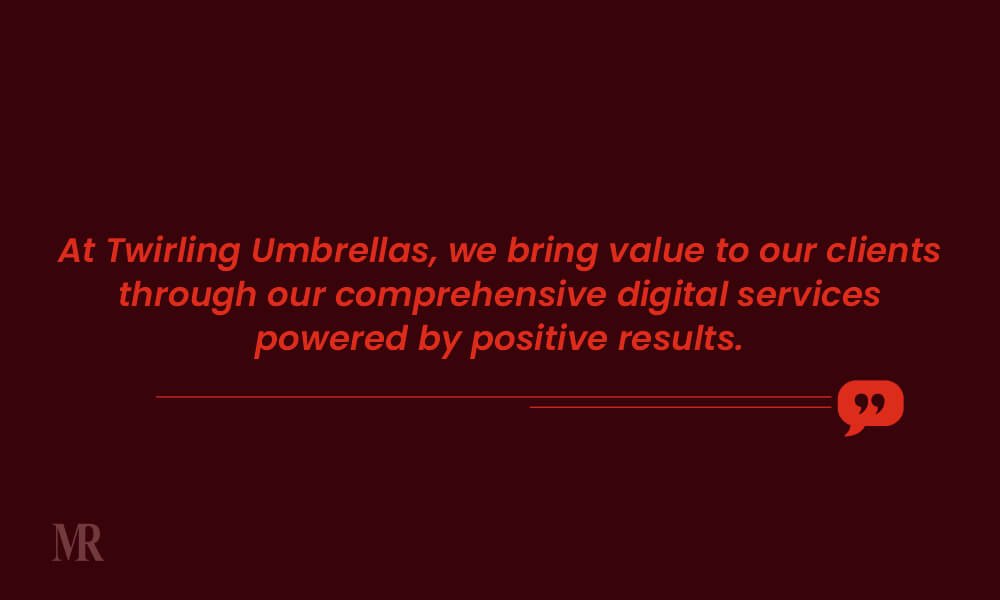 From the beginning, our goal has always been to apply our expertise to our clients' businesses and function like an extended marketing department. The approach requires a high degree of trust and a focus on execution, but it has enabled us to provide some really creative solutions for our clients. We're also really passionate about the startup and entrepreneurial space—something Kelowna is quickly becoming known for.
It can be a challenge to find the right fit, but one thing the clients we do work with have in common is a relentless ambition to grow and bring new ideas to market. For example, we've helped successfully launch websites into the emerging cannabis market, seeing triple-digit growth in average monthly users (organic). We've also helped brand exciting new startups in the social enterprise space.
Providing Value Through Digital Services.
How has Twirling Umbrellas grown over the years?
As a small-market creative agency, we've grown by focusing on custom digital services where we can deliver a lot of value to clients. This mainly includes custom development services for ambitious brands, enterprise startups, and emerging industries. I think the value must be defined from the client's perspective, not the service provider's because the impact on the client's success determines what possesses the real value.
For instance, one of our clients witnessed +33.9% revenue growth and +28.8% increase in pageviews after we helped them to uplift user experience and boost their online sales. The outcome clearly proves that the positive efforts of my team were reflected in the revenue growth for our client.
In my experience, there's lots of hype around video and social media, but numerous businesses fail to execute on the basics, like their website, search engine optimization, and online advertising. We'd much rather see a client kill it in these channels, before investing time and energy into other areas.
Passionate Employees Drive Business.
What are the benefits Twirling Umbrellas offers its clients? Why do you think customers should choose you over your competitors?
The main reason why I think our company is successful and clients choose us, is our people. If I gave myself credit for anything, it would be in finding incredibly talented people that put quality over quantity and genuinely care about our clients. Clients rely on agencies like ours to guide them and support their marketing goals, and we work hard to bring new ideas, strategies, and experience to the table while doing a great job in execution.
Never Stop Striving to Improve.
As the Founder and CEO of the company, what are the 3 priorities that you have set for 2019?
To date, we have helped numerous companies build their online presence and thrive in the challenging digital world. To avoid losing customers, a business must set goals, strive to achieve them, and gain new customers based on past achievements.
This year, my three priorities are:
Managing Growth: We've grown really quickly and my main priority is ensuring that we have the right people and resources in place to maintain our quality and improve our execution. This also means finding people that fit and enhance our culture.
Building Systems: Similar to managing growth, I really believe that great systems (whether that's in our quality control, measurement, or our creative process) are what leads to great results for clients.
Deepening Expertise: We undertake projects only when they rightly fit with our core capabilities and we're always looking for ways to improve the work and value we deliver.
Expanding with Advanced WP and Ten/17 Digital.
What are the strategies that Twirling Umbrellas is implementing to stay ahead of the competition?
We're really working to help educate clients and set, measure, and achieve goals. The more they understand about our process and digital marketing in general, the better we can help them achieve growth and results. We've also launched two highly specialized divisions of our business. Advanced WP (https://www.advancedwp.com), which focuses on providing high-quality managed WordPress web hosting, and Ten/17 Digital (https://www.ten17digital.com), that provides digital solutions tailored to Canada's emerging cannabis industry.
Machine Learning will Reshape End-to-end Customer Experience.
According to you, what would be the upcoming digital marketing trends?
I think businesses are recognizing the importance of customer experience and machine learning will play a HUGE and exciting role in shaping end-to-end customer experiences. Watch this space for a whole new level of customer experience!