The technology sector is exhibiting rather a very unfathomable scenario. Companies, both established and startups, are pursuing similar opportunities as the consumers have become receptive to new ideas. They are finally considering pioneering solutions and services that promise low cost and high efficiency. Furthermore, the rapid digital developments over the last few years have inflated customer expectations. This, on the other side, is also presenting equal threats to all the organizations. The fierce competition induced by consumers' demands is propelling product/solution/service providers to create technology marvels through their innovative approach.
However, innovating is not a simple task. To ensure that the innovations will please customers, companies have to catch the pulse of technology change, emphasize the changing customer behavior, foresee their demands, and compete with other players in the market. These allow a very few organizations to triumph through this unpredictable scenario. Nonetheless, Tech Mahindra, a leading tech solutions provider, has historically offered successful cutting-edge technology innovations.
It is impossible to understand all the pillars that are ensuring the success of these innovations from the surface. So, we, the team of Mirror Review, stole a few minutes of Mr. C. P. Gurnani, MD & CEO at Tech Mahindra to understand how they have been successful throughout the years and what they are planning for the future.
The Tech Mahindra Way to Rise
Having more than 121,000 professionals across 90 countries, Tech Mahindra is one of the few companies that are heavily contributing to the fast-growing digital world with an array of IT offerings. Established in 1986 as a joint venture between British Telecom and the Mahindra Group—the leading global company has evolved & grown with years. It was a tactical move of India's pioneering automobile, manufacturing, and steel company to expand as an IT and Telecom organization in the form of Tech Mahindra.
Since the beginning, Tech Mahindra has kept its culture at its priority and allowed it to develop and drive the company. Speaking of the same, Mr. Gurnani asserts,
"We, at Tech Mahindra, take great pride in our culture which is driven by four aspects—Core Values, Capable Associates, Freedom to Explore, and Core Purpose and these four aspects capture the essence of what defines, differentiates and unites our Associates—The Tech Mahindra Way to Rise."
Associates allow the Core Values of the company to guide their actions, both personal and corporate. These Core Values are Professionalism, Good Corporate Citizenship, Customer First, Quality Focus and Individual Dignity, all of which inspire them to achieve their Core Purpose. Where the Core Purpose is—Challenging conventional thinking and innovatively using all resources to drive positive change in the lives of stakeholders and communities across the world to enable them to Rise.
These aspects have been propelling the company towards the leading position in the market. Referring to Tech Mahindra's dominance in various market segments, Mr. Gurnani shares, "It is our vision to be among the top three leaders in each of our chosen market segments while fostering innovation and inclusion. We will consistently achieve top quartile growth by contributing to our customers' success, by enabling our employees to realize their potential and by creating value for all our stakeholders."
Standing at the Edge of Digital Transformation
The world is going through digital transformation, and Mr. Gurnani understands that it is imperative for them to transform with it. But more importantly, Mr. Gurnani and his team at Tech Mahindra understands that their clients too are going through the same journey. Their clients too have visions of providing inceptive offerings. This forces Tech Mahindra to stay at the edge of this transformation, and introduce the advent capabilities immediately to their clients.
To achieve this and fulfill its responsibilities as a digital transformation partner, Tech Mahindra has aligned its go to market strategy around the following six digital paradigms –
Digital Strategy and Design: This theme represents designing the right digital strategy (business model, process, and technology) and implementation roadmap for the client's business based on their respective market trends.
Digital Customer: This process is dedicated to digitally transforming customer facing functions of client organizations across the customer lifecycle (e.g. sales, service, engagement and marketing, etc.).
Intelligent Operations: Using digital capabilities to transform client's internal business and technology operations (e.g. Supply Chain, Manufacturing, etc.), and to deliver outcomes such as improved efficiency, better customer experiences, lower risk cost, and higher scale.
Future Enterprise: Leveraging emerging technologies to exploit open opportunities, incubate disruptive business models, and deliver experiences to "tomorrow's enterprises".
Digital Insights: Fostering data-driven decision making by harnessing the power of data, analytics, and cognitive technologies to derive actionable and impactful insights.
Digital Foundation: Laying a robust, secure, and future-proof foundation for a digital enterprise by adopting cutting-edge technology frameworks and software deliver methodologies.
Among these, as Digital Insights provides predictive, prescriptive and cognitive intelligence to create the right experience or efficient processes and Digital Foundation creates a secure, robust layer of foundation technologies to integrate the legacy systems with digital wrapper, Mr. Gurnani shares that managing both the legacy and digital business are not separate activities but an integrated offering to help customers transform from a legacy to their digital self.
TechMNxt: A Program that Makes the Company Future-Ready
Tech Mahindra believes that innovation is the key for them to become future-ready and prepare themselves for the challenges that lie ahead. However, it becomes difficult to continuously keep inventing and searching for new ideas. At such times, attracting new talents and partnering with other inventive organizations can prove to be beneficial. The management understands the extent of capabilities that collaborative efforts can bring to the team.
To that effect, Tech Mahindra has designed a global program, 'TechMNxt' that focuses on application of trending technologies to solve customers' real business problems. "TechMNxt is Tech Mahindra's response to the future and the key driving force for growth," Mr. Gurnani proudly asserts.
Under this program, the company has inked tie-ups with leading academia and universities across the globe such as the University of Nebraska, University of Berkeley, University of Suffolk, and University of Sydney. This allows Tech Mahindra to bring the next wave of digital disruptions by boosting collaborative innovation and research programs along with providing experiential learning opportunities to students. "We have established a Center of Excellence' (COE) in Canada and have also set-up Makers Lab in various locations around the globe, where we expose our employees to future technologies and allow them to tinker around, play, learn and actually experiment inside our premises," Mr. Gurnani adds.
Building Human Resource of the Future
Mr. Gurnani believes that the application of technology across sectors like Banking, Finance, Communications and Media, Healthcare, Retail, Manufacturing etc. will unearth great opportunities in the future. To cater to the future demands of these industries, Tech Mahindra is wisely utilizing its resources.
To be future ready, Tech Mahindra has started many initiatives, some of which are already mentioned. They are focusing on innovation, making strategic tie ups, and investing in research and development of future technologies. However, they all are not enough until they prepare their workforce for future requirements. With the digital wave, the company needs workforce equipped with necessary skills to cater to the changing demands.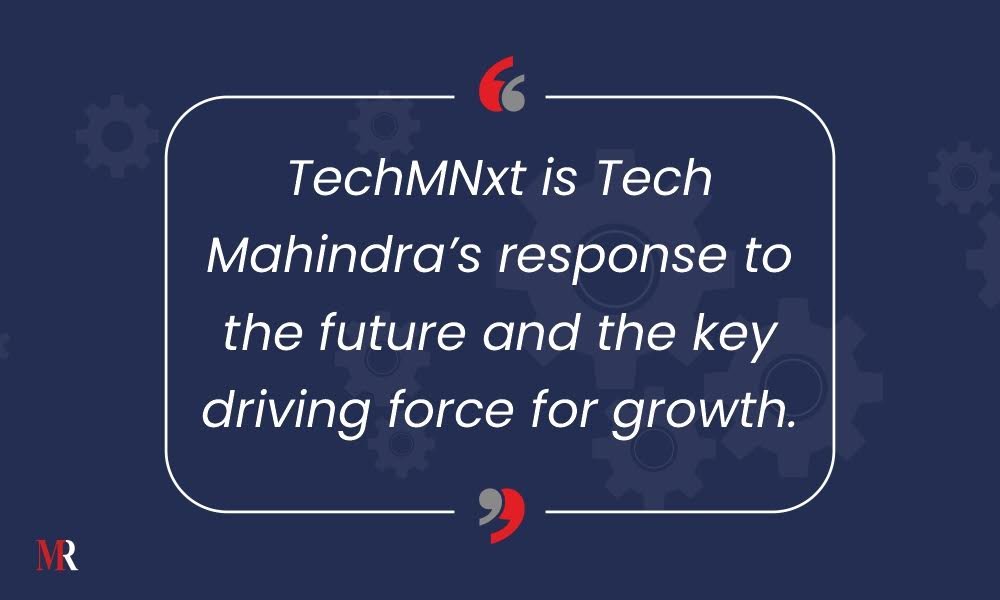 Referring to the challenge, Mr. Gurnani shares that there is already an overpowering need for skilled workers as digital technologies are disrupting the business landscape and impacting the structure of industries and economic activity. The shortage of skills is a recurring theme in every sector, industry, and profession. "The need of the hour is to constantly reskill and upskill our workforce to meet the demand of digital services. Hence, as part of TechMHRNxt charter, Tech Mahindra has launched an initiative which aims at creating future-ready workforce with upskilling and right-skilling."
Tech Mahindra has already reskilled and upskilled nearly 70 per cent of its IT workforce in digital and future skill, and is ready to continue its conquest in the future.
Read Full Magazine The 20 Cutting-Edge Tech Companies To Watch Out For In 2019