With the introduction of cloud based storage more and more companies are now inclinated towards moving to it. Companies are facing a digital data deluge with increasingly more onerous compliance legislation, and cyber-security challenges. Data is a company's greatest asset, but as more data accumulates, instead of providing companies with more intelligence, the reverse is true as 'where' data reside and 'who' has access to it becomes more challenging.
Storage Made Easy deals with cutting edge cloud technologies supporting over 60 different storage eco-systems, including the majority of the object storage vendors. The company has a 'work with' culture rather than a 'work for' with the company believing in investing in the quality of the staff as well as the quality in their  product set. The culture at Storage Made Easy provides every opportunity for staff to grow their knowledge and skill-sets quickly.
A 'Single Pane of Glass' View
Storage Made Easy provides a product called the Enterprise File Fabric which connects together files stored on-premises and on-cloud, presenting them in 'a single pane of glass view'. Enterprise File Fabric is available in three product variants:
The Enterprise File Fabric for Compliance provides a 'single pane of glass' that presents and secures data from multiple sources, be that on-premises, a data centre, or the Cloud. It provides intelligent policy based enforcement across all corporate data and helps enforce GDPR / CCPA / HIPPA.
The Enterprise File Fabric for Media and Entertainment provide a unified view of media assets that can be dispersed on-cloud and on-premises. M-Stream, a feature of the File Fabric, can accelerate data to/from destinations. FIPS certified encryption ensures media assets are protected in-flight and at-rest. Smart indexing and data classifications, with Cloud AI integrations, ensure media assets can be easily catalogued and found.
The Enterprise File Fabric for Secure File Sharing provides multi-cloud content management solutions that can work with one storage solution or many. It supports file and object storage solutions, including CIFS/NAS/SAN, Amazon S3, Google Storage, Microsoft Azure and focuses on ultra-secure file and folder sharing and single-sign-on identity management federation.
Experienced Campaigner in Cloud Technologies
Jim Liddle, CEO and Co-Founder of Storage Made Easy spent the large chunk of his career, achieving success for many start-ups/companies. Over the last 20 years, Jim has extensive experience in Sales, Big Data, Middleware and Cloud technologies and has a track record of successfully growing sales for high growth technology companies. Before starting his career at Storage Made Easy, Jim was European Sales and Operations Director for GigaSpaces after joining the company in 2006 to help expand its European operations. Prior to GigaSpaces Jim was the European General Manager for Versata, a NASDAQ listed business process and rules Management Company. During his 6 years at Versata, Jim also worked in technical, product management, and product marketing roles. Highlighting his successful journey, he says, "If I had the chance to start again, I would like to think I would have built out a start-up sooner, even if it had failed I believe that you learn as much from your failures as you do your successes."
Advantages of AWS Companying the Organization
AWS Serverless cloud functions enable the clients to focus on building applications rather than the infrastructure that runs them. Server management is handled by AWS in which it also performs patching, scaling and administration of the infrastructure. AWS allows companies to focus on the front end of the process as the server is managed by it. Another important benefit of AWS is its on-demand pricing. It enables companies to to pay for what they use, helping organizations to remain agile, responsive and always able to meet scale demands. It also enables companies to easily adapt to changing business needs without overcommitting budget at the outset. The benefit of this is that organizations can direct its focus to innovation and invention, reducing procurement complexity while enabling the business to be fully elastic.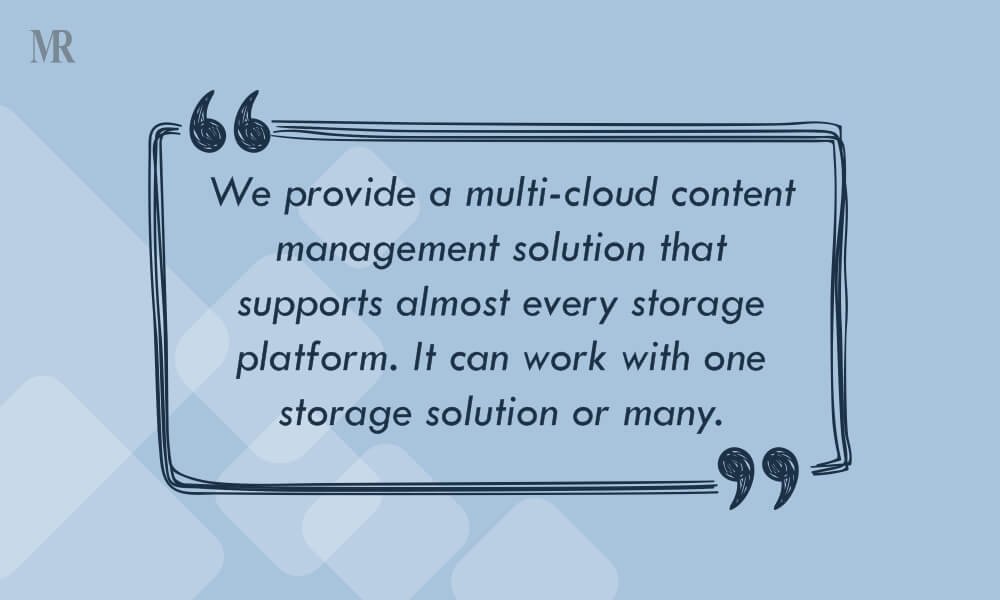 The utilization of this end-to-end approach enables organizations to have a more secure infrastructure, including all operational, physical and software measures. The architecture is designed in such a way that it makes AWS the flexible and secure cloud computing environment available.
Building Relationship with Clients
As digital data continues to grow exponentially, companies need somewhere secure, easy, and accessible to store data.  Amazon S3 Object Storage is very often a companies choice in this regards offering high availability and the utmost flexibility. The Enterprise File Fabric has a rich subset of clients and services that work with Amazon's object storage services and in fact the File Fabric can be hosted in its entirety on AWS using Amazon's ECS services.
Here are some of testimonials appreciating the company's service.
Roberta Piket, New York Geek Girls founder and CEO, says: " Solid, robust platform with lots of security and auditing features and apps. Excellent, knowledgeable support staff. SME has been a perfect fit for our non-profit and small business customers. It provides the Windows interface our users are already comfortable with, as well as powerful advanced web-based features. Security and auditing capability are enterprise-class, and technical support, on the rare occasions when we need it, is uniformly knowledgeable and highly competent."
Ben Harvie, VP, Security and IT from Cogitativo, says: "Great product which met our requirements for a simple and secure file sharing solution, which was internally hosted to maintain compliance with our HIPAA and HITECH requirements, along with client expectations. The support we have been provided during the POC through setup and maintenance of production has also been great. Looking forward to continuing our relationship with the team."