Investing is a complicated process and it gets even more complicated when one spends time and energy studying the investment strategies and individual stocks, deciding which ones to buy, when to buy, and sell them. As an investor, a person has to keep looking for bargains and keep up with the holdings to make sure they are on the right track. Most people, especially new investors, don't have the skills or interest to do all this mind-boggling stuff.
Simplified Investing with STASH App
Founded on a mission to simplify investing, STASH provides fractional shares and lets investors start investing with as little as $5 at a time. With STASH, investors don't have to worry about broker fees, minimum investment limits (much higher than $5) of traditional finance services, and extra high fees of consultants. They get all the facilities in a single app. A small investment of $5 is sufficient to start investing on STASH and users with no or little knowledge of investing can invest through the app, utilizing core features like STASH Learn and STASH Coach.
According to Dale Sperling, the Chief Marketing Officer at STASH, "Being customer-centric and transparent are two of the most important factors that can determine a product's success, especially in the financial services industry." Therefore, since its launch in 2015, the core of STASH is to focus on and constantly listening to the customers, and iterating the product based on their feedback which helps them to curate the best customer experience. Similarly, Ed Robinson the Co-Founder and President of STASH with Brandon Krieg, the Co-Founder & CEO of STASH continually engage with customers to understand their obstacles to develop, iterate and build different features in the app. They also have a separate User Research Team which conducts bi-weekly interviews, and bonds with customers to better understand their experiences, obstacles, and needs.
Build with Intuitive Investment Features
Dale shares a critical situation in America, "In the midst of saving crisis across America, 46% of Americans don't have enough money to cover a $400 emergency expense and 78% are living paycheck-to-paycheck which is really staggering." To eliminate this situation, STASH is built for the millions of Americans who have been overcharged and underserved by the traditional banks, brokers, and investment advisors. Today, with extensive research and analysis, the investment team curates a list of well-known and approachable stocks and investing themes based on expense ratio, trading liquidity, and risk profile. Therefore, whether the investors are new or seasoned veterans, they can feel confident investing with STASH. Likewise, while breaking down barriers and building transparent, technology-driven products, the company facilitates customers to build smarter financial habits, further enabling them to save more. STASH provides complete freedom to investors to choose how to invest their money. Additionally, as a supplement, it provides tools and intuitive advice to help users in making smart investing decisions.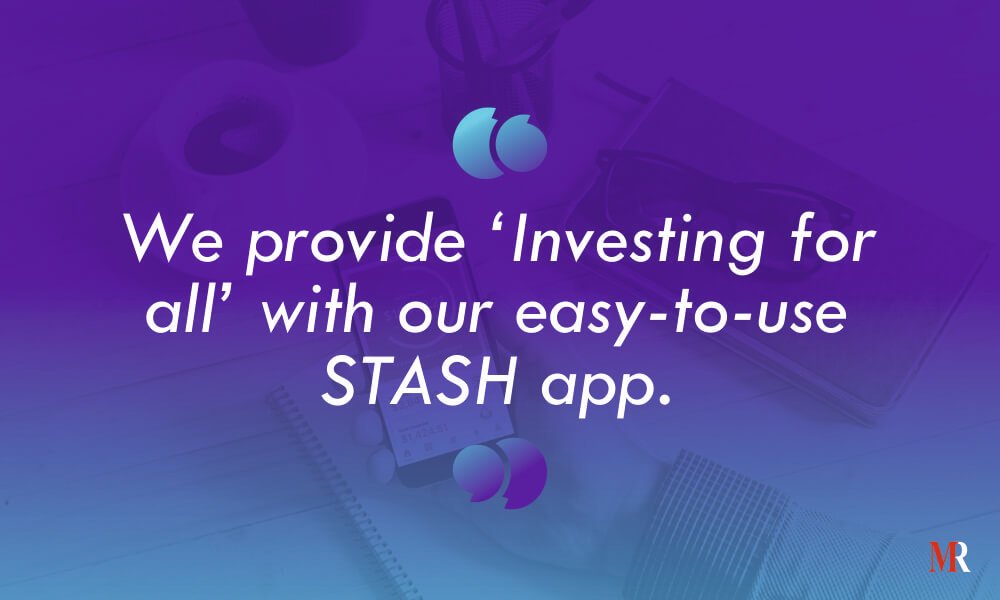 Coaching via STASH Coach: STASH Coach provides personalized guidance to investors, which helps them to make investment decisions towards their end goals. The tool utilizes the data science to assist customers to navigate their financial lives, maintain a balanced portfolio, and improve their abilities to grow wealth.
Education with STASH Learn: The company has an exclusive platform named STASH Learn that provides tips and articles to assist users to gain knowledge about investing and stay informed about the latest trends and happening in the market. STASH's news and education platform simplifies the complex concepts of investing. It splits the topics into simple guides, keeps the users up-to-date on current financial events, and tests their knowledge with interactive quizzes.
Auto-Stash: This automatic saving and investing tool from STASH can help users to consistently build wealth over time. It comprises a set of features like Set Schedule, Round-Ups, and Smart-Stash. With these tools, users can automatically set aside money for their personal investment, retirement, or custodial account.
The Consumer-Centric CMO, Empowering Users to Utilize the Best of STASH
"STASH is for people who want to take charge of their financial futures but need a helping hand to get them started and see them through their journey," says Dale when asked about the major motive to develop the app. She is a consumer marketer at heart and has always been interested in roles which include connecting products and services to the right people in meaningful ways. She gives her success credit to Rutgers University where she learned essential business skills. Proudly recalling her academic days at Rutgers University, Dale asserts, "I am thankful for the great business school that armed me with the undergraduate degree that enabled me to hit the ground running with my first job at America Online." Dale started her professional career from the age of files and papers and note taking and has tackled every challenge in her way to success. According to Dale, no challenge or task is too big or too small as she has worked at Fortune 500 as well as small start-ups, where she focused on the customers and her passion for creative solutions.

According to Dale, everyone should open an Individual Retirement Account (IRA) because if one has extra money left after expenses then it is a good idea to fund their retirement. Likewise, Dale aims to spread the benefits of STASH debit account which lets users earn rewards in the fractions of stocks when they spend with their debit cards.
In the present year, the consumer-centric CMO will strive to encourage customers to get the most out of STASH services and build healthy financial habits with their friends, family, and colleagues.
Not intended as tax advice. Please consult a tax professional with questions related to IRAs.
Debit Account Services provided by Green Dot Bank, Member FDIC. Account opening for the debit account is subject to Green Dot Bank's approval. Opt-in is required. In order to earn stock in the program, the Stash debit card must be used to make a qualifying purchase. Stock-Back Rewards that are issued to a participating customer's personal brokerage account via the Stash Stock-BackTM Program are not FDIC Insured, Not Bank Guaranteed and May Lose Value. What doesn't count: Cash withdrawals, money orders, prepaid cards, and P2P payment. See full terms and conditions on STASH website.
Making Investing Accessible for Everyone with Features and Security
Today, Dale and STASH's customer-centric approach has helped the company to expand the client base of STASH. On average, the users of STASH are approximately 29 years of old professionals such as teachers, nurses, contractors, military personnel, etc. They can invest in companies that they trust and love most despite how much they afford. The fractional share trading platform by STASH truly makes saving and investing accessible for everyone. The platform unravels and demystifies money management and saving while educating the users about smarter financial habits. Essentially, the STASH financial education is integrated throughout the platform so that users can learn on the go and make smarter choices with their money.
Following the financial laws, STASH aims to provide the advice that is in the best interest of clients. All STASH accounts are held by its trusted partner and custodian Apex Clearing, a registered broker-dealer regulated by FINRA. Similarly, as a trusted investment adviser, STASH takes pride in exceeding industry standards in the case of consumer privacy and safety.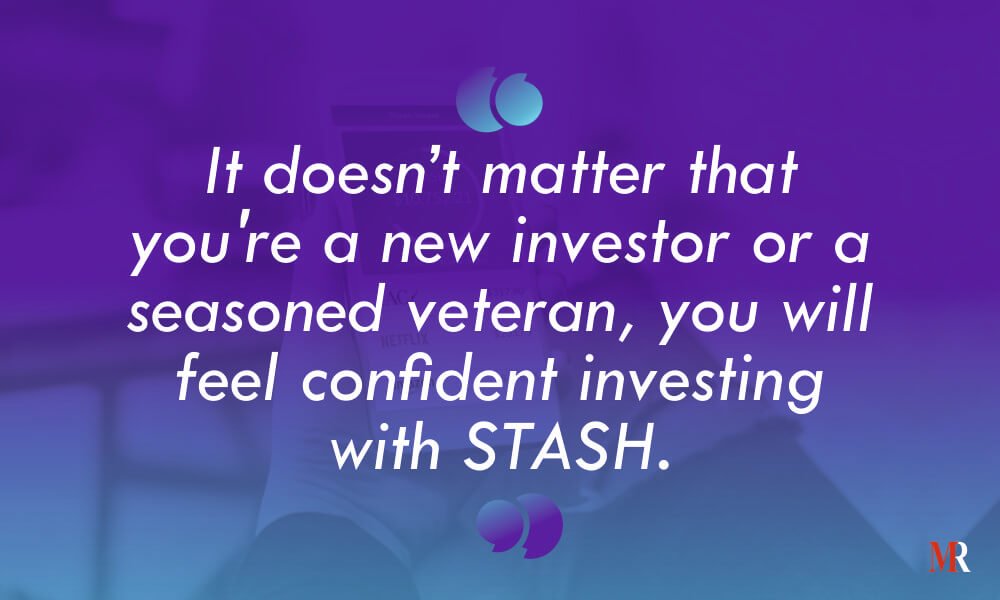 Therefore, protecting the customer is one of the top priorities of STASH. The company is a registered investment adviser with the US Securities and Exchange Commission (SEC). It employs 256-bit encryption to protect clients' information from personal data to transactional history. To help ensure all information on the STASH platform is safe, the company utilizes Secure Sockets Layer (SSL). Secondly, the platform requires a unique user ID, password, and PIN to access it. Users can also opt-in for the biometric recognition for account access. Additionally, session end-timers and log-in thresholds offer protection against unauthorized access. Further, to secure the infrastructure, the STASH software, hardware, and IT infrastructure are shielded with multiple levels of defense. Similarly, with continuous monitoring and keeping up with the latest technologies, STASH team ensures the systems are up-to-date with industry standards.