The COVID-19 pandemic significantly altered how medical practitioners provide care to patients. Medical centers are responding to the pandemic through a rapid adoption of digital tools and technologies such as telemedicine and virtual care. Thus, telemedicine and virtual care are gaining ground in the healthcare landscape as an approach to maximize the efficiency of healthcare delivery.
In today's rapidly-evolving telemedicine space, one organization that distinguishes itself with its industry-leading telemedicine technology and deep clinical experience is SOC Telemed. The company was founded in 2004 by a group of physicians with a vision that high-quality specialty clinical care could be delivered at scale through technology.
SOC Telemed's foundation is based on clinical providers who closely understand the challenges and scope of telemedicine. It is on a mission to provide time-sensitive access to care when patients are at their most vulnerable. The company has experienced tremendous growth since its inception and its technology platform continues to raise the bar in the field of virtual health.
Providing Life-saving Care
SOC Telemed's clients include 18 of the 25 largest health systems in the nation, enabling 850 facilities in 47 states to manage complex, acute workflows and provide life-saving care. Its telemedicine platform, Telemed IQ, delivers three core services including:
The company offers industry-leading teleNeurology services and is the largest provider of teleNeurology services and solutions to U.S. Hospitals. Its neurologists can provide coverage anywhere in the hospital. It provides a variety of teleNeurology services and solutions: TeleStroke and Emergency Neurology, Inpatient Neurology, and EEG Interpretation. These services enable patient retention and increased neurological admissions, decreased physician burnout, increased quality of neurology, and improved standardization and efficiency.
SOC Telemed is the largest provider of telePsychiatry services and solutions to U.S. hospitals. Its experienced psychiatrists provide mental health coverage in emergent cases as well as inpatient psychiatry consultations for admitted patients. SOC provides both on-demand and scheduled telePsychiatry on the Telemed IQ platform. These services provide benefits such as improved care for mental health patients, higher patient satisfaction, and increased throughput in the ED.
SOC's teleIntesivists work with a local clinical team to create a care plan for any critically-ill patient in the hospital. They provide consistent and rapid response access to board-certified critical care specialists that focus on evidence-based, best-practice-driven care. The company offers services including Critical Care On-Demand and Proactive Patient Assessments through SMARTRounds, via the Telemed IQ platform–that provide benefits such as improved care for critically-ill patients, improved quality for the ICU, and reduction in costs.
Strengthening Resources
In the current pandemic, telemedicine is having a moment in the spotlight. Telemedicine's perception with consumers shifted from a "novelty" to a necessity as many individuals needed safe access to screening for COVID-19 symptoms, to visit their primary care doctor, manage chronic diseases, and more. This increased attention is positive for the Telemedicine market and providers—such as SOC, as it offers a different, but critically important model.
The company works directly with hospitals, offering high-quality specialty clinical care 24/7, 365 days a year. As the pandemic progressed, the telemedicine leader focused on strengthening its resources. It is continuing to invest heavily in its robust, scalable telemedicine infrastructure to connect patients with specialists when care is needed at hospitals. Moreover, SOC increased the level of staffing to address the increasing demand in the market and is considering other specialties that would benefit from its technology and processes.
SOC Telemed's expertise and platform are extendable to other clinical areas and service lines as well. "Looking ahead to the addressable market, we are considering other complementary specialties that would benefit from our technology and processes," said John Kalix (Chief Executive Officer at SOC Telemed).  In order to access more growth capital to meet the intensified needs, the company debuted on NASDAQ in November 2020 listed as TLMD. With the increase in demand, the company strives to continue to expand its resources and better serve hospitals across the U.S.
Outstanding Service and Attention
During the crisis, customers' reliance on SOC Telemed increased. Moreover, its associates also rose to the challenges posed by the pandemic. "They have done a terrific job, with encouragement from management, but largely of their own volition, capabilities, and instinctive leadership skills themselves," added John. The company takes pride in the way it responded to the pandemic and was able to deliver high service levels despite the demands and urgencies of the crisis. Going into the fourth quarter of 2020, SOC Telemed saw record bookings year-to-date. With outstanding service and attention, SOC Telemed's team is positioned toward continued growth.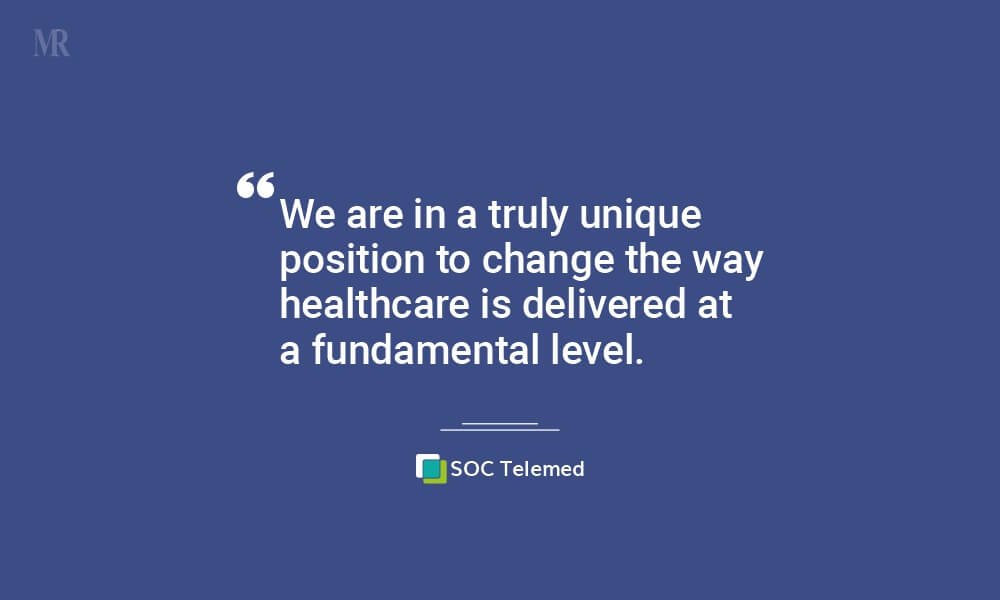 Commitment to the Core Values
As an organization, SOC preaches the virtues of virtual care—knowing that the same or better quality can be delivered regardless of the environment. SOC's physicians have always been remote for the most part. However, this wasn't the case for the company's corporate employees, all of whom are living through the crisis while adapting to becoming an entirely remote workforce and maintaining the company's leadership position.
SOC Telemed is successfully managing the unique challenges each employee faces while working from home, whether it is dealing with managing children who are learning remotely or putting in the effort to stay connected across different functions in the organization. "Together, we are finding unique and innovative ways to navigate all the complexity while maintaining teamwork and leadership. Everyone has done a great job," states John.
John credits the success of SOC's employees partly to their commitment to the company's core values. SOC's core values include following the golden rule—be respectful, show empathy, as well as the importance of staying patient-focused. The company ensures it always keeps patients first in everything it does, offers a seamless care process, and strives for patient satisfaction.
Acute Care: The Future of Telemedicine
The pandemic underscored the importance of telemedicine broadly and made it clear that the business model of many hospitals is no longer viable as presently constructed, in the absence of elective procedures. The present economic reality demands a different strategy where health systems do more to optimize their spending and weather the economic storm with efficiencies gained.
Furthermore, the importance of acute care is expected to be significant in the near future. As a publicly-traded company, SOC Telemed aims to further its vision of transforming healthcare by enabling patients to have increased access to the highest quality of care via a technology-enabled platform. Moreover, as hospitals struggle with acute capacity management, physician scarcity, and cost optimization, SOC's virtual care model is expected to be a critical component of the healthcare industry's ability to deliver better care to patients.
Start with the 'Who'
John believes that during these interesting times, business success is about finding the right team that shares the passion, vision, mission, and values of the company. Adding to this, he asserts working extra hard to stay connected and being genuine is crucial to thriving in this remote working world. "You can't control the uncontrollable, but you do have a say in who you work with every day and how you focus that energy to succeed," he concludes.