The proof of identity (POI)—then and now has witnessed a drastic transformation from paper-based documents to digital versions. In the past, a wallet comprising your POI could be stolen from a crowded metro station while today, digital identities are stolen in the name of privacy and authentication. You have probably gone through a scenario when a third party app asks for your permission to access contacts, personal email ID, and other information to sign up and authenticate with it. In such cases, these third-party platforms rely on user's personal information for identity verification and authentication. Unfortunately, if these platforms are breached by cyber-attacks, then the million or billions of personal user data can be exposed and used for illicit activities.
Identifying these serious pitfalls in user's digital privacy, Rob Leslie, a serial entrepreneur Founded Sedicii, an identity platform that provides authentication and identity verification services where personal information is never exchanged without the explicit consent of the data owner.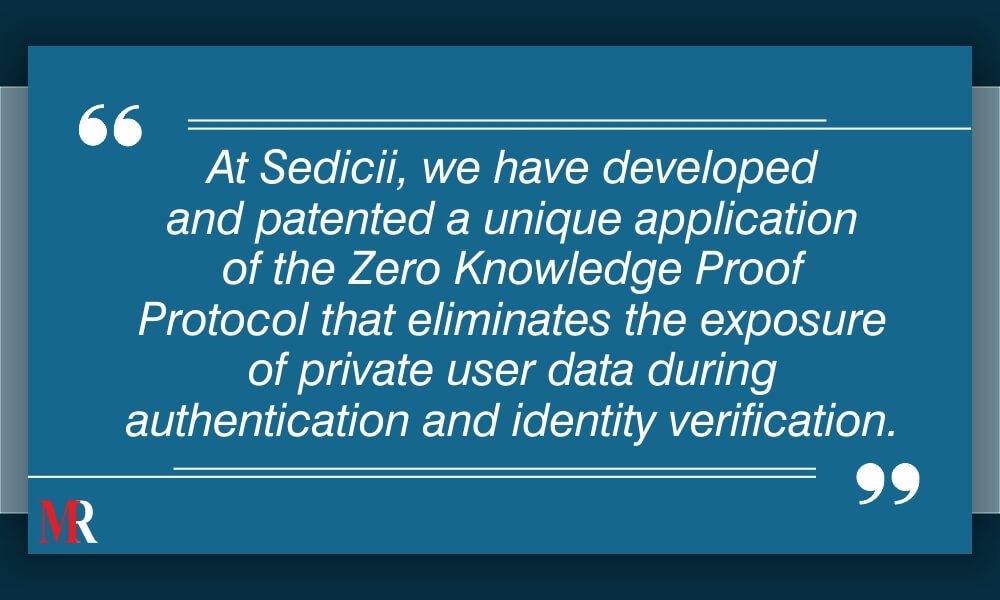 Sedicii's ZKP Technology to Fight Data Exposure and Thefts
With a mission to safeguard users' personal information during digital transactions, Rob and his team at Sedicii have developed and patented a unique application of Zero-Knowledge Proof (ZKP) cryptographic protocol. Sedicii ZKP enables two parties to successfully complete transactions without the need to share personal data during the process. This technology is specifically designed to address the essential needs of people who are operating in banking & financial services, cryptocurrencies and exchanges, travel, governments, and professional services. Customer's privacy is of the utmost importance in such sectors as these industries require a high level of customer due diligence.
For the aforementioned industries, Sedicii is enabling new layers of cost reduction, risk reduction, and business efficiencies. Its secure platform has the capability to identify individuals against an authoritative source without exposing any data in real-time with full user consent. While protecting the customers of regulated service providers, Sedicii shields them from crippling sanctions under Anti Money Laundering and Data Privacy Regulations.
Similarly, to enable robust, fast, and secure digital onboarding of verified customers, Sedicii offers industry-specific, cutting-edge eKYC, AML Transaction Monitoring, and blockchain solutions. Most importantly, the AML Transaction Monitoring solution enables banks to collaborate without sharing data to reduce false positives and identify risks in real-time while combating financial crime.
"The line between total failure and success can be knife-edge thin,… to be on the right side of every aspect, one must be persistent with unerring belief in oneself", says Rob.
Understanding the key challenges of industry and working towards finding the best possible solutions need continual efforts. It takes deep experience, industry knowledge, and an intense passion to innovate and deliver solutions to the key issues of various sectors. Rob and his team have gone through this phase with pure will to safeguard user privacy. Commenting on his journey at Sedicii, Rob asserts, "We've learned many lessons on the way. In my experience, the line between total failure and success can be knife-edge thin. Therefore, to be on the right side of every aspect, one must be persistent with unerring belief in oneself." From the beginning, Rob has focused on building a collaborative team of experts and led them towards a common goal. According to him, being mindful of the endgame, taking advantage of opportunities, and making timely decisions to the achievement of the business goals is important. Thus, Rob moves on a path that inspires his team members towards achieving the end goals of the company.
Leading by an Example Engulfs the Team with Trust and Motivation
When it comes to leading the team, the members follow their leaders and look at them for guidance and strength. Consequently, proper and well-balanced actions by the leaders can stimulate a feeling of trust amongst employees. Thus, Rob understands the fact that he has the ultimate responsibility of leading his team by setting an ideal example before them that will further help the team members, and in turn, Sedicii to thrive ahead. Due to Rob's deep thinking and actions towards innovative technologies, the World Economic Forum (WEF) recognized him as a Technology Pioneer in 2013. The recognition was a great encouragement for Rob to strive hard and grow with Sedicii. That honor and support of the WEF was proof of Rob's innovative approach towards securing digital identities.
Today, utilizing Sedicii's comprehensive and highly secured digital interaction, citizen identities can be verified against authoritative sources with high-assurance and no exposure of any sensitive data. The company is delivering significant benefits to governments, enterprises, and individuals around the world. It is also leading ahead in setting a global standard for the verification of trusted identities and enabling industries to reduce cost, improve interoperability, prevent crime, and ensure privacy through a unique combination of biometric-based authentication and state-of-the-art cryptography.
Transforming Traditional Security with Trustworthy ZKP Technology
Leveraging the power of Sedicii's unique ZKP Technology is the right way for the online world to advance into a new internet age with privacy and trust and accountability at its core. The traditional offline ways are out-of-date and no longer useful for securing the online digital identities of individuals. Thus, Rob and his team are regularly working on improving the major offerings of Sedicii to secure users' online identities. Rob has set the goals to generate revenues and utilize them for future development, thereby making the internet a safer and more trustworthy place for everyone.
The Secret behind Sedicii's Success
"Our ground-breaking technology, our team and their entrepreneurial experience combined with an extended network of thought leaders has powered Sedicii's success to date, and we are only beginning our quest."—Rob Leslie
Quote: "At Sedicii, we have developed and patented a unique application of the Zero Knowledge Proof Protocol that eliminates the exposure of private user data during authentication and identity verification."