In the modern tech world, organizations have built their security systems by layering traditional security tools like firewalls, SIEM, user behavior analytics, SOAR, EDR, DLP, email/web filtering, etc., and possess a well-trained SOC team. Despite having all these security tools, cyber-attacks are still happening and growing in frequency. These security tools do not work properly with the ever-changing threat vectors and present a false sense of "zero-trust" security that no longer works. Attackers leverage the weak points of security solutions to trespass into the corporation's system.
Additionally, organizations are experiencing pervasive computer network security breaches/threats. These security breaches stay undetected for days, months and years, despite organizations utilizing cybersecurity solutions and hiring masses of experienced professionals to manage them and companies are only able to detect threats and data breaches after the damage is done. The worst case is that 90% of businesses cannot afford these expensive solutions. Therefore, with the growing number of cyberthreats, today's companies and government organizations need a cost-effective, fully automated solution that eliminates threats in real-time. Built on a foundation to provide comprehensive cybersecurity solutions, Seceon is a threat detection and management company helping organizations to visualize, detect, contain and eliminate cyberthreats in real-time.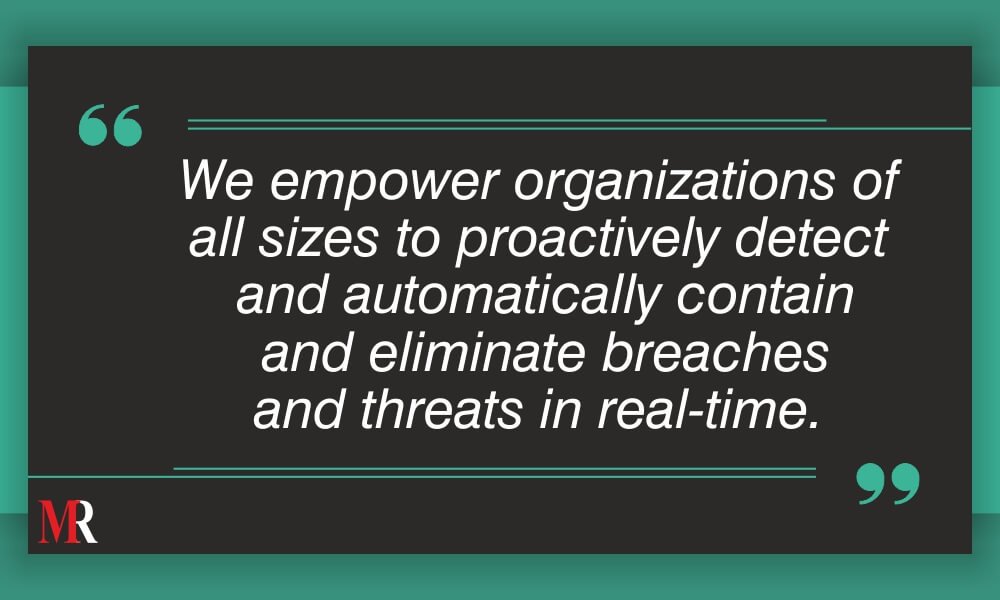 Resolving Cybersecurity Glitches Faced by Organizations
Established in 2015, Seceon has a clear vision of delivering "Comprehensive Cybersecurity for the Digital-Era" and resolving the existing cybersecurity challenges faced by organizations due to digitalization. Instead of delivering the same traditional security products available in the industry, the expert team of Seceon aims to focus on "Cybersecurity Done RIGHT" approach and develops award-winning solutions on its Open Threat Management (OTM) Platform. The company's security platform overcomes the flaws of the traditional security solutions to proactively detect breaches and threats via comprehensive visibility of all assets that include users, applications, services, hosts and their interactions. Through these assets, it automatically contains and eliminates these threats in real-time. To detect known and unknown threats and breaches, it uses dynamic threat models, machine learning, and AI with actionable intelligence combined with feature engineering.
A Wide Range of Real-time Threat Management Services  
With the surge of digital devices, different kinds of cyberthreats are emerging and affecting human lives. To protect businesses from cyberthreats, Seceon has developed the industry's first fully automated security solutions. These security solutions provide real-time, proactive threat detection, containment, and elimination from all threat categories. These include cybercrimes, insider threats, denial of services for applications & protocols, vulnerability exploits for web/emails/OS applications, data breaches, and exfiltration, detect IT mistakes, IIoT/IoT cybersecurity, IDS, and unusual network behaviors. According to the digital world's needs, Seceon has also developed two derivatives of OTM platform: aiSIEM™ and aiMSSP™.
Seceon aiSIEM™: This platform ingests raw streaming data – logs from all devices, OS, Apps and Services in the ecosystem (on-premise, cloud); flows, such as, NetFlow, IPFix, sFlow, jFlow from network infrastructure, and subscribes to identity management infrastructure, such as, Microsoft® Windows® Active Directory™ service, LDAP, DNS, DHCP, Azure AD, etc. This streaming platform has functionalities of traditional SIEM, SOAR, user and entity behavioral analytics (UEBA), Network Traffic Analysis (NTA), Network-Based Anomaly Detection (NBAD), Intrusion Detection System (IDS), threat intelligence feeds for correlation and enrichment, advanced machine learning (ML). It also has AI with actionable intelligence and proprietary feature engineering, Policy 2.0 to proactively detect threats/breaches, automatically or via push button containment and elimination of threats in real-time and continuous compliance & reporting. The aiSIEM platform generates meaningful alerts with context and situational awareness and enhanced accuracy from the scores of threat indicators otherwise analyzed by the security experts.
Seceon aiMSSP™: It enables Managed Security Service Providers (MSSPs) to offer outsourced security services that include security monitoring for 24×7, threat intelligence, proactive threat detection, containment and elimination in real-time, at minimal and expected charges. It empowers MSSPs to deliver affordable, managed / co-managed security services – aiMDR, aiSIEM, and aiSOC – to all size organizations. aiMSSP enables MSSPs to grow without having to make significant upfront investments of resources (pay-as-you-grow model), and become a Master MSSP by acquiring new MSSP customers.
Today, with the aforesaid comprehensive security solutions, Seceon continues to offer the most effective and affordable real-time cyber threat detection, containment and elimination solutions so that any organization can protect themselves from cyberthreats.
Tackling Challenges with the Help of Associates
Organizations are turning towards new digital trends and latest technologies to deliver the highest quality of customers' experience. However, many obstacles come in the path of organizations to deliver such offerings. Likewise, Seceon faced the challenges presented by its partners. For them, the processes and approvals required longer cycles in order to reach customer commitment. Seceon understood its competitors' lacking areas and gradually enhanced its approach to collaborate with managed service providers (MSPs) and managed security service providers (MSSPs). These partners were equally interested in Seceon's goals and motivated the company further to achieve them. Today, the two derivatives of OTM platform are widely used by customers all over the world and processing more than 50 billion transactions/events each day. By the end of 2019, Seceon aims to reach a milestone of 1 trillion transactions per day, which is a noteworthy result for the dedicated team behind Seceon.
An Experienced Leader Addressing Customers' Issues
Chandra Shekhar Pandey, Founder and CEO of Seceon established the threat detection and management company to help other organizations defeat the cyber-attacks. All this began while in the midst of increasing cyber-attacks, Chandra realized that the industry needs solutions that were easy to maintain, affordable for small businesses, and worked instantly out-of-the-box.
To make this vision turn into reality, Chandra and his team worked continually and through extensive efforts and research, they developed cybersecurity solutions that are comprehensive, cost-effective, and easy and quick to deploy which helps companies to efficiently deal with the imposing cybersecurity issues.
As the CEO of Seceon, Chandra closely works with customers to address the issues, implications, consequences, and solutions of defending company assets. At Seceon, he continues to foster innovation by empowering his team with decision-making capacities, encouraging effective communications, and fostering a culture of continuous improvement.