The consulting industry is a client-driven industry. As clients' needs change, the consulting firms have to adapt quickly in terms of services, structure, and operations. Today, the consulting agencies offer different services ranging from human resources management to mergers and acquisitions, technology and innovation, training, risk and security management, and many more. Every organization has to confront numerous challenges while running the business. The consulting firms help clients manage the areas where they are lacking. Rubbix Risk & Wealth Management Inc., a financial consulting company works directly for the clients' best interest. Through the existing financial plan, the company understands clients' issues properly and then offers its financial services.
Helping Organizations to Improve the Existing Financial Plan  
Rubbix was named after the world-famous Rubik cube because just like the six colors on the sides of a cube, there are particular steps involved in solving this puzzle, and the same goes for a quality financial plan. Its main objective is to resolve its clients' financial issues from beginning to end. The company believes that the six sides of a quality financial plan are Investments, Insurances, Cash Flow Management, Tax Planning, Estate Planning, and Retirement Planning. With these sides, clients can achieve their specific financial goals. In order to do so, it interacts with its clients on a daily basis to evaluate their entire financial plans and modifies them as per the market changes. The leading financial planning company has access to different corporations to offer its clients a side-by-side comparison of all their insurance, investment, and group benefit needs.
Providing a Wide Spectrum of Financial Services
For any organization, financial planning is a significant key to attain success. Therefore, Rubbix specializes in diverse services related to finance including financial planning, group benefits, insurance, investments, pension, tax planning, estate planning, financial expertise, retirement planning, and health and dental plans. It works with a variety of individuals, businesses, and corporations on their financial needs. The company offers its unbiased opinion because it represents over 20+ companies, not just one. Rubbix develops customized financial plans according to clients' businesses and implements the following stages for planning:
Current financial situation:

Examine the current statements, debts, assets, and budget.

Financial goals:

Determine what goals and concerns are for the future.

Identify alternate:

Digging deeper to find a better way to lessen the cost or build wealth.

Evaluate alternate:

 Check whether this alternate accomplishes every goal.

Create and implement the plan:

Implement a recommendation set to increase the net worth.

Monitor and revise:

Regularly revise for a plan as the market scenario changes.     
Working on Satisfying Every Customer Needs
As a trusted advisor, Rubbix offers unique services and introduces its clients to other professionals so that it can become its clients #1 resource for financial planning and group benefits. The company invests proper time to understand its clients' goals and wishes to create their custom-made plans. The financial advisor works side-by-side with its clients' lawyers and accountants to ensure that everyone is on the same page. It also interacts with a variety of other professionals to assist its clients with any questions or concerns they have and promptly resolves them.
Rubbix believes that its clients are more than just a number or a leaf on a book. Through its services, the financial consulting company tries to simplify its clients' financial issues so that they can enjoy the valuable time with their family and friends. The company delivers value at every stage of the financial and group benefits plans. It understands that every client is not the same and requires out-of-the-box thinking to find unique solutions for the problems they are facing. Helping its clients gives Rubbix a sense of accomplishment and motivates its team to do more.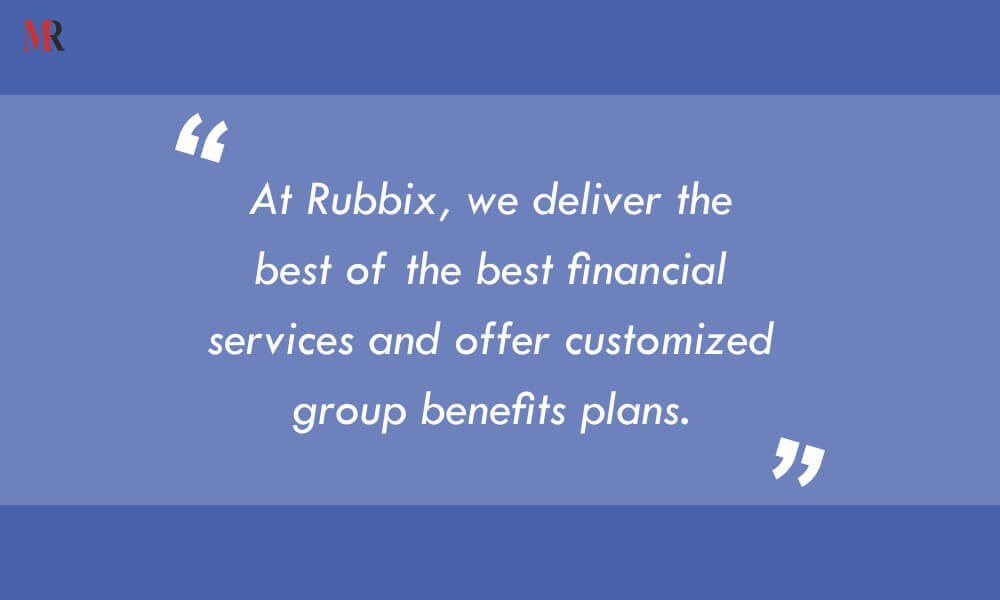 Co-founders' Perseverance and Determination, Achieving Rubbix' Objectives
The Co-founders and Managing Partners of Rubbix, Mitch Vandemark and Rob Thomlinson are the two powerful pillars helping the Grande Prairie, Alberta-based company to achieve continued success. The founding duo established the company with a goal to bring outstanding values, immaculate services, and professional support to all their clients. Since then, Mitch and Rob are helping business owners to build better financial plans so that they can boost their existing revenues.
Prior to Rubbix, Mitch has been working in the financial industry for 6 years. He is extremely committed to providing his clients with the best possible advice. Similarly, Rob has been in the financial planning industry for almost 7 years. He is passionate about building new relationships with clients and offers recommendations to help clients reach their goals.
Although, both had prior industry experience, establishing Rubbix was not a walk in the park for them. Just like any other aspiring entrepreneur, the seasoned duo also faced many challenges. But the toughest one was building their company from the ground up while tackling the issues that came along the route. Nevertheless, they never gave up and overcame them through their rock solid perseverance and determination.
Rubbix's Future Goals
For the upcoming years, Mitch and Rob have strategized a blueprint for Rubbix. They are going to expand their company's presence in multiple locations. They also want to recruit different advisors from varied backgrounds so that they can gain multiple perspectives and solutions. Additionally, the well-versed duo is planning to establish a specialized part of their business like Mortgages, Stocks or General Insurance.
A Valuable Piece of Advice for the Consulting Companies
The Co-founders believe that by implementing the following three qualities, any consultant company can achieve success. These three qualities are Value, Determination, and Excitement.  The thoughtful leaders share that the consultant companies should give as much value to their clients as possible. One should set goals and stop at nothing to achieve it and be passionate and excited about completing the designated work for clients. This will give clients confidence and they, in turn will remain confident and loyal to the company.