"Cloud will change everything" was the first tag line written on the very first website page of Behind Every Cloud Ltd. (BEC) when the Managing Director of BEC (Founder of the Clover Index), Ray Bricknell established the company in 2010. Drawing on over 35 years of experience in diverse, international, and senior enterprise Finance IT, today he is focused primarily on and consulting extensively with well-known clients in the mid-tier UK Finance sector. In its early years, BEC worked with CSPs and industry specialists to define and maintain the award-winning Clover (Cloud Vendor Ratings) index. Today he works more on advising his clients in this same target market on vendors and services providers who focus on anything to do with the enablement of Cloud based propositions.
When Ray first engaged in the mid-tier UK financial services sector in 2010 where BEC now specializes, he made an overall pan-client observation; The larger firms in the mid-market would eventually outsource (and "go cloud"), and the vendors that currently specialised in that market were simply not operating at a size or scale that would make them a good fit as a provider. Since then, BEC has found that Cloud adoption in UK FS has been slow compared to other sectors, and by about the end of 2016 was still in the incubatory stage. Whilst the low end of the market has been "Cloud-First" for the last 5 years, only about 5% of the mid and high-end markets (consisting over about 250 users) had adopted a Private Cloud based (typically multi-tenanted VMware-based Managed Hosting Services) approach.
About Q1 of 2017 though, BEC saw Public Cloud interest within FS begin to spike. Today, some high profile names in the sector are aggressively going 100% Public Cloud.
Building the Clover index to Benchmark CSPs for FS
After more than 15 years in very large corporate firms such as Barclays and The Pru, from late 2008 the versatile Ray spent 2 years as the CTO of an $8Bn listed Hedge Fund. When he conducted an outsourcing project for that Fund, he could clearly see that there was a major gap in the offerings of the MSPs who had traditionally dominated the niche, and the requirements of a large, regulated, risk-averse Asset Management firm. Ray was also of the view that in the long term, the size and scale of IT that such firms deployed internally meant that they would ultimately not justify retaining an in-house infrastructure team.
With a detailed knowledge of the pitfalls and risks implicit in building large scale infrastructures, Ray decided to act as a Cloud infrastructure analyst for his clients, and he started pre-emptively looking for the finest vendors around. His first client was $60Bn BlueBay and together they analysed the Private Cloud platforms of more than 40 vendors.
From the core competence of "Cloud Vendor Ratings," Ray and his team derived the name Clover Index. With an emphasis on performing very detailed and qualitative analysis on the Cloud Services Providers in the UK market, and a specific focus on regulatory compliance, the Clover Index has now been serving clients in the UK Mid-tier FS sector for more than 8 years. To fulfil client requirements over that time, Ray's team has run more than 30 RFPs (Request for Proposal) and overseen about 20 transition projects from on-premise to one or other variety of Cloud or MSP solution.
The Clover Index used these RFPs to build the most extensive database of its kind in existence, which contains more than 300 attributes for more than 200 MSPs facing off the UK FS space. Because of this innovation, Clover Index was recognized at the UK Cloud, and European Technology Awards and was endorsed by the Cloud Industry Forum as the "Gold Standard" for benchmarking Cloud service providers for the UK's regulated markets.
A Changing Mode of Engagement and Broader "Cloud Enablement" Coverage
Due to the slow adoption of Cloud by the UK FS sector, Ray and his team were clearly too early to the Cloud party, and eventually the partial leapfrog over Private to Public Cloud made some of the more detailed Due Diligence analysis efforts invested in the Clover index redundant. However, Ray was fortunate enough to receive ongoing guidance on such setbacks from the very knowledgeable Frank Bennett, who is currently the deputy Chairman of the CIF and the work invested in the Clover index has certainly established Ray's credibility as one of the first and best known thought leaders in Cloud for UK FS.
In late 2016 Ray realised he was solving only half of the problem for his clients. Historically, BEC had avoided recommending a single provider because the focus of the Clover Index had been on creating a truly competitive RFP environment. So BEC stopped running RFPs and now it only gives its clients specific recommendations of "best of breed" vendors to add value to their company's supplier ecosystems. These days, the Clover Index team has also expanded its analysis to cover a wider landscape covering all "Cloud Enablement" related functions, and they earn fees only where the recommended vendors are retained and client value is returned.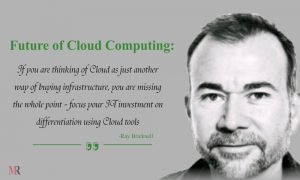 An Energetic Aussie Monetising Market Knowledge for Mutual Benefit
Born in Australia, Ray outgrew the Brisbane IT market when he was about 35. These days, BEC and the Clover Index take a "pay forward" approach, and its philosophy is to provide honest high quality advice irrespective of short term profit. Currently, Clover works entirely and transparently on referral commissions, so trust and genuine friendship alongside the respect of his regular clients is really all that matters to Ray and the company. Ray's team works extremely hard to retain its ability to give high quality advice, and often recommends providers even when there is no short term benefit to BEC to do so.
Futuristic Advice for Youngsters
According to Ray, present-day youngsters considering an entrepreneurial career should plan at least 5 years ahead – and do their best to predict what's going to be required in the future business market so that they are in the right place at the right time. In order to find a way to monetise their genuine interest in their chosen market, they should focus on selling a MVP (Minimum Viable Product) to create an interim cash flow. To be a respected thought leader, they need to build a network and a reputation, and these things take time.