With the ever-evolving healthcare regulations and new reimbursement models, there has been a recent negative shift in quantity vs. quality in healthcare. Today, in order for medical practices to survive and to have enough patients in their offices, they need to partner with Health Maintenance Organizations. Likewise, Primary Care physicians are incentivized by qualitative standards, whereas the Specialist and Surgeons lack the incentives they actually deserve.
Jennifer Boyd, the CEO and President of Prosperity MD, LLC shares, "I'm a strong advocate for surgeons and specialists to get paid faster. There should be more qualitative based incentives catered to Specialists and Surgeons."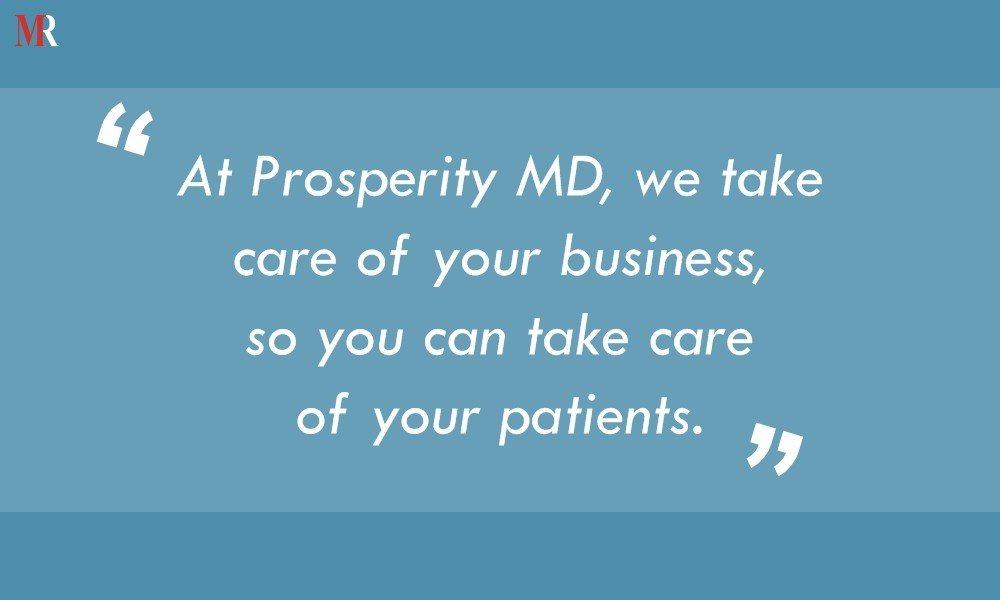 Therefore, Prosperity MD's primary desire is consulting doctors to help them. The highly trained Revenue Cycle Consultants of Prosperity MD help doctors navigate through the obstacles they face while getting reimbursements for patient rendered services. Due to these obstacles, many physicians witnessed a big reduction in their incomes. Commenting on this scenario, Jennifer states, "I would like to see more programs that support doctors so they get paid faster for a 14-hour long surgery that saved a life. I have seen Surgeons get paid 6 months to a year after providing a healthcare service." Such payment delays exist due to the stricter payer guidelines and payment holds for financial hospital budgeting. Thus, there is an innate need for a consultant to analyze physicians practice; otherwise, the doctors won't get timely payments and lose thousands of dollars by the minute.
This is where Prosperity MD plays the role of an ideal consultant. It aims to provide Surgeons and Specialist with the revenue they deserve.
Facilitating Surgeons and Specialists to Receive Faster Payments
According to Jennifer, some organizations perform social responsibility campaigns only for financial gain. The leaders of these companies only concentrate on making the profits rather than focusing on improving the quality of their healthcare offerings. This profit-orientated approach is leading a marketing competition among healthcare companies. Such competition is further directing the majority of their investments in marketing their products instead of refining their quality. "We have to move away from that type of marketing and replace it with the primary desire to want to help others. For example, Google hires talented employees that can bring helpful innovation to the world, allowing them to execute great ideas while still satisfying their marketing needs," comments Jennifer. 
Thus, Prosperity MD hires and trains industry-leading professionals who clearly understand the importance of quality healthcare, which greatly assists physicians to do healthcare practices without investing their crucial time on revenue cycle management. Similarly, in the world of the Affordable Care Act and strict regulations, the extensive delay in payments works as an anti-motivator for doctors. Prosperity MD's cloud-based billing and marketing solutions, which are tailored to meet the specific needs of distinct private medical practices help Surgeons & Specialists focus on their patients. In addition, the company offers a complimentary Practice Analysis to benchmark the potential growth of a particular practice. According to each practice, the team of Prosperity MD adapts a customized approach and also refines or rebuilds a practice to maximize patient service revenue. Moreover, doctors and physicians are required to be updated with the new changes in regulations. In such cases, Prosperity MD offers on-going support and training.
Educating Doctors to Find New Ways for Maximizing Revenues 
Bringing more than 20 years of experience to the healthcare sector, Prosperity MD is on the quest to provide the highest quality of consulting and care to its clients. When considering high-quality patient care the doctors struggle with reducing the operational costs. In such cases, Prosperity MD educates the doctors on ways through which they can maximize their revenue potential. Jennifer shares, "When I meet with any potential clients, the first thing I do is provide them with a book called 'Thriving Medical Practice in the Affordable Care Act Era,' by Patrick Phillips and Vicki Radner, MD. This tool educates physicians on how to become prosperous during a time when 30% of claims for patient rendered services do not get paid. This can be hundreds and thousands of lost revenues for Specialists and Surgeons." 
To further assist the doctors, Jennifer and her skilled team aim to provide unique services like web design and marketing for growing their digital presence, which will help them to increase their revenue. They adopt the current digital dynamics in marketing to reach the right audience and serve the best clienteles that will give an opportunity to do their 100% best. The company hires genuine consultants who truly want to help people as well as coaches newly hired consultants so that they can focus on aiding the clients. 
A Passionate Community Leader Aiding Others with Her Extensive Experience 
Jennifer is the CEO of a nationally recognized 501(c) (3) charity called Mommy & Me Cancer Foundation. She has also worked on social media marketing & analytics, brand strategy & development, and healthcare consulting. According to Jennifer, consulting is a long-term relationship in which both parties should progress and grow. 
Looking forward to build a bright future for Prosperity MD, Jennifer believes that Prosperity MD will proceed to success while assisting clients to become prosperous. Therefore, for the next five years, the team of Prosperity MD plans to help over 100 specialists and surgeons and witness their full revenue potential.