As the famous American journalist and commentator, Bill Moyers quotes, "Creativity is piercing the mundane to find the marvelous." In other words, creativity is more about breaking down the existing channel and restructuring the same in a novel way. The creative individual undertaking this task is a keen observer, out of the box thinker, stays immune to failures and possess infinite knowledge.
According to Piyush Khaitan, MD & Co-founder of NeoGrowth Credit Pvt. Ltd., creativity is a phenomena that evolves along with the environment around it. Belonging to an entrepreneurial family, Piyush and his brother, Dhruv Khaitan (Chairman of NeoGrowth) began their entrepreneurship in a sector that was both challenging and taxing. However, this did not stop him from going after a precarious sector. Piyush was enticed by the idea of the business which would provide the small & medium enterprises (SMEs) with access to finance, based on digital payments. He wanted to actively participate in this e-payment sector with creative and distinctive ideas, thereby serving this ecosystem.
Piyush's voyage to entrepreneurship began with a digital payments processing firm, Venture Infotek, which he, along with his brother, later sold to a European multinational company. Piyush had also founded DEI, India's largest secure card personalization bureau, which merged into Venture Infotek in 2007. He has worked closely with the Card Networks, RBI and IBA in framing policies and giving direction to the card payments industry in India. Piyush was also the Founder, Chairman of the 'ePayments Focus Group' of the Smart Card Forum of India (SCAFI) from 2000 to 2005.
It was during these building years, when working closely with retailers, both Dhruv & Piyush recognized the stumbling blocks in terms of accessing finance. More than 50% of these retailers, though credit-worthy, were denied finance based on traditional underwriting methods. It was this gap that Dhruv & Piyush aimed to bridge with NeoGrowth. Piyush acknowledges his journey saying, "The journey so far has been adventurous & eventful and we are getting closer to our objective day by day. Our tech & touch model along with our customer centric business philosophy are the key attributes which have helped us to emerge as the market leaders."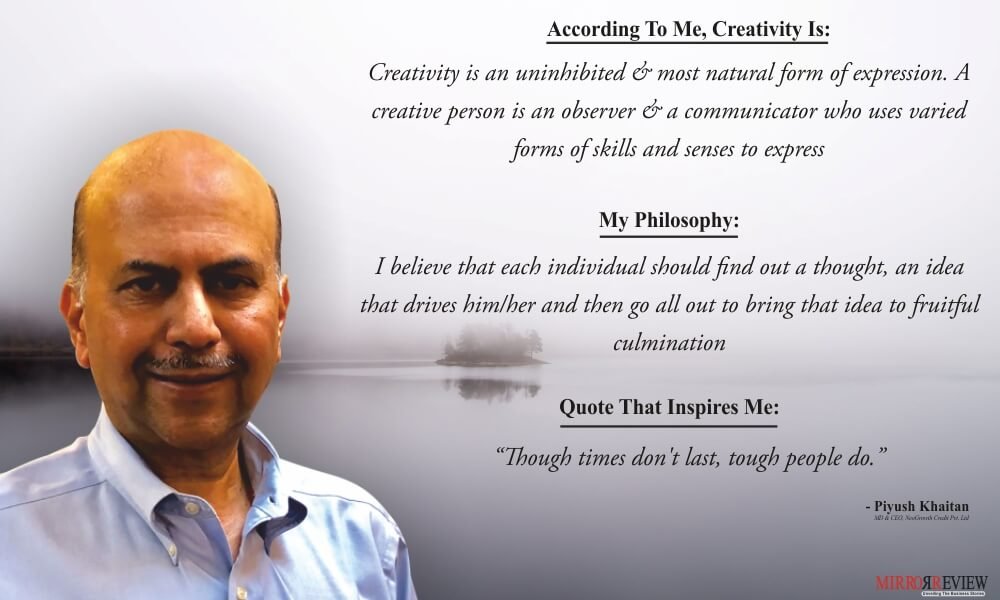 NeoGrowth: Technology-Based Platform for Innovative Loan Products
Incepted in 2012, NeoGrowth is the pioneer of digital lending in India, offering business loans to the SMEs through unique tech n' touch model. It is this fundamental premise on which NeoGrowth is built with a mission to bring a social impact in the e-payment segment. The company caters to under-served market by adopting an innovative approach and validating the credit worthiness of the business. This is done by looking at the SMEs current business performance and stability.
Having piloted their tech n' touch model in 2012-13, NeoGrowth has launched commercial operations in Mumbai, Bengaluru, Delhi, Chennai, Coimbatore, Pune, Kolkata, Hyderabad, Jaipur, Chandigarh, Ahmedabad, Lucknow, Ludhiana, Surat, Mysore, Madurai, Nagpur, Indore, Vadodara, Vijayawada & Vizag and plans to expand to other markets in India shortly. Till date, the digital lending company has successfully partnered with 12,000+ business merchants to grow their businesses.
Under the leadership of Piyush, NeoGrowth is driven by nine set of values – empowerment, accountability, teamwork, result orientation, policy integrity, work-life balance, customer orientation, innovation and trust and openness. All their products, processes and services are built around these values and the team proudly adheres to them. It is what makes them tick in the competitive marketplace that they operate in.
Setting High Standards for NeoGrowth
NeoGrowth has social impact right to the core of its DNA. The loans which the company lends, the operations they run, their customer service philosophy, all are driven with the objective of causing a positive social impact to the SME segment. On creating a social impact, Piyush says, "We are the only firm that regularly comes out with an annual social impact report that is audited by an independent third party. I am fortunate to have a dedicated & driven team, and I act as a sounding board to them, guiding them & sharing my experiences that I feel can act as a guiding light to them.