The beauty salon industry has been termed as one of the most recession proof businesses in history even in turbulent times. Conversely, the COVID-19 pandemic disturbed the industry operations. The economic disruption has affected the Small and Medium Enterprise (SME) drastically throughout the globe. This lockdown was one of the longest shut-downs of services on record for the beauty industry. However, the team of Phenix Salon Suites endured the changes and has prospered despite the setbacks.
Gina Rivera is the Founder of Phenix Salon Suites. She and her family have been influencers in the beauty industry for over 90 years. With zeal to innovate the traditional salon, Gina modernized it by designing Phenix Salon Suites using high end finishes and providing top shelf services with the goal of meeting the needs of Lifestyle Professionals like herself.
Creating ample Opportunities
Since 1929, Gina Rivera's family has been part of the beauty industry. Consequently, Gina was destined to pursue a career in the world of beauty. From the time she was a child, Gina worked in her parent's salon and developed an intense passion for the beauty industry. Later, she moved to a booth renter salon where she established a winning reputation due to her knowledge and skill set. After gaining insight as a booth renter, she noticed that not all salons were created equal and the majority of booth renters were provided very little support to ensure their success.
Gina became a fierce advocate for beauty professionals who shared her same fervor for the industry but lacked the financial resources to establish themselves in the marketplace as salon owners. She realized that she had the opportunity to redefine the options available for sole proprietors in the beauty industry. Thus, Phenix Salon Suites was born, which delivered a new experience and opportunity for lifestyle professionals to own and operate their own business at a fraction of the cost of opening a traditional salon. Soon, the distinguished offerings of Phenix Salon Suites made it a recognized industry leader. Today, Phenix Salon Suites is one of the fastest growing franchise companies in the country.
Supporting Lifestyle Professionals
"As a franchise company, we have many individuals that are fulfilling their dreams of being business owners," said Gina.
Phenix Salon Suites was established to help the lifestyle professionals achieve the dream of owning their own business. However, the entrepreneurial spirit is also present with franchisees who are independent business owners that operate and own their Phenix locations. Phenix Salon Suites is recognized for providing an abundance of support to all of the entrepreneurs involved in their concept. The Lifestyle Professionals are composed of hairstylists, barbers, aestheticians, manicurists, massage therapists, professional make-up artists, tattoo artists, brow and lash artists, and more.
These professionals have the opportunity to operate independently, and they can set their own business hours, select their own products to sell and use, and decorate the private suite they occupy to their liking. In addition, Phenix offers an abundance of educational opportunities free of charge or at a minimal amount to the Lifestyle Professionals. Alongside this, franchisees also receive,
Access to Financing
Expert assistance with site selection
Hands-on support with construction and site development
Market analysis designed to assist with setting suite rates
Furthermore, the expansive services also comprise marketing support on the social media front, a template website to accommodate internet presence, and a library of collateral marketing materials that may be utilized for promotional campaigns. Further, each franchise owner is offered a 43-point marketing plan that is focused on engaging and attracting Lifestyle Professionals continuously which contributes to long-term success.
Supportive Team
As aforementioned, Gina established the company intending to fulfill the dreams of individuals who wanted to venture into entrepreneurship as either a franchisee or a lifestyle professional. However, with the COVID-19 outbreak all salons in the beauty industry were shut down for a period of time. Phenix Salon Suites understood the challenges that the closures created and jumped into action by providing support to their franchisees on multiple levels.
Lifestyle Professionals were also provided support. Many of the franchisees provided some form—if not total—rent relief during the closures. At the corporate level, the By Gina Artistic team embarked on offering an abundance of complimentary online training on beauty techniques and trending topics in the industry. In addition, constant information was provided on funding programs that were being offered on the governmental level.
"Fortunately, since each professional works in a private suite where they operate their own business, our model is highly conducive to social distancing and safety," said Gina. As the lockdown impositions were lifted, the hygiene and cleaning measures were elevated thoroughly at each location. The professionals do not share washbowls, working spaces, or equipment and the clients receive services in private suites that only their Lifestyle Professional accesses. Therefore, creating a more secure environment.
Crisis and Opportunities
Crisis or no crisis the organization's mantra is to consistently offer the best services possible to the Lifestyle Professionals to ensure that their businesses are successful. Gina adds, "Without their success, we are not successful." Also, the crisis has created several opportunities for the company. Since the outbreak, the team introduced virtual education, developed resources related to COVID-19, and implemented a very strong communication plan.
Furthermore, one of the most important features added was the Gina's Platform app. Through this modern business app Lifestyle Professionals can manage their businesses from the ease of their phones. The state-of-art app is extremely comprehensive and is FREE to use. It includes easy client notifications, touchless payment processing with very low credit card rates, product and revenue tracking, advanced appointment booking options, and trending beauty news and education. Franchisees can easily communicate and manage their stores through the app as well. The app is equipped to accept rent payments, track occupancy at locations, push out seamless communication, and much more. "This app makes the daily workload easier during an already challenging time and increases our ability to provide a safe environment for businesses to operate in," affirmed Gina.
Gina is successfully transforming the beauty franchise industry and introducing innovative offerings. "There will always be challenges that arise which will require flexibility and creativity to resolve. As an entrepreneur, you must always explore and recognize new options that present themselves and act on opportunities for improvement," concluded Gina.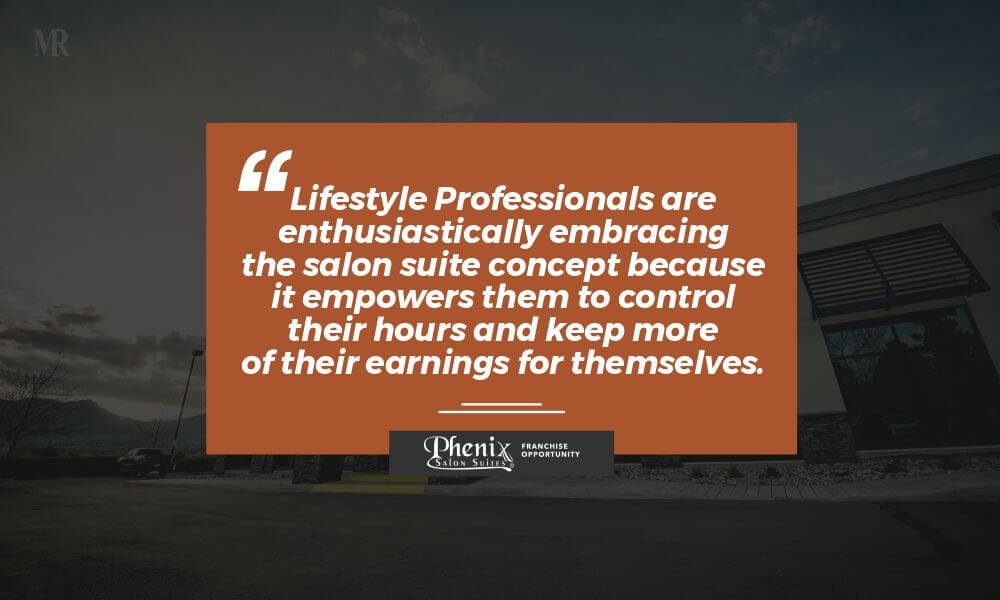 Read Full Magazine: The Top 20 Franchises in America