In the last few years, the engineering services sector has grown exponentially. While advancements in technology are driving changes in this segment, the business model and customer expectations are also pushing it forward. Today, organizations are striving to fulfill every demand of consumers by integrating emerging technologies in their products and services. Corporations who want to enter into market are collaborating with the leading engineering service providers (ESP) that not only support product design and development but also ready to be responsible stakeholder too. One such leading ESP and consulting company is Optimizt Technologies (OT) located in India. OT's vision is to become the most recognized, trusted and value-added engineering & technology partner by its Customers globally.
Serving Diverse Industries with Comprehensive Offerings
Worldwide renowned companies approach OT due to its diverse services expertise and portfolio that includes Industrial and engineering product design, validation & testing, optimization, prototyping, and specialize corporate trainings. The seasoned team of OT possesses deep domain skills in advance computer-based simulations like Finite Element Modeling & Analysis, Computational Fluid Dynamics etc. Using their expertise, they create unique and enduring synergies aligned to their Clients' business missions and goals.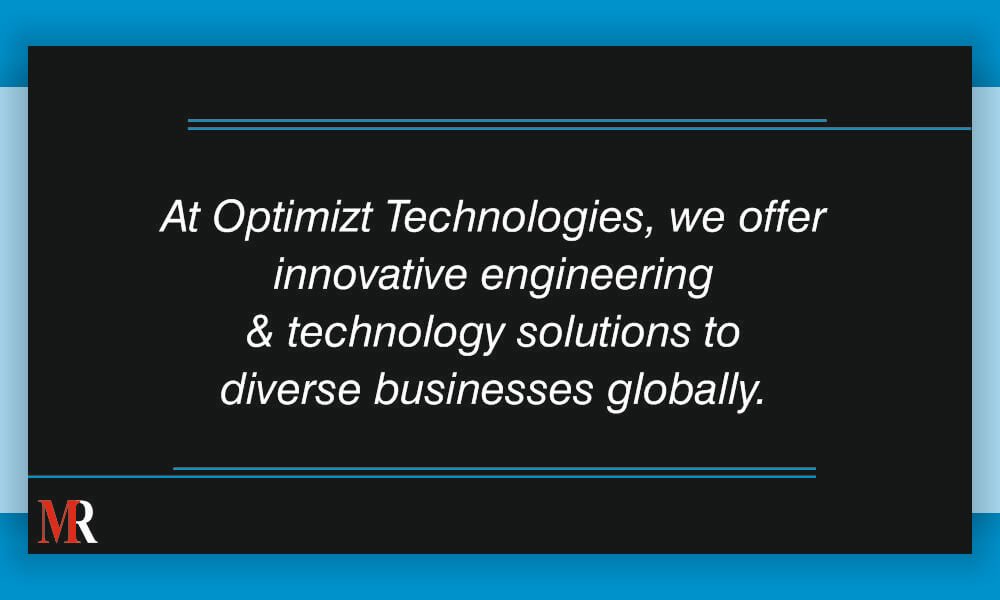 This leading consulting firm also offers specialize services that are tailored as per the Customer's needs. OT serves diverse industries such as Automobile, Aerospace, Automation, Civil Structures, Energy, Medical, Home Appliances, Chemical and Process Industry (Oil & Gas), Off Highway Vehicles, Metro Rail along with Clients hailing from Asian, European, and North American countries. OT has in its credit few Fortune 500 companies and other world renowned organizations as satisfied clients.
Due to its outstanding services quality & performance, the company is recognized as India's leading Engineering Design & Research Centre of Excellence. It has also received prestigious awards such as International Arch of Europe Award in 2015 for innovative & quality services and West India's Best Technical Centre in 2012 for business excellence.
Delivering Exceptional Engineering Services
For serving diverse Industries, OT offers a wide range of engineering & technology services for new product design and development using CAD/FEM/FEA/CFD technology tools from concept, market research to launch. It also provides design optimization, value analysis and engineering, reverse engineering and staffing services.
For its Client's, OT delivers a cost-effective business model for the required duration during the product development cycle. Hence, clients become long-term partners with OT that greatly help them to save cost. In 2018, the company has successfully delivered Electric Vehicle battery design & validation programs which has added new vertical in its portfolio. OT's skilled team consistently brings up new design concepts & suggestions while working closely with clients. Together, they try to develop, translate and turn these ideas into reality for clients' future growth and success. Most of the Team members have received awards & appreciations by its clients and few patents are in their credit too. Furthermore, company also assist research scholars from reputed Indian universities who are working on innovative ideas by providing all possible support.
Facing Challenges Head-On
Due to emerging technologies and market trends, there are significant changes in traditional engagement models to demand greater value and tighter service integration. Thus, OT is also facing challenges such as pricing aligned to client business metrics, new competitors, shorter delivery models, stringent quality demand, and retention of talent in the defined budget. On the bright side, these challenges are pushing professional services provider into a new era of service delivery.
OT is focusing on delivering technical excellence, custom business models aligned to Client business needs. Along with this, it is predicting future technologies to add new services vertical in offerings and upholding professional pride and integrity. This prominent engineering service provider is working tirelessly and ethically to ensure that values are added to every service it delivers. In order to do so, this Indian based company is going to leverage the massive pool of skilled workforces to deliver outstanding technology services.
Optimizt's Agenda for Future Development  
In the next three years, the company will focus on marketing in handpicked countries with select services, building customer credibility, developing domain expertise and promoting the acceptability of the offshore concept. Along with this, company is planning to start operations in potential countries to provide nearshore services to new clients. OT plans to build a brand image and wants to be recognized as a trusted partner in this market. By the mid of 2020, the company will be investing and incorporating latest technologies in its portfolio such as Embedded Systems & IoT, Data Science, AI, Cyber Security Systems and Cloud services.
Similarly, its long-term goals are to develop smart methods & products for education community out of pragmatic experience gained. Then it will be offered at affordable price especially for economically poor students in Asia. OT is planning to establish Research Centre with necessary facilities for engineering students where Industrial subject matter experts will be invited to guide these engineers of future. Moreover, OT believes in returning back to community in crisis for charitable causes. OT offers financial aid to economically backward students, contributing educating set of engineering students each year, medical assistance to poor people.
A Multi-faceted Leader behind Optimizt Technologies' Bright Future
Jitendra Jagtap is the Founder and CEO of Optimizt Technologies, having 14 years of experience in engineering design and research field along with project management. In past he has worked as Leader, Manager, Consultant and COO positions for MNCs. Jitendra has established the company in 2010 with a mission to provide value added engineering & technology services to Clients. His role at OT is that of a Techno-Commercial, which includes overseeing cross-functional groups and defining new business strategies. In addition to this, he is also involved in identifying emerging technologies, new business prospects, key accomplices and OT's branding.
Staying attuned with the company's mission and vision, this skilled leader has taken some steps for enhancing OT's growth and building trust in employees and clients. These steps involve creating spark in the team, gap analysis and training, improving facilities, fine-tuning processes, audit & certifications and implementing data security systems. Presently, this versatile CEO focuses on reinforcing competencies for future technologies like Electric Vehicle, IoT, AI, Data Science, Cyber Security services etc.
The Secret behind Optimizt Technologies' Success
"The onsite or nearshore business model has been developed for our existing clients which has brought more clarity & success in our business. Perfection in project management, well-defined processes, value-added services, strategic partnership and at last investment in resources has also helped us to succeed."____ Jitendra Jagtap