Over the years, the Carwash & Detailing Industry has grown substantially. With the increase in disposable income in hand, people are more inclined towards buying new vehicles. This has opened numerous opportunities for companies like No-H2O who understand the customers' needs and works hard to meet their requirements. Furthermore, the industry is very fragmented and the larger carwashes are consolidating. Even though there are big players in the industry, currently, there is no market leader or a recognizable brand.
This scenario presents ample space to grow for new companies and startups that wish to promote and provide car washing and detailing services. Another vital factor in the industry is highlighted time and again—water consumption. Climate change is real and is happening right now, the world has addressed this by searching for alternatives that can reduce climate damage. The waterless solution is one of the prominent solutions which will be revolutionary in coming years. Founded in 2007, No-H2O caters to the car washing solution without the use of water.
Offering Unique Formula
No-H2O offers waterless carwash & detailing services. Utilizing its unique formula in comparison to a drive-through car wash, it uses only 4 ounces of water per wash. No-H2O is made from a scratch-free formula which emulsifies the dirt particles. It has a positive charge in the product and with the negative charge from a microfiber cloth, the dirt is encapsulated in the cloth, leaving behind a polished finish unlike any other car wash product available.
No-H2O has been the pioneer in changing this mindset and educates them regarding the use of water while washing the car. As a brand—it is much more than a company just offering carwash & detailing services. It offers a franchise that is a convenience play, scalable, tech-enabled, environmentally friendly, and above all customer conscious, servicing their needs. Currently, the company is the market leader for waterless car care and provides services to corporate offices such as Apple Inc. It manufactures and produces a range of waterless car and motorbike motorcycle care products for sale through retail outlets.
Uber of Carwashing
Evidently, the world is majorly functioning through apps and in near future—this trend will continue to grow further. As a car wash and detailing company, No-H2O acknowledges the current and future needs of the customers by offering its App to provide services to end customers. The App allows the customers to order service on demand which is equivalent to 'Uber of Carwashing'. The company claims that it allows the users to wash and detail cars anywhere, anytime as it requires no water and no drainage—making it more versatile.  
No-H2O services start from $20 to $250 for full interior and exterior detail. It is the only product of its type to be approved for use on both Boeing and Airbus commercial aircraft. It is the vision of No-H2O that the company will—through the diversified business lines it has developed—capture all the value chain of the convenience car wash market world-wide. "In simple terms, if you want to wash your car then you will do so using either No-H2O products or services offered in parking lots or through its on-demand app," says Emmet O'Brien, CEO of No-H2O.
Catering the Needs and Requirements
Emmet mainly focuses on overseeing the growth of No-H2O in the United States. The company is a relatively new brand in the US and he is responsible for building the team, helping the company maintain the rapid expansion. He asserts, "I am also working on innovation for No-H2O to make sure we are at the forefront of car care trends and implementing new technologies to the business which will not only increase franchisee revenue but also future proof No-H2O and add longevity to our business models."
Recently, the company added interior sanitizing and disinfectant services to its portfolio. Emmet also added that the company will continually add this service and make it a permanent feature in the business. In the wake of COVID-19, sanitization and disinfection became primary concerns around the world. Acknowledging the needs and requirements, the company used all the contacts and managed to get its hands on a limited supply of a specialized sanitizer disinfectant product made for the auto industry. These products were then supplied to its franchise network free of charge and pivoted services not just from car washing and detailing but also providing interior sanitizing services.
2021: The Year of Transformation
Along with the current solutions, No-H2O has some exciting products lined up for car care production and car interior keeping the car owners in focus. Today, car owners are more focused on the interior of the car as they spend majority of their time in commute. By 2021, the company is developing some new product offerings that will benefit car and fleet owners. Another major transformation the company has currently updated its App for both the Android and Apple versions. In 2021, No-H2O will also add new features and a subscription model. The tech team at the company has been busy working on another development that will be a game-changer when it comes to delivering car care.
Sharing his experience with No-H2O, Emmet advises all future entrepreneurs by saying, "Determination! Being an entrepreneur is not for everyone, it can be a lonely ride at times and people love to tell you your idea won't work, but if you can climb past that and keep the momentum going then being an entrepreneur can deliver the ultimate reward – success."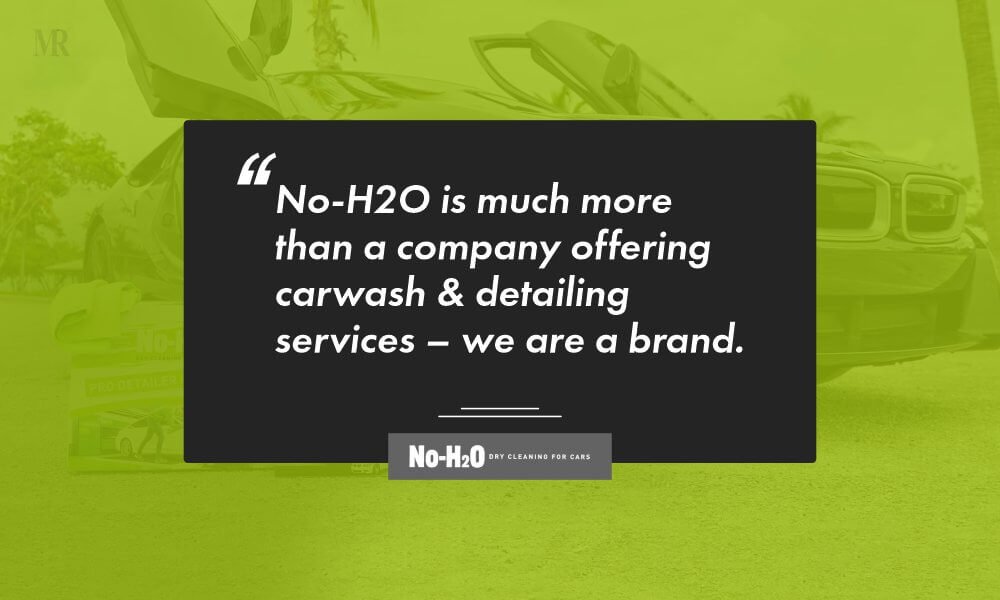 Related: The Top 20 Franchises in America