Over the past few years, the 3D printing technology has evolved on a rapid scale as compared to other industry trends. Currently, it is offering a wide range of services that cater to multiple markets and is not just limited to rapid prototyping. Moreover, these advanced printers are capable of using different kinds of materials, which include more of metal printing than plastic printing. The challenge, however, lies in the speed and size of printing. Today, growth in the 3D printing market has more than doubled thereby giving opportunities to new entrants but also increasing the internal competition. Therefore, as '3D printing' continues to gain popularity, it undoubtedly becomes an essential ingredient in the "Industry 4.0".
Contributing by adding a new spin on the fourth industrial revolution, Moddler is an innovative manufacturing company that is reshaping the identity of a 3D printing service. It is doing this by leveraging the latest 3D printing technology and redefining the 'plastic-possibility' with its seamless and next to perfect models, which inherit extreme details. Presently, Moddler's 3D printing services are designed for the film and media industry, but in the coming years, the company plans to expand its footprints in other industries too.
Leader's Exciting Journey from Rebuilding Historical Sites to Joining Moddler
In 2015, Jared Murnan, the COO of Moddler joined the company under the influence of the VFX veteran and Emmy-award winner, John Vegher (Owner & CEO). Since then, Jared has been striving to make Moddler as one of the leading manufacturers in the market. Moddler's dynamic COO has completed his BA in Animation/VFX with a specialization in 3D modelling. Additionally, with years of working experience in cultural heritage preservation, Jared has developed and maintained a split background between digital and traditional arts. Before Moddler, he worked on digitally rebuilding historical sites from the ancient world because of his keen interest in traditional arts. While on this culturally influenced journey of a 3D generalist, he came across the manufacturing industry, became fascinated by it, and later joined Moddler to take it to new heights of success.
Commenting on his passion and devotion towards work, Jared asserts, "I care about the work we produce and take each project seriously, as maintaining quality is imperative to our business. I really enjoy having direct contact with clients and each project that comes through our doors."
More of a Manufacturing Innovator than a Follower
Since the beginning, Moddler has always been a path setter than a follower. Many companies came, pivoted models using 3D printing technology, and diminished with times. However, Jared believes that there have not been many manufacturers focusing on 3D printing as a service. Impressively, the quality that sets Moddler apart from the others is its sharp focus on getting the highest resolution right. To achieve this, Moddler works with the cutting-edge technologies and softwares and also closely monitors all the market trends and stays ahead of the competition.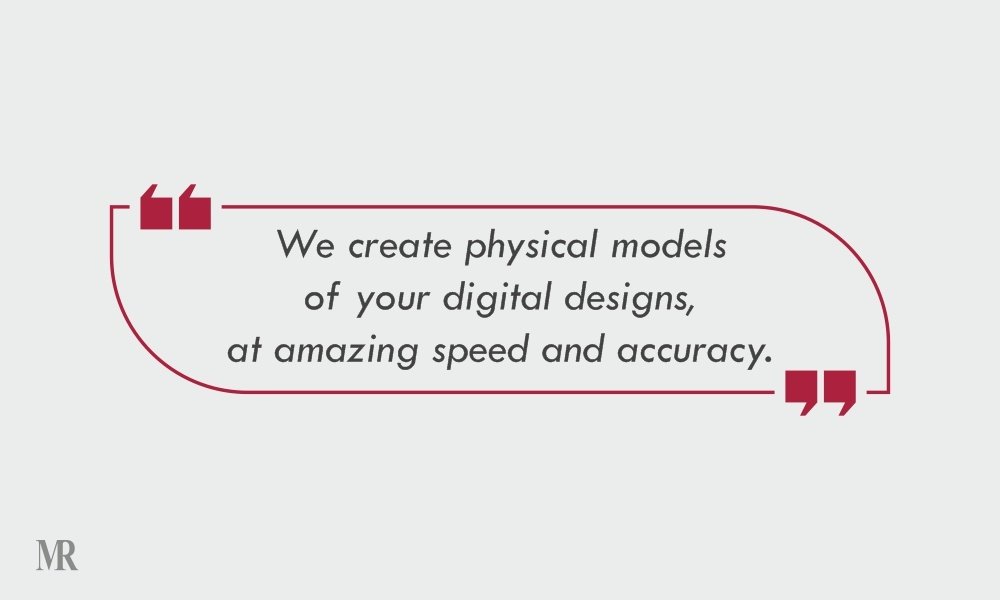 This innovative and path setting ideology can be seen from the inception of the company. Initially, Moddler served many visual effects clients, but now, the scenario has changed. Several filmmakers still choose the manufacturing innovator for figurative models and props, but its latest clientele include the tech companies and architectural firms in the primary markets. Till date, Moddler has worked with several high prolific clients such as Tippet Studio on the Holochess pieces used in Star Wars: The Force Awakens and 3D models used in Men in Black 3.
Providing Detailed and High-Quality 3D Assets
The core service of the company is to turn the clients' digital models into incredibly detailed physical models to use as prototypes for design validation, visual approval models or physical props. Moddlers' first printer remains its workhorse. The Stratasys Object printers use a polyjet process just like inkjet printing, and the highlight is the fine detail it delivers with excellent accuracy. The technology prints with an amazing layer of thickness of only 16 microns, which is approximate 1/5th the thickness of a human hair. Its most recent services include 3D scanning with a resolution of about 0.1mm.
Along with 3D printing, it also offers FDM printing technology with ABS material, which is a great option for early renditions, and checking size and form of clients' designs. The company brings the model by turning it into the 21st century process and allows its customers to communicate their designs more accurately, quickly, and easily than ever before. On this, Jared says, "The 3D printing technology we offer, coupled with our digital production experience, means you will be able to have richly detailed, physical models of your digital assets in any size or quantity that suits your needs. And we can ship most orders in 2 business days."
Consistency in Quality and Execution
With challenges like the saturation of various services, technologies, and materials on the manufacturer's end, and a wide variety of specialized needs on the clients' end, Moddler is aiming to offer a customizable service, with transparency in its capabilities, and consistency. In the upcoming future, Jared feels that the company will keep on growing at a rapid pace if it maintains the quality of services and detailed execution of strategies with a little personal touch.