Born and raised in Ireland, Mick Higgins, the CMO of Caddle Inc. started his professional career at the early age of 8. At this small age, little Mick helped in his family bakery. He was assisting delivery drivers with their routes, completing log sheets, tracking units sold, and units returned. It was the beginning of Mick's journey in customer experience optimization.
Mick carries more than 10 years of quantifiable results across many key business functions including all areas of Marketing, SEO, and Business Development. He has a proven track record of increasing revenues and profit contributions for a portfolio of Fortune 500 companies.
Mick's Expedition towards Becoming the CMO of Caddle
Fast forward to 2009, after Mick graduated with his B.Sc. in Marketing, he landed in Toronto to work in the online advertising industry. With such a continual hard work, Mick learned about social media display advertising, and search marketing. At that time, he made more than 100 new connections and was able to secure a position at search marketing agency called Search Engine People. This was just the start he needed to get hands-on experience in SEO and AdWords.
Being in numbers, Mick immediately began forecasting and trend analysis. Moving ahead, Mick used his SEO knowledge to develop new capabilities during his time at Reprise Digital. With his team, he launched SEO services at Reprise Digital and grew revenues from zero to $2m in just 2 years and joined Caddle in 2016.
Building Improved Business Skills to Tackle Pitfalls
During his initial days, Mick was quite nervous about speaking in public, and like many young professionals, he lacked humility. But, when he started meeting new people and observed their humble nature, Mick understood his pitfalls and turned them into new skills. To learn new things, Mick adopted infinite learning process, a term popularized by LinkedIn Founder, Reid Hoffman.
Likewise, he feels lucky to have some great mentors who helped him to develop his self-awareness. Mick is also fond of books, especially the storytelling of Michael Lewis. He is impressed by Michaels' informative stories and his obsession with market inefficiencies.
Transforming Caddle Product Line with Improved Strategies
While working as the CMO of Caddle, Mick brought the biggest transformation in the company's product line. Mick focused on the actions and results of the product line. Utilizing metrics like clicks, conversions, product trials, etc, he observed the various shifts in actual products. Moreover, the smart CMO employs analysis on his observation to build the upcoming plans.
Mick and his team develop data-driven solutions which help their clients to drive collaboration between brands and partners. Focusing on customer experience optimization, Mick is unlocking the insights that elevate the brand in the eyes of clients. He follows the path of transparency with customers that enable him to effectively improve the user experience.
Delivering Growth-Oriented Solutions at Caddle
Caddle's innovative research-driven mobile platform uses its advanced mobile technology to quickly gather data. Its consumers download the Caddle app because they want good deals and they can make money. They get discounts and are paid for purchasing products, taking surveys, and watching videos.
At Caddle, Mick's primary responsibility is growth of users. Mainly, he focuses on product development and marketing. From the product development perspective, his favorite part is planning and analysis. He assists in driving research design according to the predictions of consumer demands. Today, Mick spends his time working with the team on survey design initiatives that give his team a view of the subconscious. Because, to know what people buy, one first needs to know how they think.
Friendly Collaboration as the Key to Build Effective Team
According to Mick, growth using data is the fun stuff with lots of strategic planning, brainstorming, and analysis. But, the way of using the data determines the success and failure of an organization. To develop and expand his knowledge, Mick continually interacts with his team members as he believes that everything is a team effort and when there is a vision, things can be quantified. He loves getting different perspectives in the mix. Moreover, he writes those ideas and ranks them by priority. This collaboration and priority management radically helped him in building an effective team.
When it comes to hiring new talent, Mick searches for potential in that candidate. This approach assisted him to gain the right candidate with extreme potential of learning. Additionally, the clever techniques and assessments at Caddle, benefit employees to find their gaps, and the resources they need to fill such pitfalls.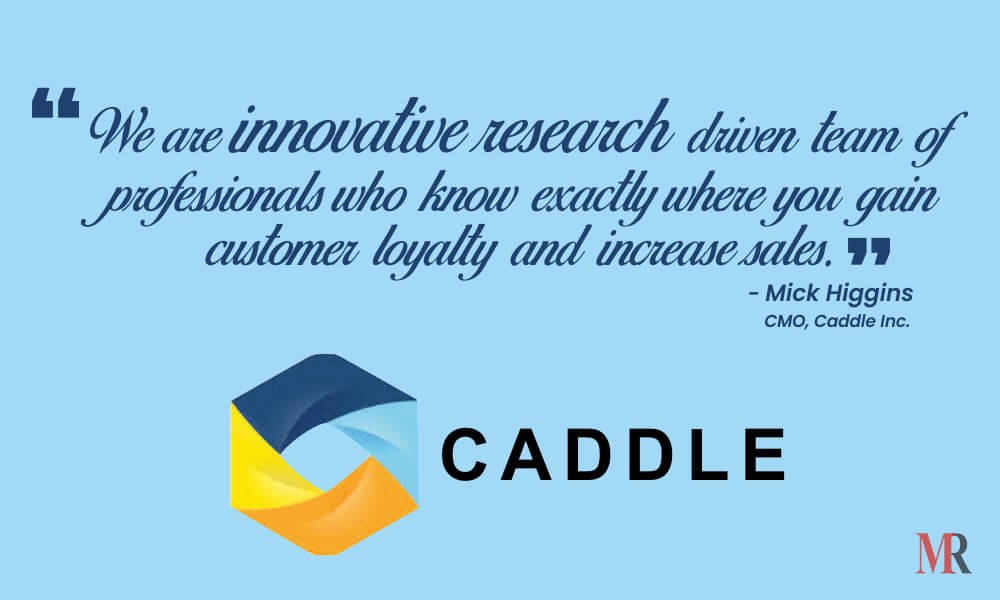 Linking Art, Science, and Technology to Deliver Unique Results for Clients
Mick and his team of versatile members have developed an ability to quickly gauge market intent for their clients. Every decision at Caddle is a marriage of art, science, and technology. This approach to decision making enables it to fulfill customer requirements from a wide range of industries. Caddle team members have worked with Nestle, McCormick, and Boston Pizza to evaluate potential market participants, measure intent using variable discounts, and ultimately recommend a customer mix. Because, customer tastes are constantly changing and a strong customer mix can help protect market share, and grow innovative brands.