Thanks to the internet, the retail landscape across all industries has been transforming and apparel retail is no exception. The apparel retail is now becoming increasingly digital, with the proliferation of e-commerce, AI-driven trend prediction, individualized and targeted digital marketing, etc. However, the upstream part of the apparel value chain remains very analog. With technology tools becoming more advanced and available, the apparel retail sector players can have more options to choose from. But, adopting these tools requires mindset changes, which seem harder than the technology itself.
The Hong Kong-based, Lever Style is taking an innovative approach by blending its technical expertise with style sensibility developed by working with the most discerning brands to bring designs to life. In doing so, the company is closing the gap between technology and people. It is addressing the aforesaid issue by encouraging its staff, its customers and its suppliers to digitalize.
Having A Strong Footprint, Serving a Global Client Base   
Lever Style has been in fashion for over 60 years. It was the first global apparel company to partner with World Wildlife Fund (WWF) on the low carbon manufacturing program more than 10 years ago, way before sustainability became hip. The company is a co-signer to the United Nations Framework Convention on climate change's fashion for global climate action.
The employees of Lever Style have been working in accordance with their mission that is to make their customers look good, by providing speed, flexibility, and continuous fashion innovation. They have developed technical know-how that has met the needs of the world's most discerning designers for over 60 years. Because of this, the Executive Chairman of Lever Style, Stanley Szeto proudly asserts, "We make what our customers sell, not sell what we make." And so, the leading apparel company takes great pride to be an industry-leading model and its commitment to sustainability initiatives.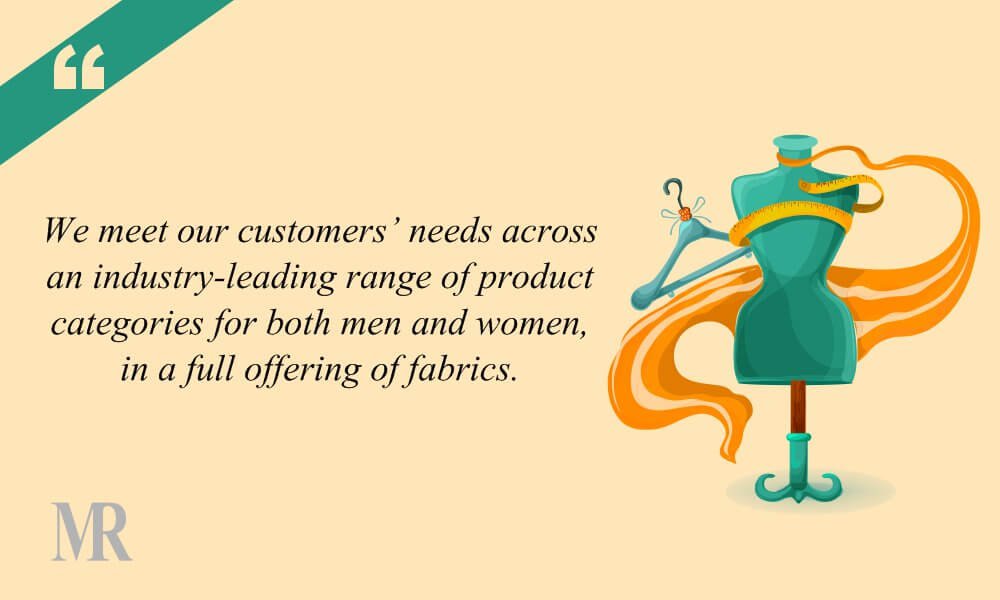 Today, Lever Style is the apparel partner for the digital age. About half of its sales come from digitally native brands and platforms like Bonobos, Stitch Fix, Everlane, etc. The remaining of its sales are generated from designer labels such as Paul Smith and John Varvatos, and premium contemporary brands including Hugo Boss, Theory, Vince, AllSaints, and Rag & Bone, to name a few.
Delivering Quality Products
By working with fashion-leaders and innovative companies, including the digitally native ones, Stanley with his expert team is constantly pushing the envelope and sees every challenge as an opportunity to grow and differentiate themselves. Therefore, the company offers diverse and bespoke products to its customers. Its multi-jurisdiction contract manufacturing network provides its partners with maximum flexibility in terms of order volumes, lead-times, product expertise, and price points. As a result, there is no compromise between manufacturing and product quality. The expert team has understood the nuances of design sensitivity from decades of working alongside luxury designers, and analyzes their e-commerce partners' sales data to stay on top of the latest trends. After analyzing, they combine art and science to quickly generate the product choices right from basics to fashion items that consumers will buy.
Furthermore, the sophisticated apparel tech company's centralized pattern making, grading and sampling platform delivers speed and precision needed for developing products. To enhance the customer experience, it has category-specific technicians to solve technical challenges and to deploy know-how on the production floor.
Treating Team as a Valuable Asset 
"Our people are our biggest asset. With an asset-light business model, this can't be more true!" states the Executive Chairman Stanley. The well-versed leader believes that people are the biggest assets of Lever Style. Since he can't oversee every operational detail, he delegates responsibility to senior team members who subscribe to the core values of the company and communicate continuously for the smooth execution of any operation. At Lever Style, senior executives recruit and manage their teams using those values.
Paving the Way towards a Bright Future
The recipient of the Young Industrialist Award of Hong Kong and EY Entrepreneur of the Year Award, Stanley began his career in finance after graduating from the Wharton School at the University of Pennsylvania. In 2000, he chose to go the opposite of the herd and got into the apparel manufacturing sector. Back in days, the company was known as Lever Shirt and was at the brink of bankruptcy. Then, he joined the company and became CEO pretty soon.  For there, together with Lever Style team, he stabilized the business and acquired a tailoring business in 2007. This acquisition allowed them to grow and to survive the following global financial crisis.
Early this decade, the competent leader and his team decided to switch from an own manufacturing model to an outsourcing one, in order to enhance the flexibility and product breadth they can provide to their clients. They also decided to focus on serving digitally native companies and smaller, emerging brands, as these companies tend to be under-served by suppliers looking for mass-market, high volume orders.
Things to do in Future
For the next five years, Lever Style will be endeavoring to become a respected apparel supply chain industry leader known for its innovation, highly flexible supply chain, and sustainable business model. Stanley anticipates that the company will be a great place to work, a fabulous and honest partner to do business with, and a profitable stock pick for the investors in the future.