More than thirty years ago, organizations began to utilize audio and video conferencing solutions with the intent to make meetings effective. However, today, it is still very difficult to make remote meetings productive or allow teams to work together across locations. There are several solutions available for communication, yet people still travel for meetings, which is very costly, and use analog products such as whiteboards and sticky notes. In the digital era, technology is offering simplified, rapid, and effective solutions for running smooth workflow operations. Organizations are looking for novel solutions that can unite distributed teams, reduce costs, and optimize their workflows.
Headquartered in Sweden, Stein Revelsby, the Founder and CEO of Hoylu, understands that connecting people and their ideas is fundamental for value creation and keeping pace with the increasing demands of businesses. Therefore, bringing his idea of seamless collaboration into reality, Stein and his team are combining Hoylu software solutions for work collaboration combined with display and input technologies, such as flat panels, interactive walls, virtual and augmented glasses, among others. With Hoylu solutions, team members can access the same information from anywhere at any time on any device, which is extremely critical for companies with widely distributed teams.
Enhancing Teamwork Productivity
Hoylu started with the mission to make teamwork more productive, engaging, transparent, and fun. Their products are based upon years of research on user-friendly and intuitive interaction with large displays and projector screens. The company is working with organizations of all sizes to improve their teamwork experience, implement smart operations, and drive their business towards success. Hoylu has developed visual collaboration solutions that allow distributed teams to co-actively plan, create, and share information in real time. This information is secured, up-to-date, and never lost so they can pick up from anywhere from the previous session for the most effective teams.
Hoylu's Connected WorkspaceTM for Organizations
Organizations operate across multiple locations, many with a global workforce. They share critical information through various tools and software. To keep all information in sync and secure, Hoylu has developed easy-to-use, thoughtful, and cloud-based solutions available in over ten languages with additional support being completed. These solutions take away technology burden and encourage global users to connect and share information quickly and easily from any location. The leading innovative solutions providing company has developed Connected WorkspacesTM, which is a shared workspace for individuals and teams. Organizations can select from an array of displays or personal devices like laptops, tablets, and smartphones.
To offer clients with personalized solutions, the company has designed Connected Workspaces™ a nearly infinite canvas where teams work together – everything from creative, unstructured notes and sketches to well-defined project plans and design reviews. The solutions provided by Hoylu are used for managing processes, creating, and organizing ideas as well as producing, connecting, sharing, and visualizing data. This data can be in the form of images, documents, annotations, and content of other types and sizes. By harnessing the power of Cloud and infinite workspaces, this allows for quicker decision making, solution identification, and a more productive connected work environment. Hoylu serves diverse industries such as construction, higher education, engineering, pharmaceutical, design, finance, and many more.
Tackling Challenges through Strong Partnerships 
Established in 2016, Hoylu is a promising company in a large global market. The start-up company is competing head-to-head with other giant enterprises who have unlimited resources and marketing budgets. In order to surpass competitors, Stein has developed a strategy, which includes working closely with handpicked global corporate clients while developing products and solutions to tackle their most critical needs. The customer feedback loop is closely monitored for ways to improve while also looking for new opportunities to scale within a market vertical. Additionally, the company has partnered with resellers and system integrators around the world to expand its presence and reach.
A Multi-Tasked Leader Administrating the Company Using His Vast Experience
Stein has 20+ years of experience in leading companies and is a knowledgeable expert in diverse domain such as strategy, business development, finance, mergers and acquisitions, and management. Prior to Hoylu, Stein has worked with different organizations and held numerous C-level positions like Founder, Chairman, CEO, and many more. The experienced CEO plays numerous roles and performs various tasks, including motivating and communicating with his team to make sure they are aligned towards Hoylu's vision and goals. In addition to this, he supports his employees in every possible way, interacts with customers and partners, and works with his investors and board members to secure proper funding and manage expectations.
To deliver the highest value and support, Stein and Hoylu's team use their own products every day. They have developed a modern virtual office by leveraging Slack to replace internal email, Zoom for video conferencing, and Hoylu's Connected WorkspacesTM for efficient communication and visual collaboration. Hoylu is leading the digital transformation innovation and developing the most efficient operating procedures for the modern organization.
Hoylu's Blueprint for Growth
In order to maintain momentum and success, Stein has envisioned ambitious roadmaps for Hoylu. The short-term goals are to expand the company's consumer base within specific use cases, create a reference base from customers, and demonstrate customer value. Besides this, Stein's long-term goals are to expand Hoylu's business to meet similar customer needs both horizontally and vertically and form a global network of partners and resellers.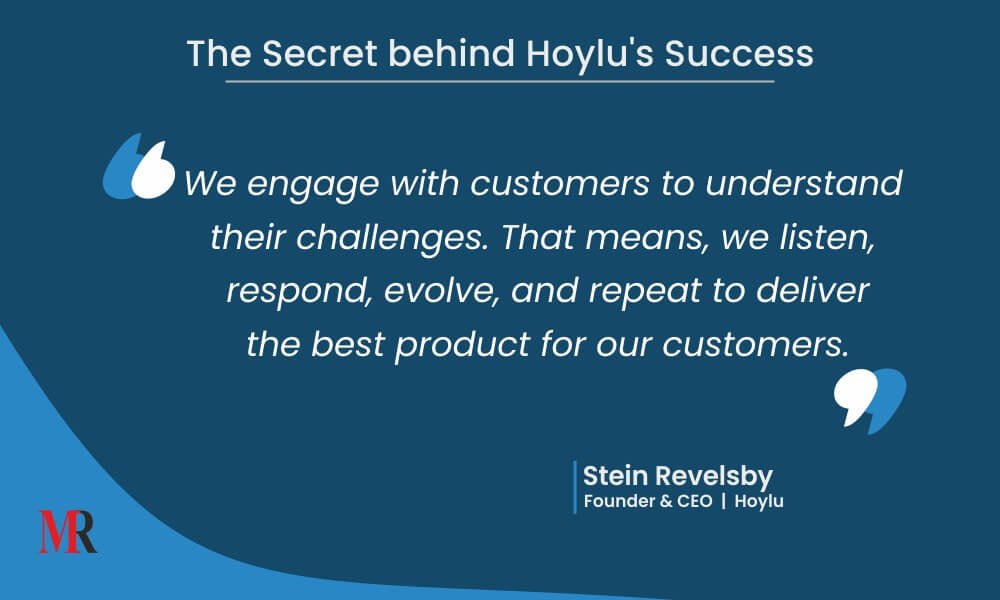 The Secret behind Hoylu's Success
"We engage with customers to understand their challenges. That means, we listen, respond, evolve, and repeat to deliver the best product for our customers."— Stein Revelsby