Convincing legal practitioners to adopt new technologies is a perplexing and daunting task for many legal tech companies as they encounter numerous challenges. They also face additional hurdles presented by the legal industry including lack of access to capital, marketing and to get paid on time for running the business. According to the Co-founder and CEO of Enfinite Solutions Limited, George N. Njoroge, most law firms and legal departments in Kenya and generally across Africa have a lot of manual processes. Also, conventional legal service models are well-established and resistant to change. "The state of technology in law firms is low and is driven by the fact that our court systems are more paper-based (though this is now changing)," states CEO George.
The CEO believes that convincing a law firm to utilize new technology to digitize their records and work from a digital platform can be problematic, particularly if they don't see the benefits that technology can offer them 2 or 3 years down the line. Moreover, many businesses with a central decision-maker may not have the necessary funds to implement the new technologies. However, Enfinite has been addressing these aforesaid issues by delivering reliable, efficient and cost-effective services to businesses.
Challenges Faced While Managing Enfinite  
Together with other Co-founders, George established Enfinite with a vision that is to attain global recognition in the software development domain, especially in areas of Legal Practice Management, and Business Intelligence Reporting. The dynamic leader brings over 10 years of business and technology experience to the company. He holds a Bachelor of Science degree in Electronic and Computer Engineering from Jomo Kenyatta University of Agriculture and Technology (JKUAT). Prior to founding Enfinite, George worked as a software developer at a company in Nairobi. He decided to quit his job and focused entirely on running his company when all the other directors were unavailable to manage the company as they had full-time jobs.
However, George's brother, David Njoroge who is an advocate at Igeria & Ngugi Advocates, a corporate commercial law firm in Nairobi, joined the company as a co-director to help him. Because of his engineering background, George faced numerous challenges while developing software as he had no knowledge of legal or accounting. But, he didn't back down and pushed himself harder to learn both in order to fully develop and support the legal sector applications that they were developing. "I continue to learn and keep abreast with the dynamics of both sectors," says the CEO of Enfinite.
Offering a Comprehensive Range of Software 
Since its inception in 2007, Enfinite's mission is to develop, deploy and support comprehensive, innovative, easy-to-use and affordable business solutions, which provide the highest level of integrity in both its products and relationships with its customers and employees. The company's core values include Business Integrity, Focus on Client Business, Technology Oriented, Dedication to Client Success, Commitment to Excellence, Continuous Learning, Community Development. These values reflect its strong expertise in technology and dedication to attain clients' success. The trustworthy legal tech company's first product was law firm management software for advocates and lawyers and later, this software was called as WakiliCMS (Wakili Case Management Software). Law firms using WakiliCMS include Igeria & Ngugi Advocates, TripleOKLaw LLP and KN Law LLP among others.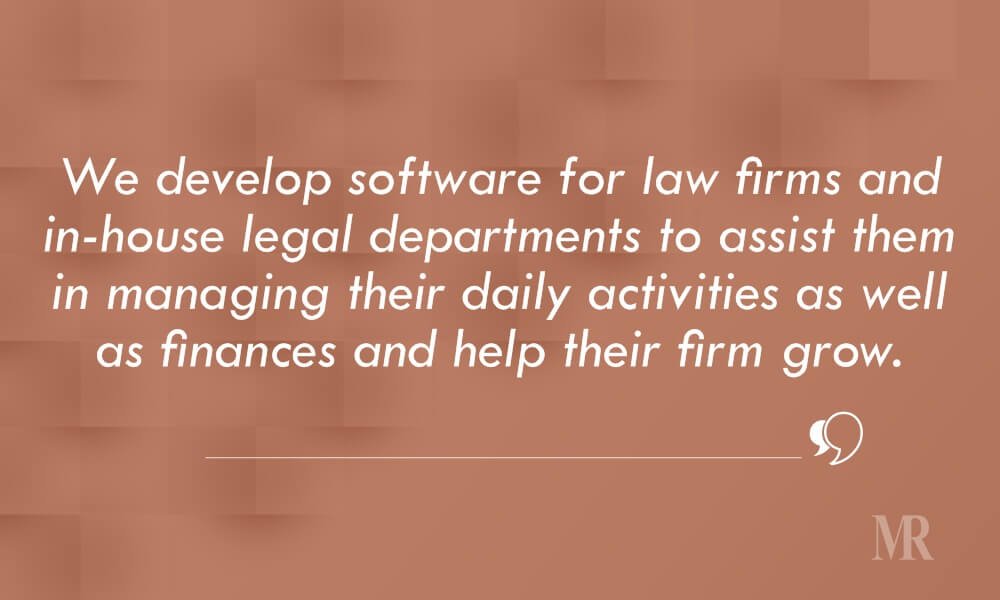 In 2017, Enfinite started developing other products for the legal sector and in 2019, it launched EliteSuite. EliteSuite is a powerful integrated solution that includes a comprehensive matrix of solutions that will accelerate and perfect the legal department operations as well as their Governance, Risk and Compliance efforts. This solution consists of 3 software namely:
EliteLegal: It is a matter management software for in-house lawyers and general counsels.
EliteContract: It is a contract life-cycle and review management software. It uses artificial intelligence (AI) to read and extract data from contracts to find out if the documents meet the minimum requirements of the organization before approval and signing.
EliteGRC: It is a Governance, Risk, and Compliance (GRC) Management Software helping organizations manage their risks and regulatory compliance issues.
Enfinite also offers additional software which it has developed for law firms namely:
EliteLaw: This is a legal practice management software for small law firms and solo practitioners.
LawAnalytix: This is a business intelligence and legal data analytics software to track business growth and projections.
Enfinite's Software Powered by AI
Enfinite believes that the future is in Artificial Intelligence and Data Analytics. In early 2019, it launched a Contract Management & Review Software called "EliteContract". This software uses Natural Language Processing (NLP) and Machine Learning (ML), which are both branches of AI. Through this software, clients can author, negotiate, review, approve, electronically sign and store contracts.  In the review process, AI is useful to see if the contract meets the organization's minimum requirements or if it's missing an important clause. This will drastically reduce the risks and expenses associated with contracts as well as speed up the approval process.
Building Trust with Customers  
Trust is an important factor in the legal industry as confidential information is shared among others. Therefore, building a trustworthy brand is a vital task for tech companies. Being a technological company, Enfinite is always trying to stay ahead of curve by giving its clients the best possible product at competitive prices. The company believes that product innovation is the key to business success. Along with this, users' support is another factor that plays a major role in building Enfinite's brand. To ensure their clients receive best service, the skilled team is familiar with product knowledge, support, and relationship with customers.