Globally, there are thousands of APN (AWS Partner Network) Partners in the AWS ecosystem and that number continues to rise. The majority of Fortune 500 companies and more than 90% of Fortune 100 companies leverage APN partner solutions and services to access the cloud.  These solution and service providers are categorized as consulting partners, who help an organization accelerate its cloud journey, and technology partners who provide connectivity services, hardware or software solutions.
eCloud Managed Solutions is an AWS advanced consulting partner who excel at public and hybrid IT solutions o­ffering cloud readiness assessments with comparative deliverables, fully managed migration services, day 2 managed services, compliance services and security solutions. eCloud takes an application centric approach, not a hardware approach, to assessing which cloud provider is best for their customers.  With their 6-Rs application cloud readiness approach, they build migration plans and POC cloud providers using the client's actual application stack through cloning technologies, not theory, on which cloud provider is better for their application.  eCloud provides Cost optimization as a Service to help customers control their cloud spend.  For companies already deployed in AWS, eCloud leverages the AWS Well Architected Review process to: Optimize costs, re-architect environments, POC solutions, refactor and re-platform applications to AWS while leveraging the recent product releases by AWS.
A Complete Cloud Journey
The first step of the cloud journey is to assess and fully understand the goals of the business.  eCloud offers a unique approach for customers to understand how their environment will run in a public cloud environment before making any commitment. AWS offers numerous solutions that can utilized along with existing investments, it's not an all-or-nothing scenario. Business requirements should dictate the speed in which businesses migrate especially in instances where their current infrastructure is working sufficiently.  eCloud often recommends that Customers try AWS by establishing connectivity between their existing infrastructure and AWS.  This then becomes the starting point of their cloud journey where anything is possible.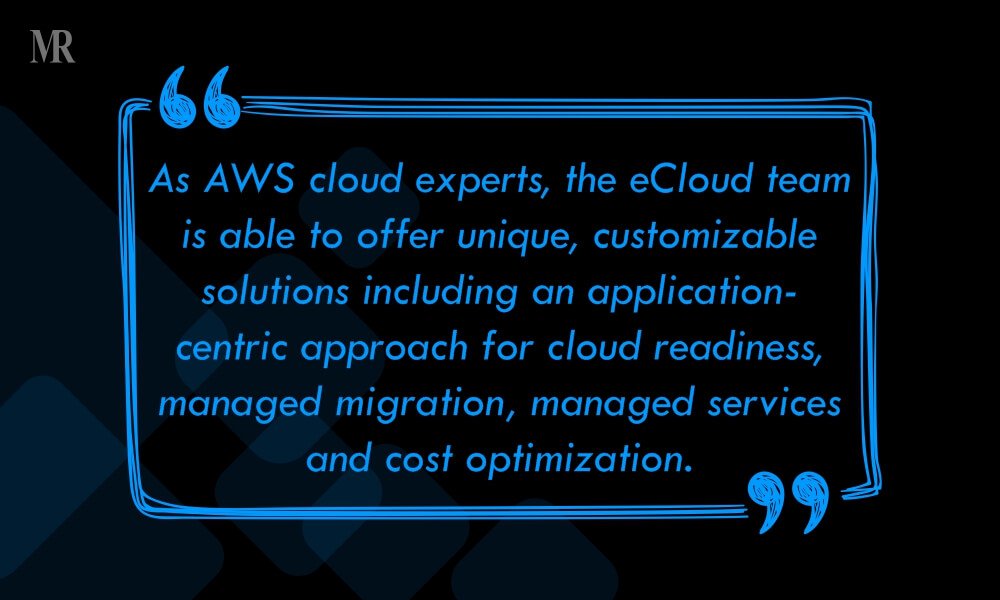 Once eCloud has assessed the required business needs, they will design and deploy customized application specific solutions whether a private, public or a hybrid strategy. They also make it a priority to provide more innovative, partner friendly solutions that take into account the funding options that are accessible through AWS.
 A few of the key solutions customers leverage eCloud for are:
Managed Cloud:
Management of cloud is not a single step process, it involves in depth assessment and design. eCloud's cloud assessment & roadmap covers the identification of the organizational requirements for security, functionality, process changes, workload readiness and fit, application rationalization, network and financial impact.
Cloud Solutions:
eCloud offers numerous Managed Cloud Solutions including: IaaS, PaaS, SaaS, XaaS, DRaaS, UCaaS, Microsoft Workloads on AWS, Vmware on AWS, Cloud Migration Services, Cloud Backup/Restore, Business Continuity, Network, Wireless, Security, Video, Current environment dependency mapping and health-check, Network flow analysis and needs for the cloud, and Cloud roadmap and strategy planning.
Managed Services:
eCloud's customized managed service approach allows its customers full flexibility to read/write access into its cloud environment. The full management offering includes: troubleshooting, alerting, patching, remediation, configuration management, onsite dispatch and moves/changes/adds/deletions (MACD) support. Further, its managed services include:  cloud solutions and providers, unified communications, network devices & network security, data center, and 4 hour onsite SLA break/fix support.
Cloud Assessments:
As part of eCloud's cloud assessment, their team helps customers with POC, cloud providers using the applications, OS and data without interrupting the production.  Deliverables include: asset inventory summary, health check of environment, proposed migration plan, cost analysis by application, workload, and host for multiple providers.  For companies already deployed in AWS, eCloud leverages the AWS Well Architected Review process.  The Well-Architected framework was developed by AWS to help cloud architects build secure, high-performing, resilient, and efficient infrastructure for their applications.  The process is based on fiver pillars:  operational excellence, security, reliability, performance efficiency, and cost optimization.  The Framework provides a consistent approach for customers and partners to evaluate architectures, and implement designs that will scale over time.  eCloud has successfully leveraged the process with numerous customers resulting in optimized deployments.
Telecom Solutions:
Defining the best way to connect to the cloud is not always straightforward and customer network requirements go underestimated.  In fact, many people don't know that it can actually be done without a telecom contract.  The best telecom solutions need to account for risk, business cases, compliance, scenarios, security and advice on legal terms and conditions. By analyzing all of these factors, eCloud can help find a solution that allows their clients to save and optimize costs. As a part of eCloud's telecom solution, they offer: AWS Direct Connect, SD WAN, MPLS, Dark Fiber, Broadband, DSL, Cable and many more.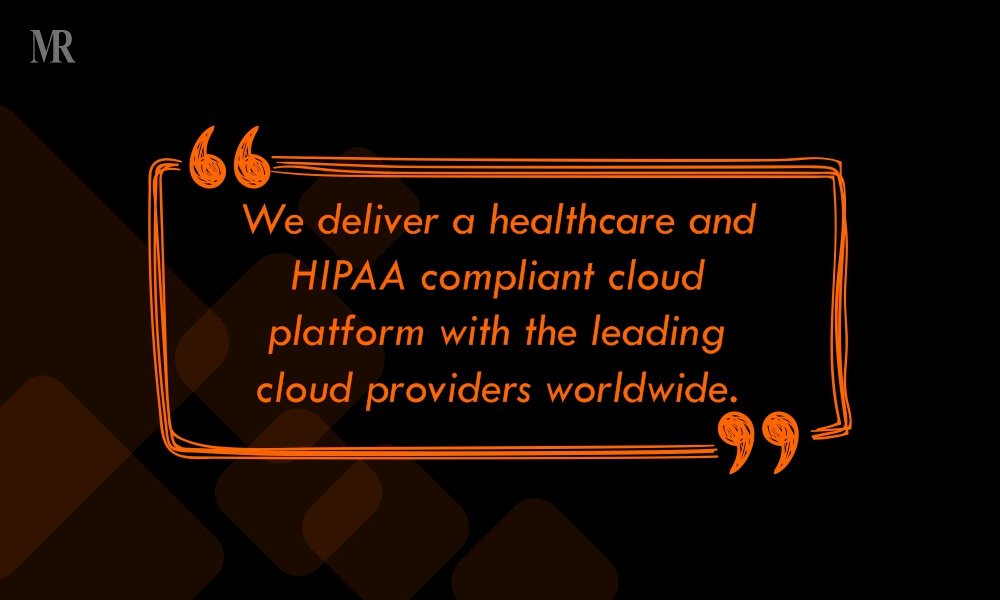 Healthcare:
eCloud provides healthcare expertise by building HIPAA compliant environments from the ground level up. The team combines the most advanced cloud technical proficiencies, information security, on demand scalability and performance with a robust offering of managed onsite and professional services to meet healthcare clients' needs.
Why Amazon Web Services
Amazon Web Services is known to be one of the most innovative platforms available. Their pace of innovation is impressive and the support and tools provided to their partners is second to none.  Access to these tools and their flexibility of solutions empowers the eCloud team to think outside the box and design custom, flexible and scalable solutions to meet their Customers' needs.
AWS Competencies
AWS certifies partners for industry specific technologies and market vertical competencies.  AWS Competencies are granted to APN Partners who have demonstrated technical proficiency and proven customer success in specialized solution areas.  The industry specific competencies are:  Government, education, nonprofit, healthcare, life sciences, financial services, digital customer experience, digital media and industrial software.  eCloud has the Microsoft Workload Competency, Solution Builder, Channel Partner and Public Sector Partner Program.  eCloud is also in the final stages of achieving their AWS Healthcare Competency as well.
Sustaining the Future
As part of its solution and commitment to their customers, eCloud will continue to build out the Healthcare Practice, IoT, AI and Machine Learning, while continuing to build out the company's AWS Public Sector Practice. eCloud is committed to staying ahead of the trends and adapting as needed in order to always enable their customers' success.
A Culture of Integrity
Integrity is the foundation of the culture at eCloud.  They are known for their responsiveness, their relationships and always doing what is right for their customers.  They take a team based account management approach which includes collaborative solution design and technical resources available 24×7.  They have a co-managed support model which was developed with their customers in mind and includes the ability to provide their customers with full read/write access without locking a customer out of their environment.  Through years of success based projects, eCloud has built a strong partnership and expertise with AWS that customers can rely on to successfully achieve their business goals and objectives.
eCloud Leadership
As Managing Partner at eCloud Managed Solutions, Eric has extensive experience in the delivery of sophisticated cloud solutions, managed services, telecommunications and consulting services to world-class fortune 500 customers.  Eric's dynamic career includes a unique combination of expertise in, software development, strategic sales, mergers/acquisitions, raising venture funding and enterprise leadership.  Prior to founding eCloud, Eric held various leadership positions at Data Blue, Presidio, Appirio, FleetCor, TSYS, Bank of America.  At eCloud, Eric's responsibilities includes service and recurring revenue strategy, product and services development, technology and partner enablement, marketing, go-to-market planning and execution, P&L development and management.