The current generations of networks are facing challenges from new territory and modern IT environments such as Internet of Things (IoT) and software-defined networking (SDN). The application of these networks on traditional budgets and increasing security concerns is making it more difficult than before. Adhering to these current challenges, Digital nGenuity is providing a full range of advanced networking services. Started with just two employees and by putting in hard work and fair pricing, it has expanded to 18 staff with a solid and loyal client base.
Over the years, Digital nGenuity expanded to purchase their own building after it outgrew the rented space. It has a proven track record of supplying best of breed business solutions. Currently located in Dartmouth, Nova Scotia, it is one of the leading providers of information technology and managed services in the Atlantic region. It has established strong relationships with key manufacturers and suppliers enabling it to meet their client's diverse needs. Throughout it expansion, it has maintained a steady growth of 30% a year for most years. Digital nGenuity provides a full range of experienced, high caliber technical professionals.
Easy to Budget Services
Digital nGenuity offers a Full Managed Services package to clients. It is an all-inclusive monthly fee covering all the services in one price that is reviewed on a yearly basis. This allows companies to easily budget and provides a consistent cost throughout the year. Below are some of the services offered by Digital nGenuity
Network Management Services
The company provides a complete suite of network management services including design and implementation, managed services, evergreen planning, virtualization, WiFi access, hardware supply, and a superior level of support.
Digital nGenuity offers threat & risk assessment consulting, remediation consulting, security awareness training and testing, managed security services and business recovery and continuity planning.
Digital nGenuity offers a broad portfolio of professional services aim to ensuring clients successful deployment, adoption, and exploitation of cloud computing technologies. It is in partnership with Microsoft, IT Cloud, Solarwinds, and DATTO to provide Antivirus and Spam solutions, Microsoft Office365, and Cloud-based Backup solutions.
Digital nGenuity provides a strong team approach to all IT consulting challenges. It has a great deal of experience and expertise to offer from the team and has forged strong relationships with many companies and personnel throughout North America to be able to provide complete business solutions to the clients through technology.
Journey of A Passion Seeker
Joel D. Rafuse, Founder of Digital nGenuity has a studied for his Bachelor of Commerce with a major in computing science and minor in accounting from Saint Mary's University. Exploring his interest in computer science, he aced all the computer courses and hung out in the computer lab helping other students with their computer programming assignments. After working for many odd jobs during a break from university and with a renewed interest in computers and networking, Joel went back to Henson College and successfully completed his Novell CNE training for networking computers together. He grew the networking portion of his father's business to the point where in 2004 he started his own company, Digital nGenuity. In the initial days of the company, he worked with his friend Ralph Davis, who was the other technician in the company. They were both doing what they loved and soon the company's reputation for good work along with good value grew.
Approaching the Challenges with a Strong Team
In order to sustain the growth, Joel had to relinquish control and trust the employees he hired to do the work in a manner that met his standards. Dependency on the founder of the business is one of the major issues that Joel had already conquered by trusting his team members. Like many entrepreneurs, he was very focused on all aspects related to the company.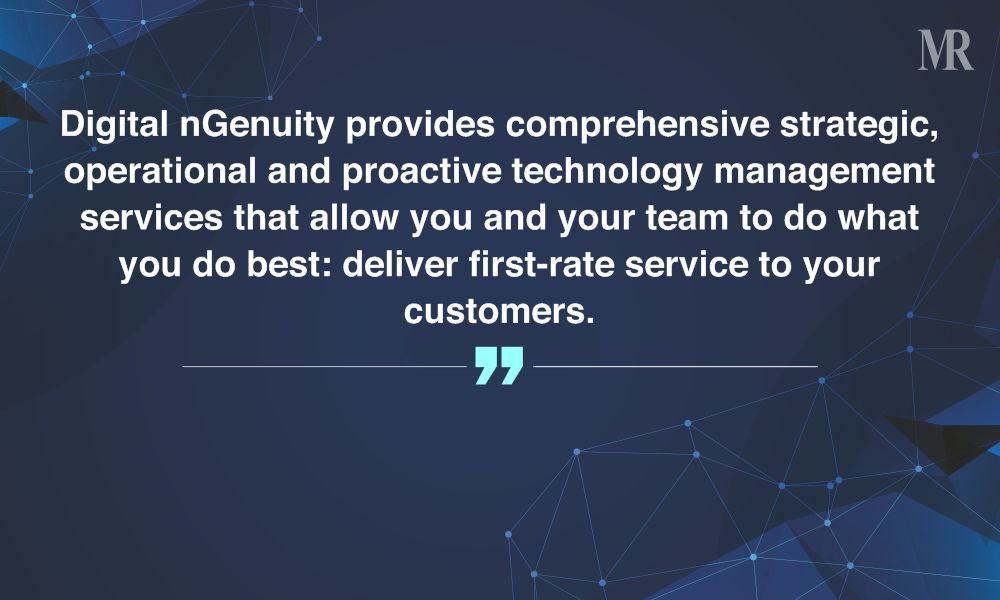 Digital nGenuity has a fantastic team working behind the growth. The experienced consulting and technical management team provides the knowledge, insight and expertise to make a significant contribution in a variety of business application areas. As an innovative technology company, it is constantly working with new and emerging technologies as they become of value to the clients. Digital nGenuity has always approached challenges with a strong team approach. It has a great deal of experience and expertise to offer clients and has forged strong relationships with many companies. Joel says, "This was difficult for me and they didn't always make the right call. In the end, I simply found that small course corrections allowed them to do the hands-on while I worked on the business rather than in the business."
Word of Mouth Referrals
In an industry where maximizing profits is one of the sole goals for many companies, Digital nGenuity is providing services at an affordable price. Many companies charge as much as they can and provide lesser services. These companies may make money but they lose clients and eventually go out of business due to a bad reputation.
Over the years, Digital nGenuity has developed a great reputation in the industry and grew from word of mouth referrals. Until few years ago it had no sales or marketing team. Highlighting his strategies Joel says, "Our strategy has never been to grow fast, it was to grow steadily and sustainably. We saw many of our competition grow fast and flame out just as rapidly."
 Continuing its Expansion for the Future
In the past year, Digital nGenuity has acquired several of their competitors and plans on acquiring more in the coming years. The acquisition will help grow their knowledge base, skills and knowledge of technologies and they will continue to supply solutions and technologies that will help their clients to grow and reach their potential. Digital nGenuity has been expanding its service area from regional to provincial to country wide. Digital nGenuity will continue to research new technologies and is focused on increasing the expertise in the field of security as it is an exploding market. The company will continue to evolve their offerings and become more efficient so that both, their clients and their employees can prosper and grow.