Over the course of human history, mankind has witnessed not one, but three transformational revolutions. The most recent is the digital revolution, and it has taken the world by storm. Today, everything has become automated, rapid, stream-lined, and larger than life. The time has come when advanced computing and digital innovations have become the center of a human's existence. Without a doubt, robots, automation, and technology have simplified workforces, brought new waves of exciting future possibilities, and delivered many levels of extraordinary sophistications in almost every industry. Therefore, disruption with its infinite possibilities is here to stay and flourish.
Ideally, tech innovators and foresighted entrepreneurs are the ones who can quickly identify and fulfil the evolving market needs before anyone else. Likewise, as the Founder and CEO of a world-class custom software solutions company, ISU Corp, David Mansilla is also harnessing the true potential of disruptive technologies such as Artificial Intelligence (AI), Blockchain etc. in his company's extensive offerings. The dashing CEO of ISU Corp holds a remarkable experience of leading teams in completion of several multi-million dollar software projects for a wide range of companies including GE Energy, Heinz, Bell Canada, Sun Life, Manulife, M.O.S.T, and the University of Waterloo. He is also the recipient of several prestigious awards along with a dynamic career graph.
Playing the Role of a Multidimensional Leader
According to the famous American author and speaker John Maxwell, a leader is one who knows the way, goes the way, and shows the way. Similarly, for David, the role is of a mentor, visionary, and a strategist. When it comes to his company, David's task is to recognize what the industry needs in the near-future, and accordingly build teams around those needs. On the culture side, creating a harmonious working environment and fostering positive relationships between the team members is what David considers to be one of his obligations and privileges. This way, not only does the company grow together, but also offers true purpose through its work. Since ISU Corp is built on the motto of gratitude, growth, and contribution, David's role is to make an environment where people are practicing gratitude, under constant growth, and contributing to the world. And that is what truly drives him to come to work and make a difference every single day.
ISU Corp's Dream Team
Incepted in 2005, ISU Corp comprises of the best and the brightest team of IT professionals who bring vast years of experience in a wide variety of technologies to the company. Since, every new project offers a new opportunity. ISU Corp's experienced team tackles challenges head on, refine their skillsets, excel in their work, and delight their clients by helping them achieve their goals and visions.
Since the last 14 years, ISU Corp's team members have been actively involved in developing, managing, and architecting multiple application development projects. Moreover, this talented team also works in close conjunction with partner companies that specialize in computer infrastructure and other disciplines. These alliances allow ISU Corp to incorporate special skill sets that are needed to have a successful software launch and implementation in the project. Therefore, right from creating corporate databases and intranet systems to deploying and supporting distributed enterprise level systems using the latest technologies, ISU Corp has been at the forefront of numerous award-winning and performance-driven projects. As a result, in the previous year, ISU Corp not only doubled its team members but also elevated its sales growth.
DevOps Team: The Latest Edition to ISU Corp's Extensive Services
Another impressive service to join ISU Corp's extensive portfolio is its DevOps Team. This team consists of highly skilled DevOps engineers who are offering tremendous help to ISU Corp's clients by managing their entire environment. Starting from development, to testing, to production, David and his teammates are building automation among all the environments, and are able to successfully maintain a high level of stability in each one.
As mentioned previously, with the ongoing technological disruption in the market, David has also been leveraging the power of AI and Blockchain (cryptocurrency) to build its respective teams. Impressively, he along with his team members have already begun working with a start-up company which will be one of the first e-commerce applications to have blockchain technology at its core.
CEO's Proudest Career Achievement Till Date
Professional achievements are an acknowledgment of an individual's dedication, expertise, and commitment towards the workplace. We all define and equalize achievement in different ways. For some, it is about pride and joy or success and glory, while for some it is about the fundamental things that make an impact in their lives.
For the award-winning CEO of ISU Corp, his proudest achievement is the incredible culture existing within the company. He genuinely feels that it's a blessing that the entire team of ISU Corp is able to foster and develop positive relationships within ISU Corp. Furthermore, they have been able to create a work environment where everybody feels like a part of a family. They are there to help each other out and assist in giving true value to their clients. David and his team are not just working to make a living, but also to make the world a better place. On the basis of all the above factors, ISU Corp was recently bestowed with the prestigious Canadian Business Excellence Award, based on its technology advancement and exceptional culture.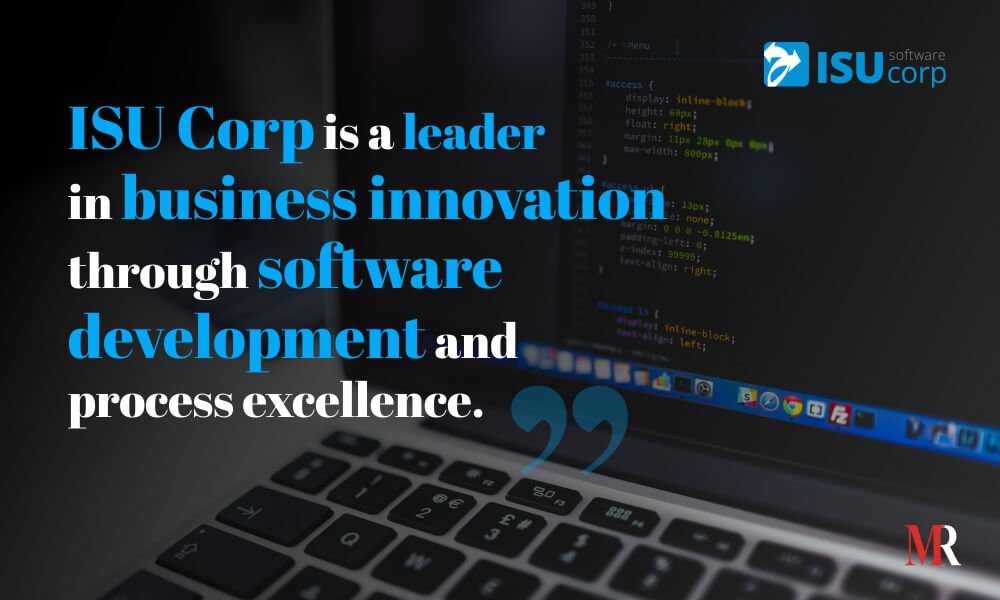 Standing Out & Flourishing in the Crowded Market
When asked about what makes ISU Corp different than its competitors, the proud CEO replied, "Our focus and culture is what makes us stand out from the competition. The reason why we exist is to increase profits for our clients."
Today, for most businesses, the primary goal is to boost their sales in any attainable way. However, this is not the case with ISU Corp. When a prospective client approaches the ISU Corp team to work with them, they undergo a thorough analysis to make sure that their new client can really benefit from their offered services. If they believe that the client can reap monetary benefits from ISU Corp's services, only then are they selected. Otherwise, a different and more suitable partner is suggested to the client so they can receive what they are looking for. This kind of ethically-driven and clear philosophy is not only impressive, but hard to find in this highly competitive business world.
Moving on, another factor that makes ISU Corp a stand-out market leader is its exceptional culture. David's team while corresponding with the client makes sure that the offered services are the right fit for the client and will render them maximum value-added returns. In turn, the dynamic CEO and his team, on a humanitarian basis, divert their revenues to assist those in need. Ultimately, ISU Corp's primary goal is always tied with its aim to help its clients unconditionally. Presently, David and his team's efforts can be witnessed through an organization called Loving Arms, which provides meals for schoolchildren in Guatemala.
Leading Towards Sustainable Future & Exponential Growth
Right now, ISU Corp is at a position where it has built a very strong foundation. Therefore, David plans to sustain the company's momentum and market dominance. In addition, the visionary CEO also wishes to keep on working on the company's culture, and excelling in its technology strategy and capabilities so that together as a team, they can add more value to their clients and team members. In short, ISU Corp's future is exponential growth.