In today's competitive world, delivering the same high-quality product or service consistently is a major challenge for businesses. Doing so at different locations is much more difficult. Thus, the concept of franchising is playing a crucial role in boosting the development of modern businesses. Started as a business concept in the United States, franchising has grown extensively in all parts of the world across several industries such as education, pharmacy, apparel, food, retail, sports, advertising, etc. Franchising provides companies with a process and system so that they can focus on building their business. Moreover, considering some other advantages of franchising such as the speed of business growth, effective management, limited risks, etc., companies across the world are prioritizing franchise development.
Presently, there are several experts helping companies in their franchise development efforts. David Hiatt (Director of Franchise Development at Sandler Training) is one such veteran who is leveraging his avid experience in driving the company forward. "In a traditional business startup, you have to be, do, and think of it all. However, a franchise offers a proven business model that has been well thought out and successful. You don't need to reinvent the wheel," says David. He has been working with Sandler Training for more than two decades.
---
Insurance Industry to Franchise Development
David graduated from Ohio State University before pursuing a master's in communication from the United Theological Seminary. Thereafter, he worked in the insurance industry and sold his shares in that company to become a sales consultant. Soon after, he bought a Sandler Training franchise which he successfully operated for eleven years.
Due to his success with the franchise, Sandler's home office recruited David to help coach other franchisees and to assist with corporate training. He was soon promoted to become the Director of International Training which meant he had to travel across the globe. During that time, David helped to create the Leadership for Organizational Excellence Program for Sandler and became the Director of Leadership for Organizational Excellence to help Sandler's franchisees to sell and train that program.
Recently, David took the additional responsibility of Director of Franchise Development at Sandler. "I'm happy to be bringing people to Sandler for a life-changing experience as Director, Franchise Development and I am still working with the Leadership for Organizational Excellence Program and will continue to provide training and coaching to my long-term clients," he added.
---
A Suite of Results-driven Training Solutions
Sandler was established by David Sandler with an aim to create a way to help salespeople become more successful. It is a full-service professional development and training organization serving large multi-national companies, small and medium-sized businesses, as well as independent professionals. The company offers a full suite of results-driven training solutions designed to address a wide range of business issues in sales, management, and leadership. The plethora of solutions include:
Leadership & Management: Leadership for Organizational Excellence, Sales Management Training, Online Leadership & Management Courses, etc.
Sales Training: Sales Mastery, Negotiating Mastery, Sales Certification, Customer Service, Online Sales Courses, etc.
Professional Development: No Pressure Prospecting, Professional Services, Ziglar Training, etc.
Sales technology: SalesAccountability, Sandler CRM, Connect & Sell, Visualize ROI, etc.
Assessments: Team Assessments, Extended DISC Assessments, Outmatch.
These solutions are served across many industries such as finance, technology, construction, manufacturing, medical and pharma, call centers, channel sales, enterprise sales, etc. The company has a continuous improvement mindset and continues to ensure its products and services are available through the best platforms available in this digital age. Besides this, Sandler provides numerous advantages for its franchise owners such as a worldwide presence with a known brand, full-time coaching, proven systems, etc. to help them thrive in unprecedented situations such as the COVID-19 pandemic.
---
Preparing for the Virtual World
The pandemic has brought a major shift to businesses across several industries. David believes that the franchising industry has seen an uptick in people actively looking at buying a franchise as a large number of people have been furloughed due to the pandemic. While there is more activity, some franchisers in the industries such as the food and travel industry have faced numerous challenges. On the other hand, franchisors providing consumer services such as home maintenance have thrived during the pandemic. "People are still buying franchises during the pandemic, but which franchises they buy may have changed due to the pandemic," adds David.
Sandler too had to alter its operations due to the pandemic. Most of its franchisees were prepared for the shift and have continued building their business despite the unprecedented times. Moreover, remote working became a norm due to the lockdowns and social distancing impositions. Sandler was ready for the shift to remote working since many of its staff members had been working remotely for years. The company leveraged Microsoft Teams and Zoom to keep the home office staff connected and productive while ensuring a smooth flow of communication as well. David has been instrumental in empowering the franchisees and the team amid the pandemic.
---
Key Sources of Motivation
Having worked with Sandler Training for more than 26 years, David believes that knowing Sandler changes peoples' lives is the biggest motivation for him. When asked about the books that have had an impact on his life, he named several such as — Grit: The Power of Passion and Perseverance by Angela Duckworth; Above the Line: Lessons in Leadership and Life from a Championship Program by Urban Meyer with Wayne Coffey; and The Miracle Morning: The Not-So-Obvious Secret Guaranteed to Transform Your Life Before 8 AM by Hal Elrod.
---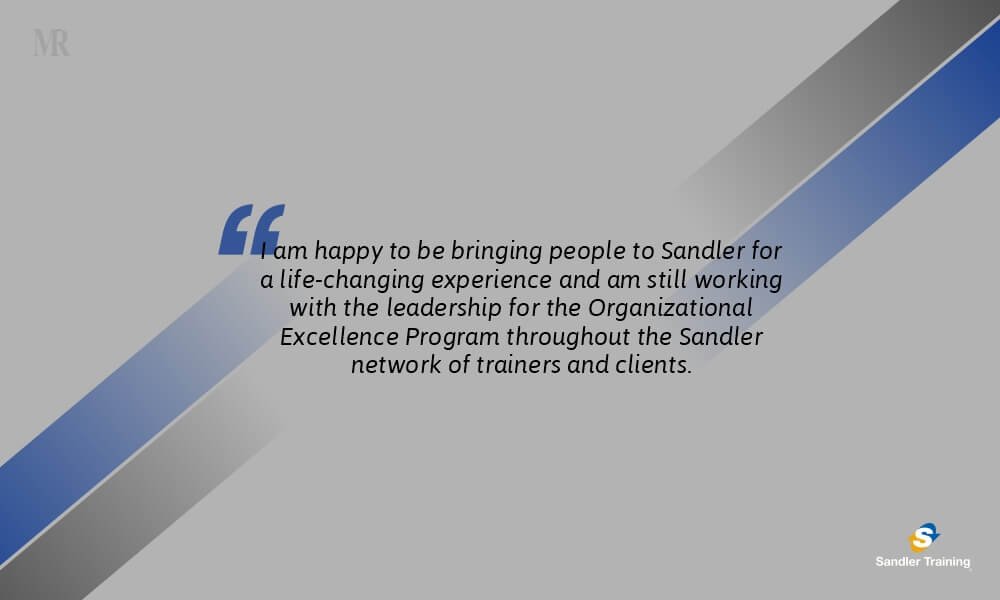 ---
Read Full Issue: The 10 Leaders Transforming Franchise Business 2020