The negligence of a safe environment has harmed Mother Nature adversely resulting in the long-known threat — Global Warming. Today some business leaders do social-responsibility campaigns for financial purpose only but the social entrepreneur Daphna Nissenbaum, CEO and Co-founder of TIPA has taken the initiative to create a better environment for the living by addressing the plastic waste challenge. It is no doubt that the plastic contributes hazardously to the ecosphere, so she and her team designed a product that would easily replace plastic. Daphna says, "Packaging should behave just like an organic material, so nature won't even notice we're here"
In an interview with Mirror Review, she elaborates on her unsullied approach that contributes to building a better society. Here are the excerpts.
Mentors enlightening the path towards success
Can you name a person who has had a tremendous impact on you as a leader?
I have been asked about this once in the past, and my immediate answer was David Ben Gurion, Israel's first Prime Minister. His inspirational journey of building a thriving country from almost impossible circumstances has motivated me a lot. He had famously stated, "Anyone who believes you can't change history has never tried to write his memoirs." As a CEO of a company that is creating a product, which aims to disrupt a very established market, David Ben Gurion's vision and dedication to his dream and the great success of that dream are very inspiring.
To give a more personal example, someone who has greatly influenced my personal life would be my husband. He has inspired me to move forward and motivated me throughout the journey. Being an excellent businessperson himself, he has built and sold two companies.
If it was easy, someone else would have done it!
What are the qualities you feel are responsible for being a game-changer of the industry?
Firstly, I think that it is important to believe in what you are doing and to know that you have the power to bring the change. Secondly, be persistent, no matter what the journey brings to you. The number of challenges you encounter while trying to do something revolutionary is countless. The saying that motivates me throughout is – if it was easy, someone else would have done it. The world's greatest innovators encountered tremendous adversity in bringing about something new. The trick is to stay dedicated to your vision.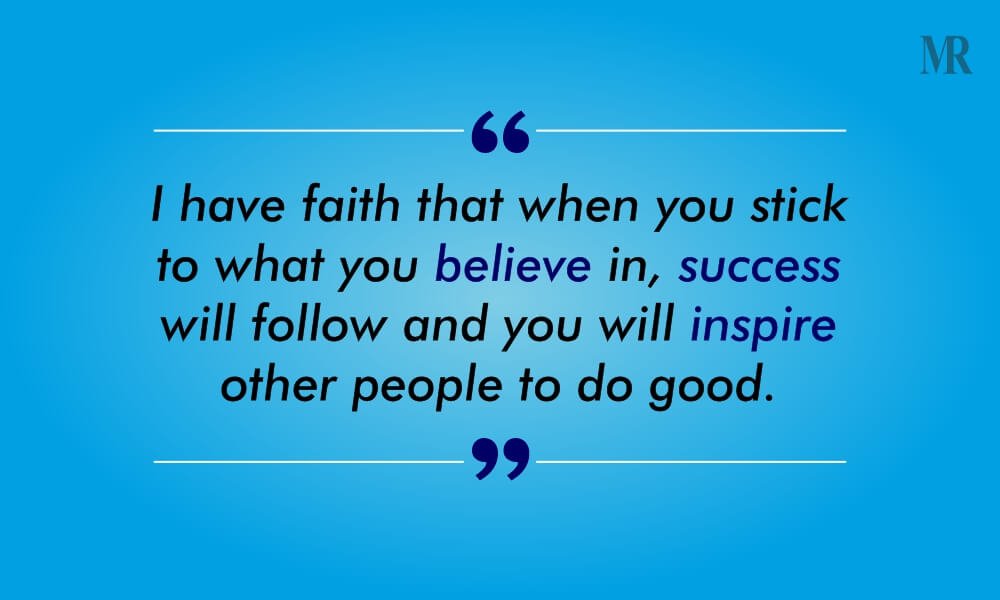 Finally, one must have a clear vision and humility to approach matters with an open mind. Understand that 'If you are the smartest person in the room, you are in the wrong room.' As even when you have a clear vision, there can be circumstances when you may be required to change course, and if you surround yourself with experts who understand their field better, it might enlighten you with a better perspective and contribute to success.
Solid, viable, and environmentally responsible
Can you tell us about TIPA and the ethos behind it?
Well, we all are aware of the hazardous effect pollution and plastic is having on the environment. We, as a part of the manufacturing industry are contributing to make world a better place. My company's mission is to bring a solid, viable, and environmentally responsible alternative to flexible packaging to eliminate plastic waste and the harmful pollution it creates in the world. People have been big fans of plastic manufactured products, so keeping that in mind our product possesses the same features like versatility, printability, transparency, and protective qualities, but returns to the planet as soil, a new resource (a circular economy approach). TIPA's ethos is to provide packaging made from viable materials without requiring massive restructuring from the industry. We are transforming a crisis into an opportunity.
Aiming to stand-out as a new-generation of responsible packaging
What are the services and solutions TIPA offers that makes it stand out from others?
To elaborate about our services TIPA's breakthrough packaging has the same end-of-life as organic matter while offering the durability, transparency, and shelf life consumers and brands have come to expect from conventional plastic. We offer a vast portfolio of products for businesses of all types to design and provide packaging ideal for their specific segment, ranging from fresh produce and snacks to magazines and fashion apparel. We think it's important that our compostable-packing solutions are built to fit existing machinery and chain of supply systems, and that allows us to operate on a global scale with compostable films technology that is applicable worldwide. We have already had success with many of our products and we aim to stand-out as a new-generation of responsible packaging.
Stick to what you believe and success will follow
What role does God or fate play in your life and leadership?
You can say that I am a believer. I believe there is a force beyond myself. It is not just one person or even two or three people who are responsible for the good we see in the world. I know that I cannot bring the real change by myself, but if I keep doing the right thing and believe in my goals, success will follow and it may inspire other people to do good for society.
Believe in your crazy ideas
What's the craziest idea you've ever had?
I consider that the world has always gone forward when people have dared to have crazy ideas. I come from a software engineering background, and without having experience in plastics or packaging, my craziest idea was to establish a company that is developing the next generation packaging solutions that are not based on plastic.
Not to concern yourself with definitions
What do you believe are the keys to developing the next generation of women leaders in the business world?
I think it is important to be precise and be very good at what you do. The gender-biased characterizations should not bother anyone. We must strive to break the norms. It may matter to other people whether you are a man or a woman, but the key is not to concern yourself with definitions. I treat myself as a person who needs to work hard to achieve the goals and not is stuck on gender definitions. If you're willing to work hard – that's all there is to it. Fight for your dreams and don't give up!