Traditional Pharmatechniques have struggled for decades to make inroads into diseases whose roots lie deep in molecular biology. Today's modern Biopharma has extended that reach into the foundations of cancer, heart disease, genetic disease, and a host of other afflictions. In the coming years, the therapies and cures offered by this extended reach will increasingly enable patients to live longer with productive and more fulfilling lives. Beyond that, these modern therapies will also enable the prevention of numerous diseases and conditions that have plagued humanity for centuries.
Established in 1998, BIA Separations is the leading developer of monolith technology and the exclusive producer of CIM®, Convective Interaction Mediachromatographic columns for the production, purification, and analysis of large biomolecules.
Core Focus Areas of BIA Separations
BIA Separations specializes in the manufacturing and sales of monolithic chromatography columns. Its columns comprise a range of large molecule isolation and purification products used in the development and production of gene therapy including Cas/Crispr, CAR-T, oncolytic/viral vaccine, phage, exosome, and plasma products.
The leading Slovenia-based company provides customers with significant yield, purity, cost, and process speed advantages over competing technological solutions as well as usage flexibility in downstream processing of pDNA, viruses, VLP, phages, exosomes, and large proteins. BIA Separations' unique polymer composition, precise flow-through channels, and high surface accessibility of binding sites result in elevated binding capacities, exceeding those of resin-based columns and allowing rapid mass transfer with very low shear force effects and product degradation.
BIA Separations' columns are differentiated by their flow independent performance, resulting in fast separation, concentration, purification, removal, and analytics of biopharmaceuticals. Additionally, they are available in different designs and capacities to meet the specific needs of its client base, which ranges from small-scale laboratories to full-scale manufacturing facilities.
Best Selling Services of BIA Separations        
Having 20 years of experience with over 500 running projects, BIA Separations helps clients with products like unique monolithic columns and Purification Process Development for clinical phase serotypes trials and market supply of AAV, Flu virus, Adeno, Vaccinia/MVA, exosome, pDNA, mRNA, IgMs, PEG-proteins, liposome, ribosomes, bacteriophages, vaccines, and other complex biomolecule based biopharmaceuticals.
With well-defined channel size distribution, CIM® monoliths contain highly cross-linked, porous poly-methacrylate material. Moreover, the high surface accessibility of binding sites allows rapid mass transfer based on convection. BIA Separations' chromatography products are distinguished for their flow-independent performance, low back pressure, and versatility, resulting in faster separation, concentration, purification, removal, and analysis of biologic materials.
Using unique monolithic columns and Purification Process Development, the resulted process allows for higher yield and purity of client's target product. This is possible due to BIA Separations' capability to manage the interface between upstream and downstream processes, which is the key for complex biologics production, and use of monolithic chromatographic resins, which provide the best performance for complex biomolecule purification.
Products for Analytical Applications
CIMac™ Analytical Columns combine all elaborate characteristics of CIM® monoliths at analytical scale and are perfect tools for analysis and control of manufacturing processes as well as they are ideal for process analytical technology (PAT).
Products for Preparative Applications
CIMmultus™ is the new and improved line of pre-packed chromatographic monolithic columns distinguished by large flow-through channels, designed for working with large proteins like IgG, IgM, PEGylated, and VIPs along with viruses like AAV, adenovirus, lentivirus, influenza, bacteriophages, and pDNA.
Using CIMac™ analytical columns, the PATfixTM HPLC system gives "at-line" analysis for the control of impurities and critical quality components using HPLC fingerprinting.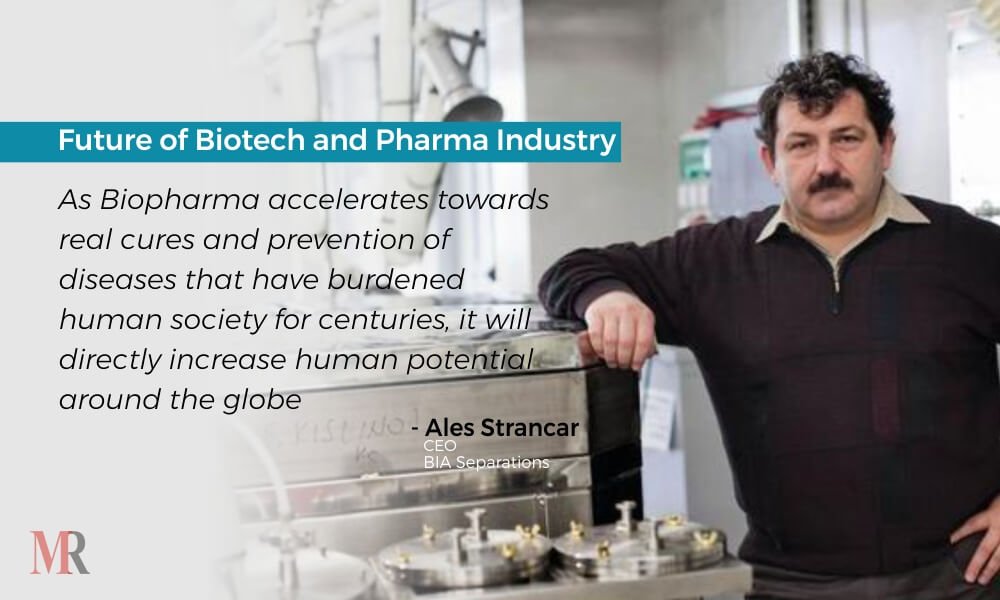 CEO's Contribution to BIA's Success
Since taking over the responsibility as the CEO of BIA Separations, Ales Strancarhas been enhancing the capabilities of the leading biopharmaceutical solutions provider company. With a goal to make BIA Separations as the number one supplier of purification products and supporting services in the field of Gene Therapy, Ales handles numerous roles and responsibilities, which consists of managing the company, making everyday business decisions, advising the Managing Board, promoting organization, supporting and motivating employees, formulating policies, overseeing organizational operations, looking for future opportunities, implementation of plans, and much more. In addition to these roles and responsibilities, the energetic CEO of BIA Separations also likes to be a part of the new product and process development.
Standing Apart from Competitors with High-Performance Products
BIA Separations is always one step ahead of its competitors with its genuinely unique and extraordinary fractionation performance. No other chromatography media format can match monoliths for capacity, speed, resolution, recovery, and convenience, especially with very large products like DNA plasmids, RNA, virus particles for vaccines and viral vectors, and extracellular vesicles. In addition, Slovenia-based company's deep hands-on experience with method development for these same products puts its customers years ahead with process development, clinical evaluation, and manufacturing. Other than its products, BIA Separations is known for its following best-in-class facilities comprising:
Process Development
As a contract research organization, BIA Separations' facilities are fully equipped to handle process and analytical method development for particles up to biosafety level 2. Considering clients' demands in mind, its sales and technical support team prepares a work plan as per the irrequirements. Moreover, clients' may choose to be involved throughout the development via regular contact with the project manager.
Downstream Process Development:
Processes suited to different clinical phases up to market supply are developed exclusively on monolithic columns starting from lysis or capture to final polishing and formulation of biomolecule like viruses, pDNA, bacteriophages, extracellular vesicles, proteins, PEGylated proteins, etc.
Depending on clients' products and requirements, the multistep process includes development of lysis method, chromatographic media selection and optimization, virus inactivation, filtration, and tangential flow filtration.
Recommendation of suitable analytical methods.
Tech transfer of standard operating procedures (SOP) to client's facility or CMO.
HPLC Analytical Methods:
Methods for in-process control (PAT), which are developed to increase control, improve efficiency, and prevent rejection of batches of upstream and downstream.
Methods for final control that enable real-time release of products.
BIA's HPLC methods use CIMac™ Analytical Monoliths and are developed on PATfix™ along with reference methods for characterization. All these methods can be validated.