Since its adoption, Augmented Reality (AR) has influenced the business world in the most drastic manner. Initially, marketing companies and retailers have been using AR mostly as promotional gimmicks to capture the attention of customers but as a result of the involvement of major companies such as Apple and Android, retailers have started to offer AR tools that are highly useful and accepted by consumers. As the innovative applications of AR technology are highly attractive to customers, the majority of retailers are trying to adapt this technology in their offerings.
AUGMENTes, established in 2012, is a digital shopping solutions provider with a mission to increase its customers' revenue and decrease their costs by creating cutting-edge digital consumer experiences. It envisions changing the way people shop by providing the most convenient and enjoyable experience, anytime, anywhere, on any smart device.
Headquartered in Houston, Texas, AUGMENTes utilizes cutting-edge features including AR viewing and try on, 3D viewing, interactive digital catalogs, product customization, geo-fencing, and much more to entice purchases.
Tech Enthusiast CEO of AUGMENTes
Sundar Moorthi, the Founder and CEO of AUGMENTes, is a passionate pioneer and advocate for the creation of AR enterprise applications. He looks ahead to revolutionize the way people of the world interact with their environment and each other. With more than 20 years of experience, he has a high business acumen and technical agility to help businesses connect the dots. With his contribution to the technology sector, he strives to empower businesses to compete in the new era of digital commerce, affordably and quickly.
At AUGMENTes, apart from creating and managing strategies for the company, Sundar tends to involve in the product development, technology roadmap, and customer interaction activities. He says his favorite part of the role is to see a client satisfied by his offerings. Sundar and the AUGMENTes team, endeavor to deploy exciting new technologies to address real problems and make life better for both clients and their customers.
An Excellent Range of Solutions
AUGMENTes provides customized digital shopping solutions that attract and engage consumers across digital and physical environments. Its offerings range from plug-ins to full turnkey Omni-Channel platforms that carry out transactions, synchronize inventory and promotions across online, in-store, mobile and social channels from a single dashboard and easily integrate into other systems such as ERP, POS, and CRM. Key AUGMENTes solutions include:
Augmented Reality & Other Visualization Tools: In order to enhance the customer experience, AUGMENTes has several engaging offerings deploying AR technology. The AR view technology helps customers see a virtual product on themselves or in their environment, customize it on the fly, record and share their experience, and ultimately make a purchase. The 3D web viewer lets website visitors see the product of their interest in 3D right on the retailer's website, where they can spin the product to look at it from any angle, zoom in, zoom out and visualize any available customization options.
Customized Mobile Applications: In the age of Amazon Prime, consumers are expecting a level of convenience and shopping experience that most retailers are unable to provide. AUGMENTes aims to address this issue by providing retailers with a highly customizable mobile application with cutting-edge features designed to offer consumers the most convenient shopping experience.
Comprehensive Omni-Channel Shopping Platform: Engaging consumers wherever they are is critical, however managing different sales channels is a challenge that most retailers are facing today. This solution aims to make the life of retailers easier by providing a single dashboard from where they can manage and synchronize the inventory and promotions across all sales channels in use.
The tech solution provider's latest and most popular solution is the customized AR mobile application. Advanced and highly configurable for iOS and Android based smart devices, AUGMENTes mobile apps enable retailers to engage consumers wherever they are with features that include AR, product customization, snap & find product search, social sharing, interactive digital catalogs, store & product locator, appointment booking and targeted messaging.
Winning Clients with a Customer-Centric Approach
On top of delivering cutting-edge solutions, AUGMENTes tries to become a true technology partner for its clients. For each solution, it provides a complete managed service that includes customization, hosting, 24/7 support, and timely updates of the latest advances in capabilities. In addition to this, it provides a complete technology roadmap and recommendations for its clients, so that they can make informed decisions and remain competitive now and in the future.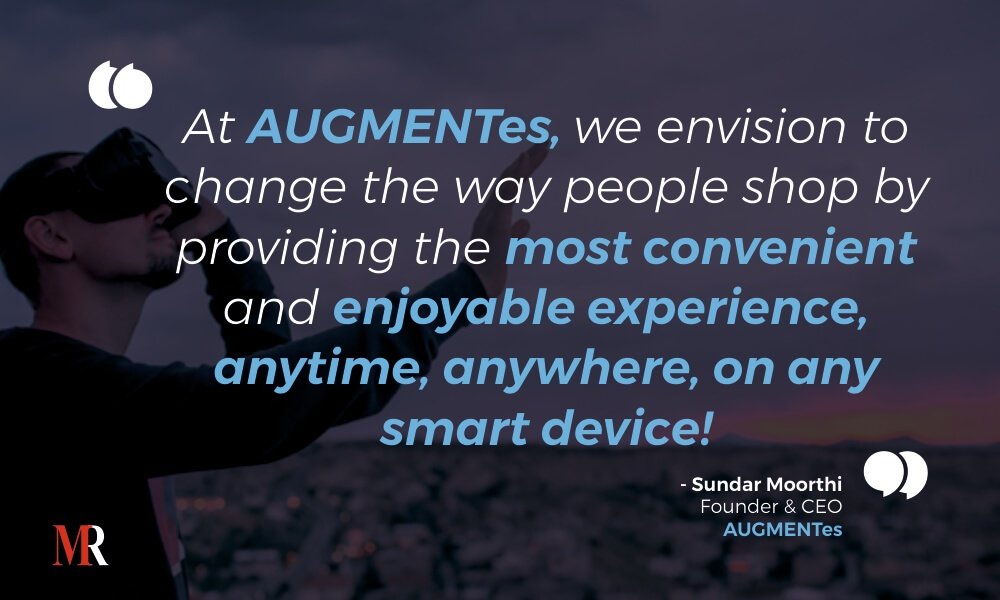 Going Hand in Hand with the Technology
At the current stage, AUGMENTes is scaling up by expanding into new retail verticals and geographic markets. Initially, having started with jewelry, it has also entered into home furnishings and decoration, home improvement, and other verticals. In parallel, it is continuously adding more interactive features, like 'Snap and Find'. As potential markets where AR is applicable are advancing every minute, AUGMENTes aims to evolve its solutions to push the envelope of its offerings.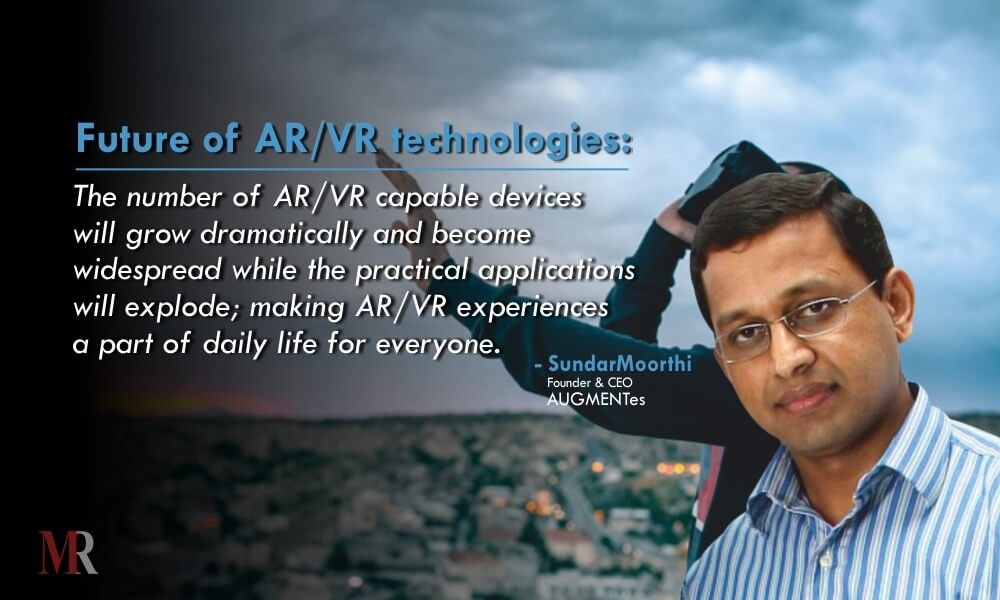 A Profound Advice for Young Entrepreneurs
While addressing the young entrepreneurs willing to enter in the AR/VR business, the CEO of AUGMENTes suggests them to plan ahead and surround themselves with passionate people that share a similar vision. Keeping the pace of technology sector in mind, Sundar advises to be flexible and adapt to the highly evolving market conditions. Speaking of the explicit perspective and customer-centric approach he states, "Make sure you understand the problem you are solving and how your technology is valuable to your customer".