Living in a world of data makes us the data-oriented generation, which utilizes evidence to make better, informed decisions. Currently, data visualization is becoming more and more critical to businesses. It allows businesses to powerfully represent numbers in charts and maps providing a convenient and insightful visual representation. By making even substantial amounts of operational data actionable, it enables companies to excel based on smart data analysis and business intelligence.
While there are a lot of data visualization tools that are suitable for narrow usage, enterprise information systems are a different story. When it comes to corporate reporting, analytics, and business intelligence apps, there are diverse situations in terms of data. The various sources, formats, and questions analysts want data to answer make it complicated to develop versatile, one-size-fits-all solutions from scratch. Well, that's where AnyChart shines.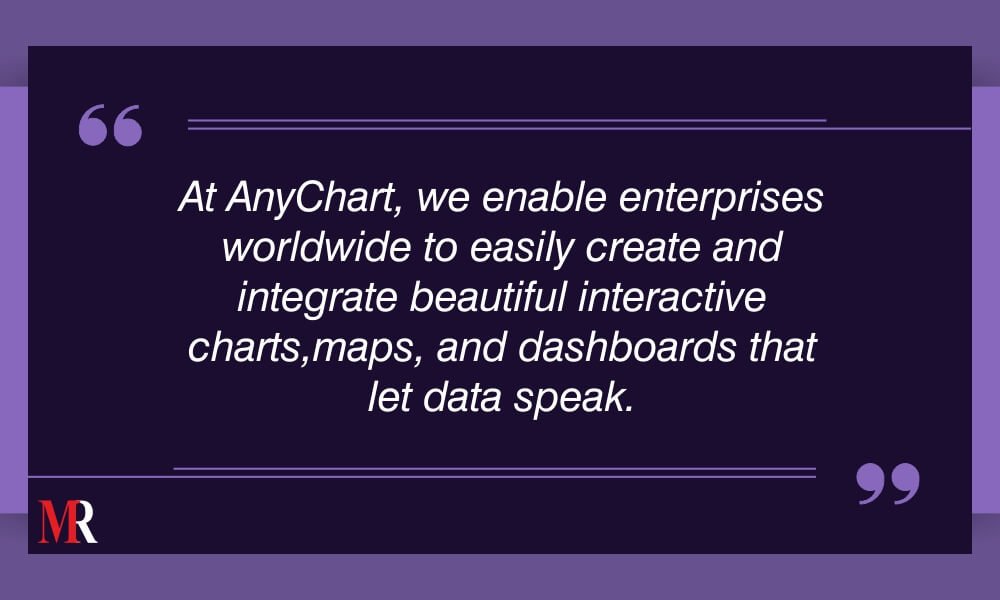 Founded in 2003, AnyChart developed advanced, comprehensive interactive data visualization software that can be used to create great looking charts based on any data in any environment, across a multitude of platforms and devices. The primary solution is an award-winning, flexible, yet easy-to-use JavaScript charting library. It was named the best JS Technology in 2018. Thousands of businesses worldwide, from startups to the world's largest corporations use AnyChart to power their data analytics. AnyChart empowers them to advance insight into their business, improves decision-making, and enhances enterprise performance by increasing revenue and reducing costs.
Building Award-Winning Data Visualizations
When asked about the motivation behind starting AnyChart, the Co-founder—Timothy Loginov reveals that the idea of establishing AnyChart consumed his thoughts in 2003 during the heyday of Adobe Flash and the beginning of XML. At that time, Timothy and his partners realized it was possible to extract data from any source in XML format and visualize it as a Flash-based chart. They implemented this idea with AnyChart. The broad adoption of Flash helped AnyChart to succeed as a one-fits-all tool for data visualizations.
Moving ahead, as customers started adopting HTML5, AnyChart reduced its dependency on Flash by adding SVG support and releasing its JavaScript charting libraries. Then they completely shifted to HTML5 while still supporting its Flash components for those customers that still use that technology. Tim recalls that transition as one of the most challenging in the life of AnyChart.
Nowadays, the core product of AnyChart is a powerful feature-rich JavaScript charting library that seamlessly works with all major technology stacks and databases. Developers can use it to build any custom data visualization then natively embedding those charts into websites, corporate apps, mobile projects, and SaaS or OEM products.
AnyChart has been included in numerous lists and directories as one of the best JS libraries for making interactive charts for the web. They've also won several awards such as the best for innovation in JS at 2018 DEVIES during the largest regular developer tech event globally, DeveloperWeek.
AnyChart Cross-Browser and Cross-Platform Charting Solution
AnyChart enables businesses to transform operational data into actionable information viewable and analyzed on any device. Its JavaScript libraries are independent from all platforms, browsers, databases, and technology frameworks. They support a range of features including multiple options for working with data, including JavaScript API, XML, JSON, CSV, Google Spreadsheets, HTML tables, data mapping, and more. AnyChart offers over 90 different chart types, built in algorithm support, interactivity, and custom drawing features. Other notable features include a powerful export and sharing engine, and smart localization with nearly 200 culture-specific locale settings.
Timothy and his team developed AnyChart as a highly customizable tool. Moreover, it is built on their own innovative 2017 award winning graphics engine— an open-source JavaScript drawing library GraphicsJS that allows web developers to modify charts in endless ways.
The AnyChart product family consists of four core products. AnyChart for basic charts; AnyStock for date/time-based visualizations; AnyMap for geo maps and seat maps; and AnyGantt for project Gantt, resource, and PERT charts. Businesses have more than 90 varieties of chart types to choose from and can build custom series if needed.
Moving Ahead with More New Upgrades
AnyChart's team made the tool as a universal engine for interactive data visualization, which enables the easy creation of charts, maps, and dashboards from diverse types of data and ensures a dynamic look and feel. These enhancements offer a great experience to the users whether they are working on the web, mobile, or standalone projects.
With a vast client base across the world, AnyChart provides a programmatic data visualization product to more than 70% of the Fortune 1000 companies and over half of the top 1000 software vendors worldwide. Data visualization has become essential when conducting data analysis and makes BI reports more effective for an increasing number of data-driven companies in all industries. So, it's no surprise that AnyChart's customers are different, ranging from health care, media, software, and telecommunications to banking, retail, oil, and many other economic sectors.
3 New AnyChart Extensions for Qlik Sense Users
In spring of 2019, AnyChart became a Qlik Technology Alliance Partner. This alliance allows the company to engage with an entirely new set of customers. They built three new Extensions for Qlik with a fourth on the way soon. By integrating seamlessly into the Qlik environment, AnyChart has opened up an entirely new set of chart types to the Qlik community. With 36 new chart types Qlik users will have multiple new visualizations to help better represent their data.
Moving Ahead
Already at the apex of data visualization tools, AnyChart is making an effort to maintain the strength of the company's leadership, and Timothy says it will continue expanding into new audiences, verticals, and territories.