Anthony Gonzales, Co-founder & CEO of Force Impact Technologies Inc. (FIT), explains creativity as the ability to abstractly develop something new; to forecast even the unimagined. The qualities and patterns of creative people are often derived from environmental stimulations. Creativity is nothing without stillness and silence. Innovative leaders are those who possess high standards of personal ethics. They are charismatic, persuasive, and have an innovative streak.
It is well said that the road to success is not easy to navigate, but with hard work, patience and perseverance, it is possible to achieve even the intangible dreams. As a former collegiate Rugby player at Arizona State and an active competitive Grappler in Brazilian Jiu Jitsu, Anthony first-handedly understood how head injuries can affect an individual, a team, and a family. During his MBA program, Anthony was tasked with finding a solution to a personal problem. Monitoring how often he was receiving significant head-impacts was his biggest dilemma. Even though being ignorant and naive to the complexity of such a lofty idea, Anthony's bull-headed innocence finally led him down to a path of professional enlightenment.
Since his elementary days, Anthony has always been a creative problem solver. And that is the reason why he pursued a graduate degree in Supply Chain Management to get things accomplished from point A to B. Moreover, starting his career in semi-conductor distribution afforded Anthony the opportunity to be molded by corporate's best practices, while simultaneously encouraging him to find a way out of the Fortune 100 rat-race.
Forged by the principles of Christianity, indoctrinated by the sciences, and incubated by the principles of mindfulness, Anthony's personal philosophy is rather one of transformation and growth. This has also transcended into his personal health, nutrition, and physical well being.
Force Impact Technologies: The Brain's Check-Engine Light
Force Impact Technologies was established in 2013, with locations in Los Angeles, California as well as Tempe, Arizona. Co-founded by Anthony & Bob Merriman (COO, FIT), FIT is a life science company that provides risk mitigation as a service to sports organizations. Anthony and his experienced team work with researchers, clinicians, and insurance providers by offering a comprehensive ecosystem for identifying, monitoring, and documenting head-impacts on a HiPPA compliant platform.
For this, the leading life science company integrates technology into sporting equipment to increase detection of potential injuries. The FIT Risk Mitigation Platform helps to promote concussion awareness to youth athletes all around the world. Also, the collaborative team of FIT focuses on amateur athletes between the ages of 12-25 in any sport, hobby, and activity in cases where there are any risks for a potential head injury. However, FIT does NOT give a diagnostic or therapeutic solution, and also does NOT determine if someone is concussed.
Today, through extensive trials and tribulations, iterations and testing, Anthony and his team of FIT have spent 5 years in developing a solution that can greatly enhance one's ability to identify hard impacts. The well-seasoned CEO of FIT credits the encouragement received from his users, investors, and champions for boosting his determination.
Making a Remarkable Difference
Stating his role and responsibilities towards FIT, Anthony asserts, "As the CEO, it is my role to ensure that we maximize the social welfare of our customer's experience. We are our own toughest critics, as we know the pain points of life as a competitive athlete. As such, we provide a community, a place of belonging, and a sense of tribalism as we lovingly refer to our users as FITGuardians."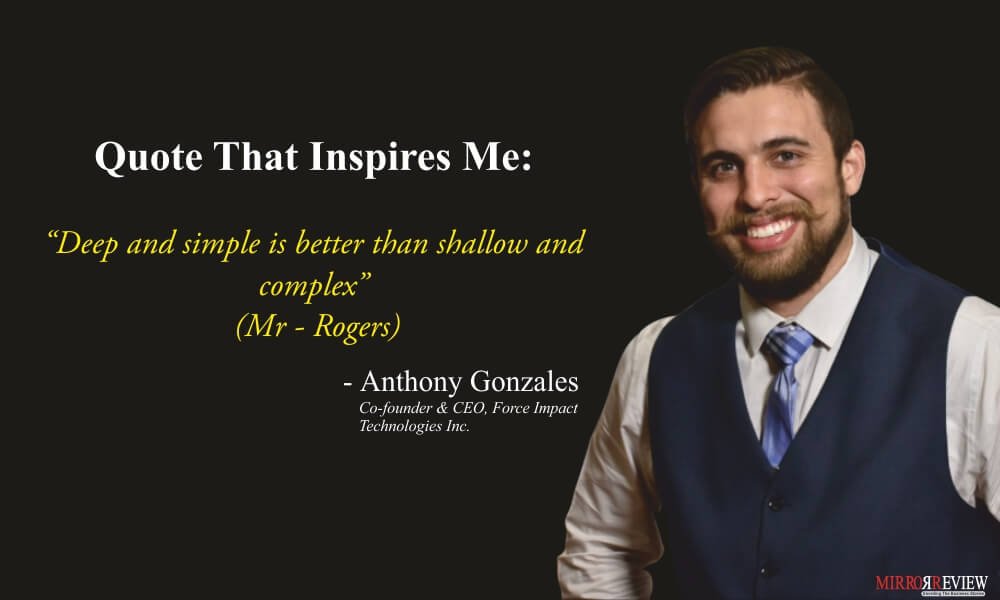 Standing Apart in the Athletic World
FIT is a company created by athletes for the athletes. Additionally, the FIT platform only uses components of the highest standard and has been developed by exceptional engineers. The FITGuard device displays an instant visual indication of the detected force using high-luminosity LED's. This innovative indication mechanism significantly increases the likelihood of early detection of concussion risk and the overall safety of athletes around the globe. The data used to develop the product software is supported by some of the most well-respected clinical researchers and is documented in dozens of scholarly journals.
Presence of Creativity Gap Between Generations
According to the Co-founder & CEO of FIT, before the time of Aristotle's gripe with the youths of ancient Greece, the young and the old generations have had a gap in their creativity. The young have yet to be humbled by life and the old have pre-determined their choices through prior experiences. Both generations view the same world through different realities. Technology has only exasperated this dissonance.