Today, many cancer treatments are available to help cancer patients live a normal life span. Innovations in cancer treatments aim to tackle a number of problems typically encountered by health care providers and patients, including aggressive therapy accompanied by unwanted side effects, tumor recurrence after treatment, surgery, or both, and aggressive cancers that are resilient to commonly used medicines. However, current therapies are efficient in a restricted amount of patients and are linked to side effects and the development of resistance. Therefore, it is of utmost importance to discover more efficient and less toxic cancer therapies which remain a major challenge.
Headquartered in Freiburg, 4HF Biotec GmbH has been addressing this challenge by leveraging data mining-based strategies for cancer drug discovery. Using these strategies, the company will improve the evaluation of novel anticancer drugs at the preclinical stage. It is also collaborating with academia, biotech and pharmaceutical companies in preclinical cancer research. The company primarily focuses on three key axes: discovery of new druggable targets, identification of companion diagnostics, and evaluation of novel anticancer drugs. It has built a unique proprietary database and set up a dedicated platform to interrogate cancers throughout their huge diversities. Since its inception, the company specializes in bioinformatics and data analytics for discovery of innovative therapies to treat cancers.
Leveraging Data Mining to Make More Efficient Cancer Treatments
To make more efficient treatments for cancer patients, 4HF uses its expertise in the assembly of cancer-related databases offering an unprecedented amount of data and new ways of analyzing cancers. These valuable databases offer the opportunity to realize real progress in cancer treatment. It also provides new tools and analysis to develop so-called precision medicine as well as notably to well predict the right treatment for each patient. Databases of tumor models (proprietary), patient tumors, and normal tissues being fully characterized for gene expression, mutations, copy number alterations, and gene fusions help in studying the huge heterogeneity of cancers. More importantly, its research is based on integrative analysis of cancer information and aims to identify treatments that more specifically target cancer cells and limit side effects.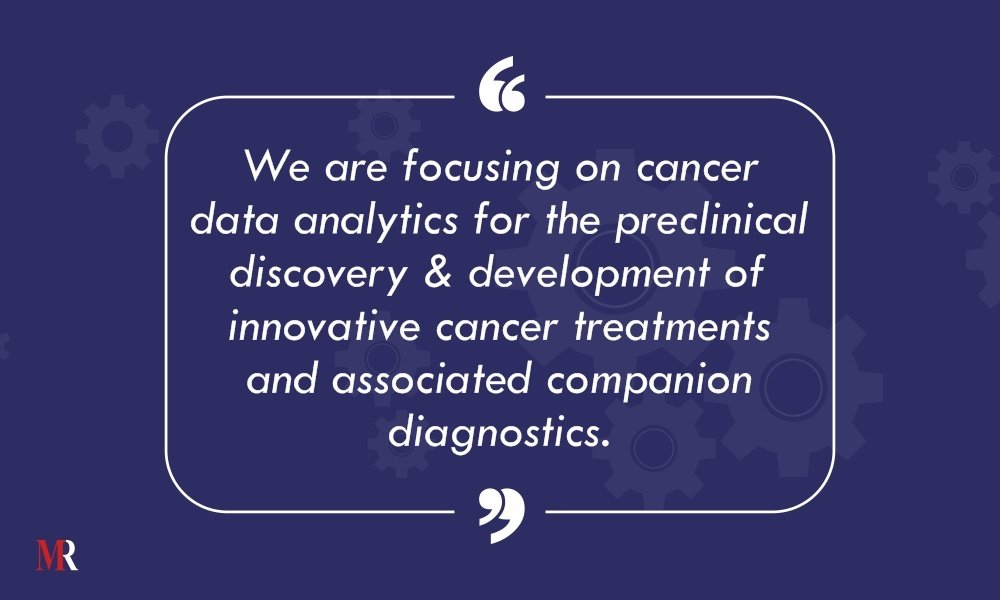 Furthermore, the leading biotech company has completed the programming of evaluation programs and visualization for tumor-selective genes/targets. 4HF has been working on developing programs to identify biomarkers predicting sensitivity or resistance of a targeted drug. The company believes that its flagship technology platform can be used for its drug discovery and developments partly with cooperation partners or investors. At the same time, it offers services for pharma and biotech companies generating revenues.
Conquering Challenges with Team Work and Effort
In the initial days, every organization faces various different and complex challenges. After conquering these challenges, they move towards success, growth, and development. Similarly, 4HF also faced various trials and tribulations to reach where it is positioned today. Its main obstacle was the need to cover many aspects of the business with shoestring human resources that involve right from basic science to business development and communication or recruiting. However, Prof. Dr. Heinz-Herbert Fiebig, the Founder and CEO of 4HF Biotec GmbH together with his skilled team overcome this issue through their sheer commitment and passion. Prof. Dr. Fiebig created his core team who has a palette of skills and certain experiences to cover many different domains. To deliver more efficient cancer treatment, the Founder with professional team is using data-driven approach in identifying novel treatments to treat cancers, thereby providing multitudes of possibilities, the need to take the right decision and to put resources on the right project.
Foreseeing Better Treatments for Cancer Patients
As the saying goes, 'Every success story is a tale of constant adaption, revision, and change.' Taking cue from this, 4HF has strategized a game plan for growth and development. In the next five years, the company will be engaged in several anticancer drug development programs with partners of the pharma industry. In parallel with this, the CRO business unit will grow and be profitable guaranteeing perenity/sustenability of the company. The Freiburg –based company's discovery and development unit have already produced numerous selective cancer targets for the development of antibodies (AB), AB drug conjugates (ADC), and small molecule inhibitors. The numerous selective ABs against tumor associated genes /targets are going to be proprietary for 10 different tumor types and commissioned to pharmaceutical and biotech companies.
Additionally, 4HF will handpick several highly selective genes for its development. The cytotoxic warhead will be chosen and combined with partners in collaboration along with development until clinical studies will be done with external investors. It is also planning to sell packages of ABs and ADCs to pharma and biotech industry with a high profit.
One Litmus Test for All Business Leaders
Being the CEO of a leading biotech company, Prof. Fiebig believes that a litmus test needs to be done before investing in new technology. The well-versed leader advices to business leaders to check the competitive field, novelty of the topic, high probability of return, and the quality of the management team and their record before taking any decision.
Best Investing Domains  
According to Prof. Fiebig, key activities he would like to recommend to the budding tech leaders to invest their time are focused on few domains. These domains involve personalized medicine, targeted anticancer drug development still resulting in blockbusters, and artificial intelligence for tumor diagnostics and selection of the most effective therapy via genomic analyses. In addition, he also suggests identifying the needs of customers' well and thorough evaluation of the resources needed to go to the market.