Daughter of an entrepreneur and an artist, Pia Poppenreiter, Co-founder & CEO of Spreefang GmbH was taught to challenge the existing status quo with a distinctive purpose since her foundational years. Pia credits her father for inspiring and motivating her significantly on every step of her life. It was him, who had one of the biggest impacts on how Pia regards the world today. With an academic background in finance and business ethics, Pia then felt well-equipped to have a take on the paid dating industry.
It is well known that the attitude towards dealing with the initial struggles in life and career ultimately defines the altitude of an individual. In case of Pia, running a full time business is an ongoing, continuous struggle. However, possessing a positive frame of mind and confidence, she manages to successfully tackle every situation and rise above the challenges.
As the Co-founder & CEO of Spreefang GmbH, Pia firmly believes in having complete transparency and provides necessary information to resolve an issue related to her team members. Currently, she is trying to create a new work environment where people can play out their talents and passion in order to excel in their fields. That is according to her opinion, the future of work.
Spreefang GmbH: Making a Significant Difference
In 2015, Spreefang GmbH was incepted in Berlin, Germany to make a difference on a societal, political, legal, ethical and economic level. One of the latest products that Spreefang GmbH has launched is Ohlala, a mobile-optimized website where users pay for instant online dates and where intentions are made crystal clear. Ohlala sit between the online dating apps and escort apps, thereby aiming to reinvent how people meet.
However, the vision of Ohlala is to become a fully fledged relationship & wellness brand, having avant-garde dating tools and a worldwide network of relationship educators that trade information and products. Over the next decade, Pia visualizes Ohlala to have a positive impact on a global scale as well as create a sustainable value for its users and network.
Juggling Personal & Professional Life
The Co-founder & CEO of Ohlala feels that if individuals have passion and drive for work, they can achieve way beyond the horizon. Moreover, in the coming years, large number of people will be looking for purpose in their work. Companies will transform towards a project-oriented approach instead of the classical 40 hour work week. Currently, the 40 hour week concept seems to be outdated and a relict as compared to the former times. It also does not go well with the flexible and agile start-up mindset.
Sharing her secret mantra for balancing personal & professional life, Pia explains, "I think understanding yourself and getting a feeling for your own productivity and energy is key to having a sustainable successful career. Being an entrepreneur, you can always work. It is a never ending process. Something is always there to do or to fix. But over time, I learned that breaks are necessary from time to time, in order to clear your mind and recharge batteries. I totally believe in the quote that says life is a marathon, not a sprint. There are times when it requires working for long hours and getting tasks/projects done. But it's also important to learn that after intensive periods, it's also necessary to relax and recharge. It's about finding the right balance in your professional and personal life."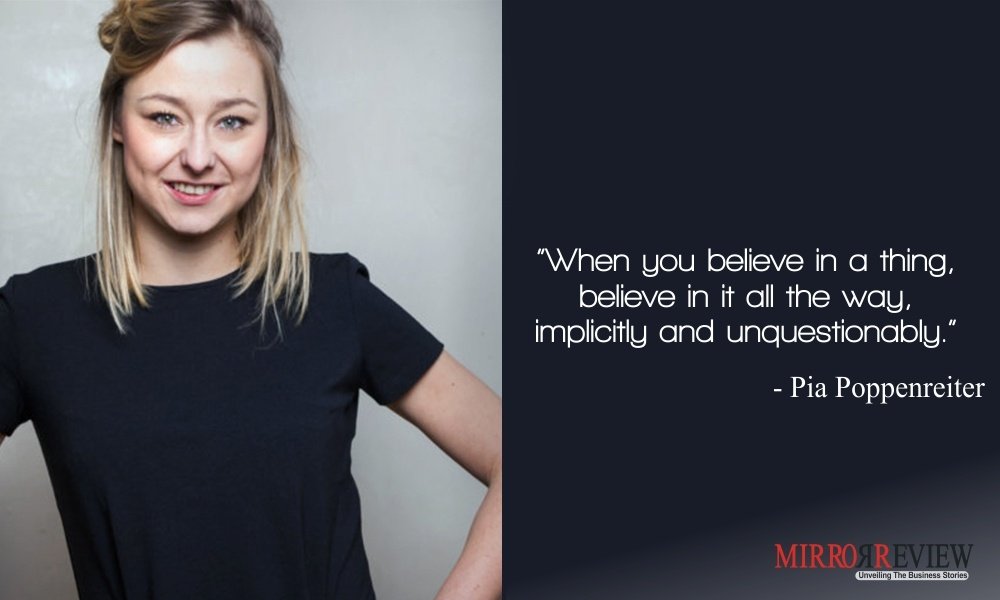 Skilfully Handling the Gender Bias
Pia thinks that there is an existence of gender bias even in today's modern world. However, she just deliberately prefers to ignore it and does not make a big deal out of it. In general, people are biased in some ways or the other. However, individual judgement is guided by the inner set of morals which is rather subjective. The bottom line is that every person has a certain set of hands to play in life. Pia never saw herself as a victim; instead she likes to perceive things as positive challenges and opportunities. Irrespective of difficult circumstances and experiencing gender bias, the Co-founder & CEO of Ohlala tries to direct all her energy and focus towards delivering tangible results.