In the past few months, significant inefficiencies in the healthcare landscape have been highlighted due to the COVID-19 pandemic. During these times, several existing technologies such as telehealth were not being utilized to their potential.  Telehealth has been around for over 100 years since the arrival of telephones. Though the technology advanced to smartphones, smart TVs, monitors with cameras, and laptops with cameras, the growth was stagnant in telehealth utilization.
Restrictions on distance and bad policies of reimbursement were the main reasons behind the stagnant growth. Nautilus Medical is one company that has revolutionized the healthcare sector with its telehealth and image exchange solutions. The company was incepted in 2006 with an aim to provide a complete communication and information exchange platform.
Comprehensive Portfolio of Services
Nautilus Medical strives to provide the most complete healthcare platform at a value and consistently works to improve its products. The Nautilus platform combines features to give a complete and holistic view of the patient. The network comprises the largest peer-to-peer network for exchanging medical images, reports, and EMR data. The service can eliminate the ongoing costs of compact discs, ink cartridges, disc publishers, etc. It can be used wherever it is needed, either it be a lab, home, or departments across the hospital. Security is underlined with a $1 Million dollar breach policy per instance, not offered by other platforms.
Alongside information exchange, Nautilus Medical has built a powerful and compliant real-time video communication platform that goes beyond face to face communication. This platform enables providers to view modalities and point-of-care exams in real-time, including multiple room viewing options for qualified physicians. Nautilus offers cellular connectivity for remote locations and other hardware options such as carts and all-in-one TV set-top boxes. As a majority of telehealth visits involve a discussion about a radiology exam that has been done, the physicians are enabled to view and share the images and results while talking with the patients through the platform. "Telehealth and radiology belong together, not as separate and disparate systems," asserts Timothy Kelley, the CEO at Nautilus Medical.
Moreover, Nautilus is the only company that has a strong telehealth platform with underlying radiology expertise and management. This platform is used by more than 70% of the top 50 medical centers in the US, including Cleveland Clinic, UPMC, UPENN, NY Presbyterian, Harvard, Columbia, Cornell, Northwestern, etc.
For the widespread portfolio of services and solutions, Nautilus Medical has been rewarded with numerous awards and recognitions. The company was recognized among the Top 10 Medical Imaging Providers by Healthcare Tech Outlook, 10 Best Healthcare Companies by the CIO Bulletin Magazine, and Top 10 Fastest-Growing Healthcare Companies by The Silicon Review. Moreover, it was also the Clinical Information Finalist of the Fierce Health Innovation Awards and Top 10 Innovation Finalist of the Chicago Innovation Awards.
A Zealous and Resolute Leader
Healthcare technology is a difficult path to navigate due to its compliance, security, long sales cycles, and the technology itself. Thus, the leaders in the industry need to understand the tech, clinical workflow environment, and how to build a business. Nautilus Medical is fortunate to be spearheaded by a passionate and enthusiastic leader in Mr. Kelley.
He always wanted to have a significant impact on healthcare by providing a service or product that helps all stakeholders. "When that is accomplished, the value will be created naturally," he added. Being the CEO of Nautilus Medical, his primary roles and responsibilities are to project a clear vision of the company's roadmap and manage personalities. Over the years, he has been one of the key assets behind the company's growth.
Empowering Patients and Doctors in the Time of Crisis
The pandemic has created a new normal in telehealth communication, which is expected to become the standard of care. Being considered the essential workers supporting the mission-critical systems in hospitals and other healthcare facilities, Nautilus Medical's team has been relentlessly working throughout the crisis. Remote service, demos, and training can be done from anywhere on any device.
Nautilus Medical's platform is proving to be instrumental in helping both patients and doctors during this trying time. The platform allows doctors to work from home, and many doctors use the company's carts or TVs to talk with patients at home or patients visiting their office. During a face to face consultation, providers may consolidate data, show images, and give guided tours of procedures. This is critical in the new normal for patient consent, patient understanding, and overall better outcomes by inoculating patients against ignorance.
Furthermore, the platform also normalizes data and images so they can be shared and restored on any system regardless of the manufacturer. This prevents unnecessary rescans and billions of expenses to providers from duplicate CTs, MRIs, and other expensive high tech procedures. Nautilus Medical's platform allows patients to store their images and share their data at no cost, which is empowering patients everywhere.
Importance of Education and Resources to Patients During COVID
Having led a successful healthcare firm for more than a decade, Timothy believes that providing proper education and resources to patients is important –so that they can make qualified decisions based upon their current health, understanding co-morbidities, how and where they can work, how much risk they are willing to take in a social setting, and an understanding of the disease. "Most people don't understand how this disease is unique and how ill you may get based upon the level of exposure, contact, and comparative health. At the end of the day, we can make good decisions with good information. The information has been mishandled and misguided for the wrong reasons," he added.
Transition to Performance-based Care
The healthcare landscape is slowly moving to performance-based care and patients rating the care they receive. For healthcare providers, being more efficient and offering options to patients while educating them about the process they are going through will be tantamount to future success. The industry will have more consumer-driven tech to better serve professionals and their patients in the near future. Smart TVs, phones, and social devices will have a role to play. Moreover, the post-COVID world will run better as a result of understanding that people don't always need to be present to get good care at a low cost. Nautilus Medical is fully prepared for these transitions in the future and strives to continue to serve the customers with unparalleled service.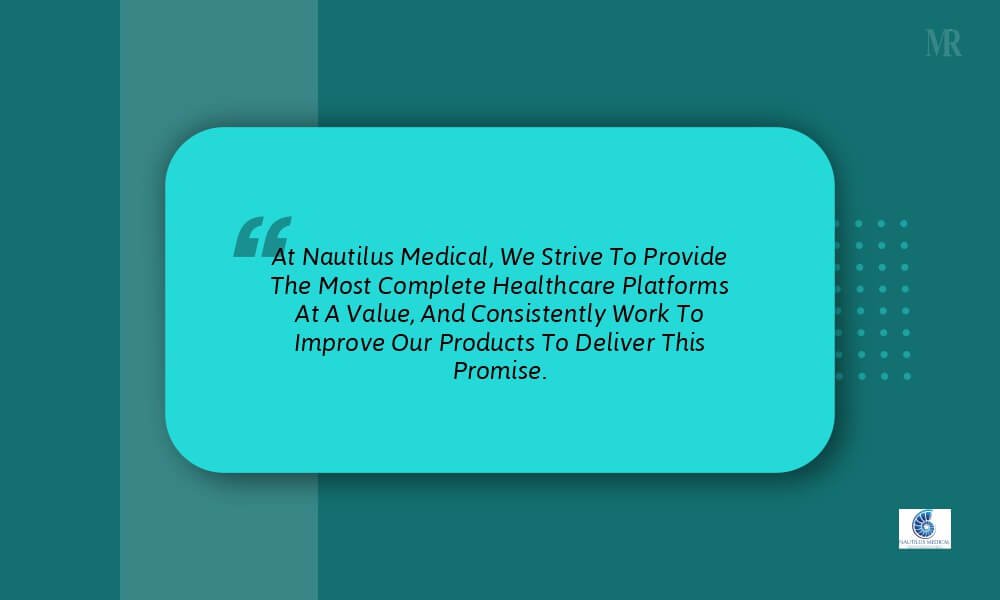 Read Full Magazine The 10 Most Advanced Healthcare Solution Providers Of 2020