Although, augmented reality (AR) and virtual reality (VR) have been around since last three decades, their technological developments and applications arrived late in the market. Today, beyond gaming, these technologies have found their implementations in almost every industry. On the digital front, the last five years have been crucial and significant in the extraordinary development of these technologies. Now, everything about AR and VR have become easier and better than ever before.
It is very true that every technology has its numerous applications; it just depends upon how one unfolds it and to what extend takes it to the next level. With the help of VR, Meet Your Baby LLC has done the same thing by unleashing another perspective to look at this technology.
Headquartered in Los Angeles, California, Meet Your Baby is a distinctive VR based service provider. It delivers a virtual reality experience where the ultrasound images and videos of expecting parent's baby are put into a 360-degree spherical space where they can watch and witness an immersive experience.
The Inception Story of Meet Your Baby
Simon Romanus, the Founder of Meet Your Baby came up with this idea when he saw a video of a 3D ultrasound scan on YouTube. He then realized that it would be very fascinating to see a similar clip in VR, where one can step inside the womb and stand face to face with the fetus, virtually.
Without any delay, Simon formed a company and started to develop a service that would automatically take the ultrasound images and display them in a virtual 360-degree womb. He collaborated with Trice Imaging Inc., who together with General Electric, specialized in sending ultrasound images through the cloud. Simon then knew and gladly acknowledged that he had found a good distribution partner too.
After almost two years of development and deep testing, Simon launched Meet Your Baby in 2018 and was off to a rocket start. On the very early stage of this venture, the former Destiny's Child singer LeToya Luckett Walker tried the newly launched VR solution and was deeply overwhelmed by the experience. LeToya then posted the clip on her Instagram page and within a few days received almost 500 000 views and over 1000 positive comments on her post, which was an amazing achievement.
A Walk through Simon's Professional Journey
Simon Romanus, the CEO of Meet Your Baby, has a very different professional background as compared to his current profession. At the initial stage of his career, he was a content creator and a TV producer where he developed, produced, and sold TV formats all over the world for over 25 years. During these years, he was involved with big network shows like Survivor, MasterChef, Antique Road Show, Wild Kids, Minute To Win It, and many more.
In 2014, when Simon experienced virtual reality for the first time, he was immediately hooked onto it and knew that it was going to be big. Knowing the importance of this revolutionary technology, he wanted to be an early adopter in the industry. As a result, he quit his job in TV and started his own production company, Wonderworld VR, which quickly became one of the leaders in the VR space.
Since then, Simon along with his team conducted the first full concert in VR and set the world record with the longest ever high-end, live-streamed VR broadcast for seven consecutive days.
Commenting on the evolving technological scenario, Simon feels that after every 15-20 years, a new creative medium emerges. For instance, people witnessed the transformation from radio to television, internet, smartphones and now VR and AR; the entire digital voyage has been marvellous. And for him, to be a part of it and pushing it forward is amazing. Presently, along with his team, Simon is breaking new grounds with each and every step.
Possessing the art of storytelling as his strongest prowess, Simon sees many opportunities in the AR and VR space for the generation of immersive content as well as the storytelling platform. According to him, the industry is still very much tech-driven with a huge need for good content. He further adds, "Content and storytelling will always be the king; just as when the first TV came, no one bothered to buy it until there was good enough content to watch. As that took a while, AR and VR would also take time to become mainstream."
Solution that Brings Parents Closer to their Child
Meet Your Baby platform offers a novel and unique way of looking at ultrasound images through VR. This is done by uploading the images of the customer's baby to Meet Your Baby's app or website. The company's patented software then automatically puts together an immersive VR video with the images displayed inside a 360-degree womb.
For customers, this innovative experience is highly engaging, as it feels like they are standing in the womb, face to face with their child and can also look around at all the images together just by turning their heads. For the record, 100% of parents were amazed by the experience when Meet Your Baby tested its solution on over 200 participants before its launch. The VR technology based company wants to enable parents to connect with their child early on and assist them to be able to share this immersive experience with their friends and family.
Getting Closer to the Outstanding Experience
The solution offered by Meet Your Baby displays a whole new way of looking at, and connecting with the child in the womb. One can share it with anybody in the world by sending a link via email or sharing the video on social media platforms. The parents can also share this offering even with their child when he or she gets older.
This unique solution begins to function once the customers have received a text message from their ultrasound clinic with a link to the respective images. Meet Your Baby's unique software then automatically produces the VR experience and sends the ready to view and shareable link to its customers. Moreover, users who already have ultrasound images on their phones or computers can get the unique VR experience by simply uploading the respective images on Meet Your Baby's website or app.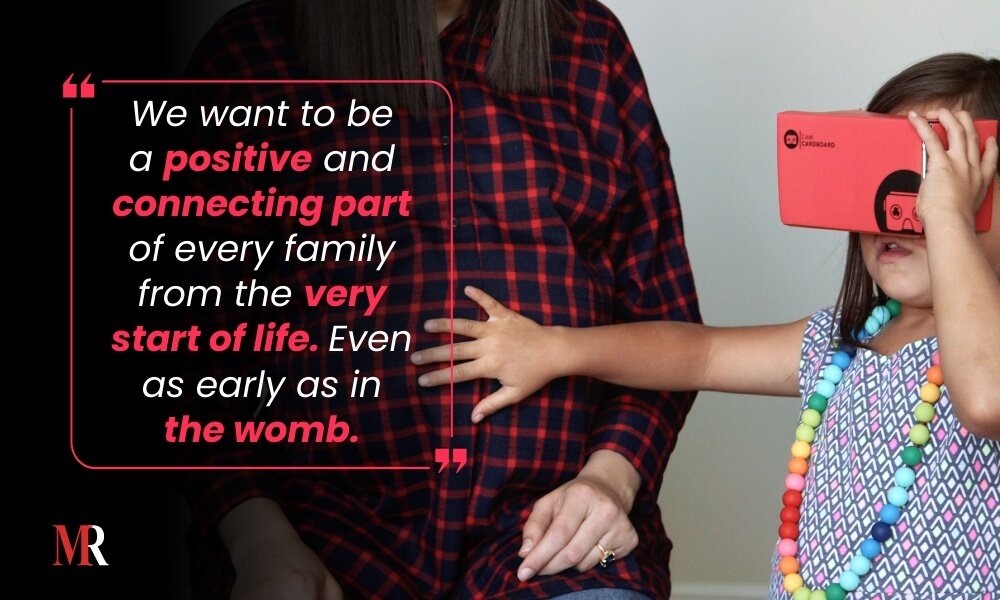 A Solution with Potential Usage in Healthcare
Through the VR experience provided by Meet Your Baby, the parents create a stronger bond with their child even before the birth. The experience can calm them down if they ever get nervous during the pregnancy.
Apart from this, the solution can also be used by the doctors to provide their patients with a better understanding of what is going on inside the body during pregnancy. In such a case, it becomes much easier for doctors to explain situations using VR rather than looking at a flat image. Soon, Meet Your Baby would enable doctors to work with its service in VR when it comes to looking at fetus abnormalities. Moreover, the solution also has the potential to save lives by helping the medical space understand different images and take actions in a better way.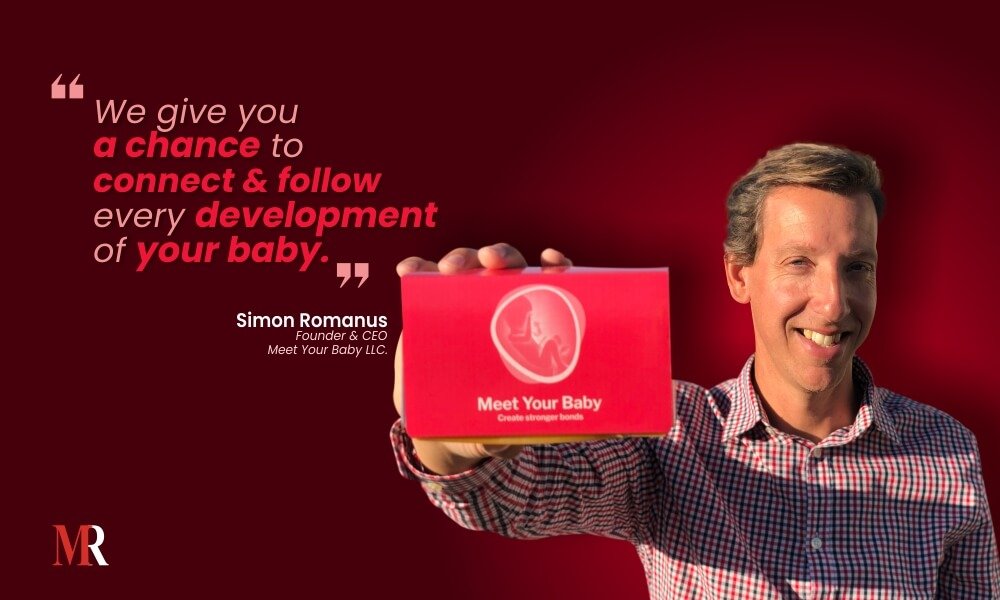 Simon Romanus, Touching People's Lives
Being the CEO of Meet Your Baby, Simon is in-charge of making decisions for almost everything. He trusts the people he works with and strongly believes their ability to come up with creative and the best possible solutions for the customers.
According to him, the greatest thing about his job is to see an idea come to life, to be able to give people joy, and to be a positive addition to their lives. Moreover, he says, "Ever since I started with storytelling when making television, it's been my driving factor – telling stories that will emotionally touch people and that they can learn something from."

More Convenient and Mobile Solutions in Pipeline
As Meet You Baby is constantly developing its services, the leading VR solution provider company desires to become a go-to platform for all the expecting parents. Meet Your Baby plans to work even closer with companies like General Electric, Johnson & Johnson, Gerber, and others to provide a better medical service for anyone in this space. Furthermore, it looks ahead to provide its customers who have delivered babies with a novel service such as creating a VR experience of all the images of their newborn child. To do so, the unique immersive solution provider plans to use its patented technology along with a new 360-space addition. This would enable them to add almost whatever 360-degree background they want to display their images and videos in. Apart from this, the company also plans to develop its AR services within a similar space, where customers can use personal smartphones as a device to see their baby in a completely new way.