Even in her early years, Kristin Carrington, Founder & CEO of Carrington Risk Consulting LLC, knew her passion and calling was to become an engineer. After obtaining a degree in engineering from the University of Illinois, she began her career with seven years at FM Global, learning the key aspects of fire protection engineering and property risk control.  Later, Kristin joined Commerce & Industry for one year, and finally, a major broker company, Aon, for 11 years. Each year of experience added to her comprehensive knowledge and deep insight into the insurance and property risk industry. Through Carrington Risk, Kristin knew that she could provide a varied range of improvised and valued services directly to her clients.
However, her journey toward building her own company was not a simple task. For Kristin, the biggest challenge was related to hiring a balanced team for her company. After employing a proficient squad under her wings, Kristin understood diverse ways of functioning and operating projects. Luckily, she had an amazing, open-minded, forward thinking group of clients that listened to her ideas and let her structure the company as she saw fit in order to benefit them.
Platform for Property Risk Control and Risk Management Consulting Services  
Established in 2007, Carrington Risk has headquarters in Florida and offices in Illinois. The company specializes in the review of any wind, quake, and flood modeling data templates, analysis of data quality, and gathering of primary and secondary modifiers to complete the template and provide the most accurate modeling results for clients. Carrington Risk is certified as a Women's Business Enterprise through the Women's Business Enterprise National Council (WBENC). It is also the leader in mobile applications for property risk data gathering and risk management. Carrington Risk uses their trademarked SnapRISK® mobile apps to provide the best innovation in the industry for its clients:
SnapCAT®: Provides windstorm and quake data reports within minutes.
SnapCOPE®: Offers instant property COPE (Construction, Occupancy, Protection, Exposure) reports for all occupancies.
SnapREC®: Furnishes recommendation reports on smartphones or tablets in real time, leading to immediate action taken to complete recs.
Self E-Audit®: Generates self-audit reports via customized apps placed in the hands of Carrington Risk clients.
In the risk engineering field, Carrington Risk's closest competitors offer partial services such as property risk surveys with reports completed in Word or similar.  Carrington Risk gives clients the entire package with current technology of SnapRISK® apps where services such as property risk surveys, data gathering, windstorm and earthquake analysis, asset values review and calculation for portfolios are combined.
Leading by an Example
Kristin's team knows that their contributions impact Carrington Risk's success every single day. Therefore, she makes it a point to assure her team members have the advanced tools to effectively and efficiently cater to client requirements.
Role Model & Mentor
Kristin was inspired by her father, Don Hausler who had a great philosophy,"Time flies when you love your work". While growing up, she always saw her father leave for work as a mason contractor, and owner of his company, with a happy and positive attitude even though it was difficult and physically demanding. Being blessed with a hard-working mother and a remarkable father, both Kristin and her sister were raised with a strong set of values.
Striking a Balance between Personal & Professional Life
Sharing her experiences on balancing personal and professional life, Kristin remarks, "I used to think that it was a balance, and that it should be separated and divided properly.  However, I've learned that my family loves to be involved with what I do; so I've made it interesting and fun for them as well. My kids travel with me whenever possible and freely share their ideas and thoughts. My daughter is a photographer and has had her work published because of Carrington Risk. My son is a tech wizard at 13, and has made many valuable contributions to the company. I want them to see that you should find your passion and let it be intertwined within your life. My kids know that they are always my first priority, and because of all the hard work that I had put in during the early years, today I can pause at any time to focus on what is important to my family."
Standing Tall in the Male Dominated World
Coming from a construction background, Kristin and her sister worked as bricklayers for their dad's company through high school and college. Men often pestered them with comments and innuendos right from the beginning. Despite facing these initial setbacks, Kristin's steps never faltered and she began to expertly tackle the male domination in the risk engineering field. Additionally, while working for other companies, she had come across one incident where she faced a bias for being the only woman in that department. This experience was one of the turning points that led her to start Carrington Risk. Today, she depicts a confident, determined, hard working, and positive image of a professional entrepreneur.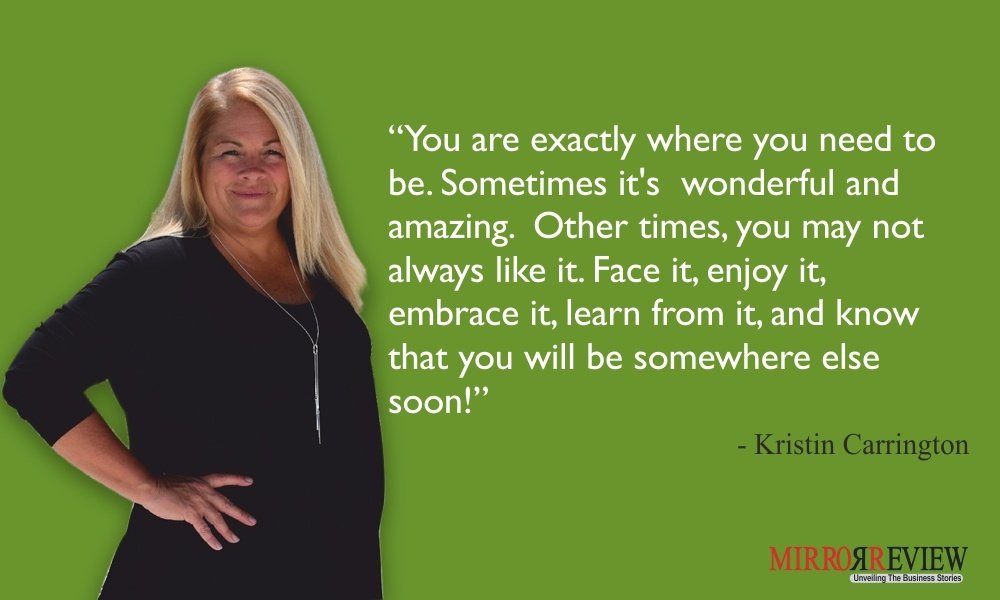 Planning a Picture Perfect Future
As the decision maker of the company, Kristin wishes Carrington Risk to continue its fast paced growth in the industry. She further adds that Carrington Risk is equipped with an excellent set of employees who continue to stretch their minds and abilities in order to make the property risk and insurance space interesting and exciting for the coming future. Carrington Risk is definitely leading the way with SnapRISK® technology in the property risk and insurance industry.